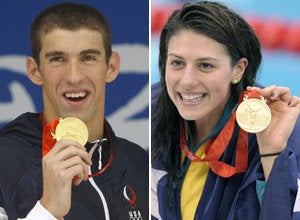 UPDATE: Caroline Pal is Michael Phelps' girlfriend as of November 2008

PREVIOUSLY:
Michael Phelps' love life has been the source of many rumors over the last week — including, most notably, his connections to fellow gold medalist Amanda Beard and British model Lily Donaldson. But the question of Michael Phelps' girlfriend may have been put to rest after the swimmer was spotted making out in Beijing with Australian swimming sensation Stephanie Rice, according to Page Six:
Michael Phelps doesn't have a girlfriend, but he celebrated his record-breaking eight gold medals in Beijing by sneaking off for a sizzling game of tonsil hockey with one of Australia's hottest Olympians.

Phelps, fresh from shattering Mark Spitz's 36-year-old record, was spotted Monday night in a hot make-out session with Down Under swimmer Stephanie Rice, a source tells The Post's Clemente Lisi and Luke Dennehy. The pumped-up pair clinched and swapped spit at a celebratory bash outside the Olympic Village.

The Baltimore Bullet swooped in for the lip-lock with the 20-year-old brunette just weeks after she split from Aussie swimmer Eamon Sullivan. "All the swimmers are talking about it, and [Sullivan] is cut up about what happened," the source said.

The day after the face-sucking frolics, Phelps and Rice cheekily posed together for Speedo - laughing and playfully groping each other as a photographer snapped them in their swimsuits. "I definitely admire him for his athletic ability and everything he's achieved," gushed Rice, who won three gold medals of her own. "I'm just really glad to be in the mix with that."

Whether the dynamic duo is now a couple isn't known. Phelps' rep didn't return our calls.
Support HuffPost
The Stakes Have Never Been Higher
Popular in the Community