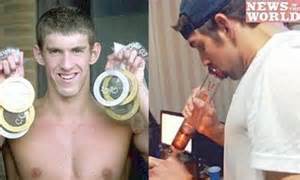 Michael Phelps Going to Rio Olympics, Announces 'Bong-ercise' Exercise Book, DVD

Legendary swimmer Michael Phelps made a big splash this week making his fifth U.S Olympic team. Phelps heads to the Rio games where he is sure to add to his already record haul of 22 Olympic medals. One of the reasons, Phelps claimed for his diving back into the pool was a desire to share his secrets to athletic success with a new exercise book and DVD -- "Bong-ercise."
"When I have a need for speed, I turn to weed," said Phelps, then giggled as he explained, "In fact, I'm high right now and rhymes make me giggle." The workouts will include a chapter entitled, "If You Take a Hit, You Won't Quit." Phelps said it's one of his favorite training regimes. Phelps: "You have a friend or coach place donuts or potato chips at each end of the pool. You then take a giant bong hit. Trust me, the munchies will do the rest."
Added Phelps: "And, guys, let me tell you, I can't guarantee 'Bong-ercise' will make you more virile. I can't tell you how times I've been asked 'is that a bong in your Speedos, or, are you just glad to see me?'"
Phelps said he believed using marijuana was one of the reasons for his athletic longevity, pointing out, "The only joint pain I have is when I don't have a joint." Mr. Phelps chose not to take any questions, instead choosing to ask reporters, 'So, dudes, what do you think about me swimming in dreadlocks?'
REAL LIFE. REAL NEWS. REAL VOICES.
Help us tell more of the stories that matter from voices that too often remain unheard.