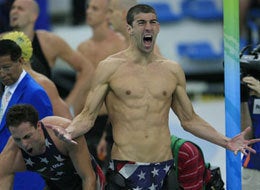 The Olympic Games are almost over and if there was one king at these games then that has to be Michael Phelps. He set one world record after another. He took home the most Gold Medals (8!) that anyone ever has at one Olympic Game. And he also has the most Olympic Gold Medals that anyone has ever won in the history of the games.
1. It starts with your thoughts.
"I think that everything is possible as long as you put your mind to it and you put the work and time into it. I think your mind really controls everything."
It all starts with your thoughts. They and your emotions get you to do - or not to do - things. And how you think and feel about your results and the work you have to put in determines who you are becoming and you what are achieving.
How you act does also to a pretty large degree determine what you get from other people in your life. Emotions and thoughts are contagious. And you tend to get what you give, at least over time.
A brilliant and beautiful expansion on this very basic idea can be found in James Allen's "As a man thinketh" (that can be downloaded for free here).