More Michael Phelps news, after his 8-medal victory. His fans, his diet, his private life.
Phelps continued his run toward a record eight Olympic gold medals Tuesday morning (Monday night, Eastern time) with a never-in-doubt victory in the 200-meter freestyle, the only individual event he didn't win at the 2004 Olympics.
Phelps has now won two gold medals, his second one coming the 400 meter IM, arguably his most difficult race. His teammate Jason Lezak had a thrilling comeback in the last leg of the race to capture the gold for the U.S.:
There were two exceptional comebacks in the pool during Day 3 of the Beijing Games. One helped Michael Phelps win his second gold medal of the Olympics. The other prevented American Katie Hoff from capturing gold.

Jason Lezak put together an incredible 100-meter rally to send the U.S. to victory in the 400 freestyle relay. Phelps swam the leadoff leg of the race, but France pulled out in front and seemed to have the race in control until Lezak touched water. Lezak made his push over the final 50 meters and snatched gold away from the French as the Americans shaved nearly four seconds off the world record they set in the preliminaries.

The victory kept Phelps on pace to win a record eight gold medals. Phelps also qualified for the 200-meter freestyle final and 200 butterfly semifinal.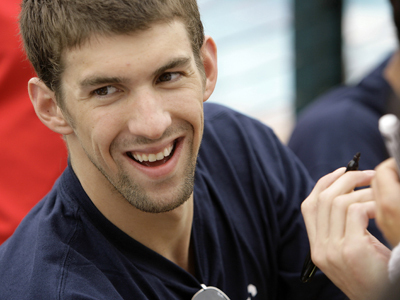 Arguably the best known member of the U.S. Olympic Team, Michael Phelps' (Wikipedia) popularity goes back to the 2004 Olympics where Phelps won eight gold medals, four in individual events. Sponsored by Speedo, Visa, Omega, and PowerBar, Phelps is probably the most advertised Olympian in the country. Phelps' website can be found here.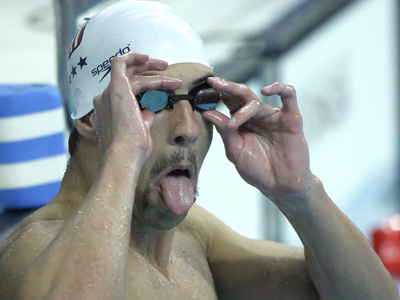 Michael Phelps at the 2008 Olympic Swim Trials:
Michael Phelps' Visa commercial:
Calling all HuffPost superfans!
Sign up for membership to become a founding member and help shape HuffPost's next chapter