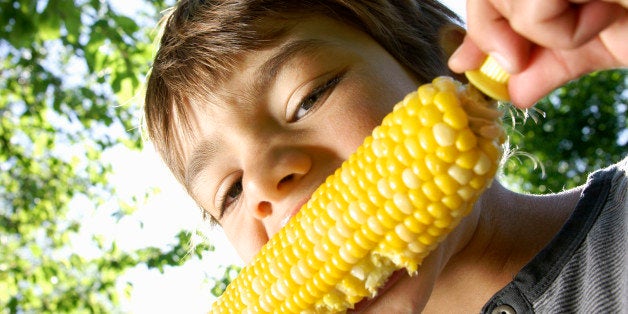 According to a 2010 UCLA study, the average American kid will be bombarded by almost 4,000 food commercials a year -- 95 percent of which promote unhealthy foods. Give a kid a choice between a carrot and a Cheeto and you know which will win. And no one needs a study (though there are plenty) to show the macro outcome of this bombardment: we're fatter (and by extension, sicker) than we've ever been.
Michael Pollan offers a solution in his new book, Cooked. He's joined "healthy eating" revolutionaries, like Jamie Oliver, Laurie David and Mark Bittman, in calling us to the kitchen. Pollan wants us to cook to remember what it is to touch, smell, and KNOW our food. He's right, but my coda to his book would be: start with the kids.
The most powerful antidote to the supremely marketed food that is engineered to make us want more is to get ourselves and, most importantly, our kids away from the television and into the kitchen -- peeling, squeezing, chopping, slicing and sizzling - with us. In a recent New York Times interview, Pollan suggested: "Bring back home ec, but a gender-neutral home ec."
I agree, so long as Home Economics starts in preschool.
There are nearly 50 million kids in the U.S. between the ages of three and fifteen. The best time to teach lifelong healthy eating habits is during their formative years. Exercise their natural curiosity, make a mess and experiment with new foods. Kids who participate in cooking their own food are far more likely to eat well. I've seen this transformation first hand.
My children, both under the age of ten, once ate from a meal-wheel dominated by white pasta and pizza. Then we began a game. Who could eat the most colors in one meal? Next, we upped the stakes. Who could prepare a meal made solely of foods from the farmers' market (nothing from a box in the freezer or pantry)? The latter challenge led to meals easy enough for a five-year-old to make and delicious enough for the whole family to enjoy. Steamed artichokes with lemon butter, salsas and salads with fresh mango, jicama and rainbow carrots, and asparagus frittata -- to name a few. Now, every week my kids pick a new food to try and together, we cook. So long as I make it a game, they're game.
The naysayers reading this are standing at the ready with arrows, and I know their arguments well (because I used to make them): it takes too much time to cook with kids. Parents are overwhelmed and busy. Kids in the kitchen make twice the mess, which takes twice the time to clean-up. A parent cooking alone, cooks fast!
Those statements are true. But, consider this. Time "wasted" today is quality time gained later. As kids become more proficient in the kitchen, parents become more relaxed; the children will be able to take on more with less supervision. Stress levels sink. Instead of dinner being a scramble, you'll find that cooking together is an unmatched opportunity for family time together. The family time we need to fix this problem.
I remember the exact moment when I realized our investment had paid off. I was standing in the frozen food aisle in late December, feeling dizzy about how I was going to host 12 guests for three non-stop days of holiday meals, and I suggested to my son, then six, that we pick up a few prepared foods to have "as backup." I reached into the freezer and his sweet little hand grabbed my arm. With a look of complete bewilderment he stated with a kindergartener's conviction, "But Mommy, we don't eat anything from a box."
An added benefit to cooking as a family? Getting kids off the couch. They can't watch those 4,000 food commercials if they're in front of the stove.
Children represent our biggest opportunity for change when it comes to food. They are the most important part of the equation. Pollan urges us to "Eat food. Not too much. Mostly plants. And cook them." Let's add three more words to that slogan -- "with your kids."
About the author: Jennifer Tyler Lee is a mom of two children and the creator of Crunch a Color® -- award-winning nutrition games that make healthy eating fun. Like most parents, she struggled to get her kids to eat healthy, balanced meals, so she decided to make it into a healthy eating game and she's giving back to support non-profit kids' nutrition programs. Winner of the Dr. Toy and Parent Tested, Parent Approved awards, Crunch a Color® has been featured by Jamie Oliver's Food Revolution, Rachael Ray's Yum-O!, Laurie David's Family Dinner, Kiwi Magazine, Dr. Greene, and Yum Food & Fun For Kids, among many others, as a simple, fun and playful way to get kids to eat healthy and try new foods. Jennifer's passion is making mealtime fun and healthy for busy families. Her easy recipes, quick tips, and new food adventures are regularly featured at Pottery Barn Kids, Jamie Oliver's Food Revolution, The Huffington Post, and on her weekly recipe blog at crunchacolor.com. Crunch a Color is available at select Whole Foods stores and online at Amazon.

Popular in the Community