The investigation began when nearly $900 of Lego sets vanished midday from the Toys R Us store in Boynton Beach. Before it was over, authorities would be tailing the alleged mastermind believed to have stolen more than $2 million of toys from Toys R Us stores from Maine to California.
The suspect: a 47-year-old, globe-trotting Tamarac man who lives with his mother and his nine cats -- what he calls his "cat family." Broward sheriff's detectives say he accomplished his personal goal of stealing in all 50 states.
His name is Ignatius "Michael" Pollara, and he's suspected of being one of South Florida's most prolific shoplifters. His criminal case is one that leaves even veteran law enforcement officers shaking their heads in disbelief.
In a span of about 200 days, reward cards linked to him were handed to cashiers at 139 Toys R Us stores in 27 states, according to court records. There was one two-week stretch when the cards were used up the East Coast from Palm Beach Gardens to Bangor, Maine, and then back down to Virginia -- 23 stores in 11 states.
A day before his August arrest, Broward sheriff's detectives watched him and an admitted accomplice visit 21 stores in central Florida in less than 24 hours, according to court records. They said they found the bounty from that spree when they searched Pollara's cluttered home strewn with boxes and bags.
Arrested with Pollara was his 71-year-old mother, who is accused of occasionally acting as a lookout for her son.
Pollara has penned a series of letters to the judge as he has spent the last 10 months in the Broward County Jail awaiting trial. He argues there is no evidence against him, accusing sheriff's detectives of falsehoods and a prosecutor of "running his mouth on pure lies."
"My name is slandered all over the Internet as the 'Toys R Us kid,'" he protested in one letter.
A man who has admitted shoplifting with Pollara told Broward sheriff's detectives that Pollara can't go into a store without stealing something, and is obsessed with one place in particular.
"Michael is addicted to Toys R Us," Travis Simpson said in a videotaped statement.
Shoplifting -- or what law enforcement often calls boosting -- is more organized and specialized than ever, authorities say.
"We've seen a shift from traditional criminal activity to the less risky business of organized retail crime," said Mack Strong, a supervisory special agent for U.S. Homeland Security Investigations in Miami. "I have a narcotics and money-laundering background, and I'm surprised to see the level of sophistication that is involved in it."
National retail studies have determined that more than $30 billion in merchandise is stolen from store shelves every year in the United States. For four years running, South Florida has ranked in the National Retail Federation's top 10 regions for organized retail crime.
Theft crews often assign specific roles to their members -- driver, lookout, picker, fence, supervisor, authorities said. The payoff is commonly about 20 to 30 percent of the stolen item's retail price.
"For some, this is their job," said Sgt. Rich Rossman of the Broward Sheriff's Office Organized Retail Crime Unit. "Just like you get up and go to work, they get up and they steal ... Career criminals are turning to this. This is just as lucrative as selling drugs."
Techniques vary. There are box stuffers who stash small, pricey merchandise inside the box of a large, inexpensive item, then pay only for the cheap item. Others use "booster bags" -- foil-lined bags to defeat anti-theft sensors. Some switch out bar codes so merchandise rings up cheaper. Then are those who simply slip items into pockets, purses or shopping bags from other stores.
When it comes to what's stolen, there are the standbys -- over-the-counter pharmaceuticals, baby formula, razor blades and health-care products. A Deerfield Beach couple busted in September 2011 by Palm Beach County sheriff's detectives were suspected of stealing more than $3 million in oral hygiene products alone -- electric toothbrushes and teeth-whitening strips.
Some crews specialize in portable electronics, while others favor clothing. Boosters will lock onto particular stores. In the last 18 months, two separate groups have been arrested and accused of stealing bras and panties from Victoria's Secret outlets across South Florida.
And there are boosters who specialize in Lego toys.
A company investigator for Toys R Us got the call on May 9, 2012, after 16 Harry Potter Legos sets disappeared from the Boynton Beach store, court records show. Store employees had seen a middle-aged man lingering by the Lego shelves earlier in the day. They believed the store had been struck by a box stuffer.
Once investigator Patrick Fairley got a copy of the man's receipt for a large toy, he noticed something odd for a suspected shoplifter: a Toys R Us rewards card had been used to get loyalty points. He then ran the card's history and started tracking it, court records show.
When the investigator met with Broward sheriff's detectives a month later, he had spent the previous week tracking rewards cards linked to Pollara as they were used in Salt Lake City; Roseville, Calif.; Reno, Nev.; Silverdale, Wash., and three cities in Oregon, court records show.
Based on Fairley's legwork, Broward sheriff's detectives subpoenaed financial records that revealed Pollara had sold nearly $910,000 of merchandise on an Internet auction site, court records show. Another subpoena revealed a Maryland woman connected with Pollara had auctioned off an additional $700,000 of Legos and LeapFrog children's computer games, sheriff's reports show.
"In A+ condition-factory sealed-never opened-pieces never removed from the box," read an online description Pollara posted of a $330 Lego set he is suspected of stealing from a Toys R Us in Naples, court records show.
Broward sheriff's detectives began doing surveillance on Pollara last July, but within days, he left South Florida in a rental car, according to court records. He spent three weeks driving from Florida to Minnesota and back, using rewards cards at 43 Toys R Us stores along the way, records show.
Once he got back to Tamarac, the detectives obtained a court order to place a GPS tracker on his vehicle, began following him and went through his garbage, an unpleasant task considering the used kitty litter generated by Pollara's nine pet cats.
According to Sheriff's Office reports, the detectives watched as Pollara, his mother, Margaret, and Simpson visited two Kmarts and a Toys R Us on Aug. 6, boosting Lego sets and LeapFrog games. The next night, detectives followed Pollara and Simpson as they stopped at two stores in Palm Beach Gardens.
The suspects then kept going north until they reached Orlando, where they checked into separate hotels. The next day, according to court records, they were tailed as they visited 21 stores -- among them drugstores, arts and crafts outlets and two Toys R Us stores. A camera at one CVS Pharmacy caught a man later identified as Pollara boosting up to $489 worth of toothbrush heads and razor blades, records show.
Pollara came home to Tamarac that night. The next day, BSO detectives arrested him and his mother. When Rossman and detectives searched the Pollaras' house, the sergeant said they found a scene akin to the TV show "Hoarders."
It was the height of summer, but a decorated plastic Christmas tree was still up, Rossman said. Clothing and dolls were scattered around the house with boxes and shopping bags full of unopened merchandise. Detectives found Lego sets and LeapFrog and VTech computer games, as well as dozens of pencil and watercolor sets, many worth more than $50, according to search warrant documents.
When Pollara arrived in an interrogation room, he didn't simply admit to boosting, but enthusiastically detailed his exploits, Rossman said.
"I've encountered very prolific boosters, but one like him that was very proud of what he did and how he did it ... no, I haven't," Rossman said. "He said he has stolen so much that he could fill an entire Toys R Us store."
Toys R Us officials declined the Sun Sentinel's requests to interview Fairley and the company's loss-prevention supervisors about the case.
Pollara claimed during his police interview that he had been practicing "the art of stealing" for a decade, using the proceeds to fund his travels around the world, Rossman said.
"When we arrested him, he was due to go on an Alaskan cruise, then he was going to go to Russia and then China," Rossman said.
Pollara said he wanted to personally thank CVS Pharmacy chain for funding his March 2012 trip to Hawaii, Rossman said.
Hotel bills seized from Pollara's rental car show that he not only had gone to Hawaii, but spent part of April 2012 jetting from Beijing to Tel Aviv and Prague.
"He's been a world traveler, all funded by organized retail crime," Rossman said.
When it comes to being accused of stealing Lego products, Pollara isn't the first in South Florida.
The Danish-based manufacturer doesn't just make the simple plastic building bricks that many older Americans recall from their youth. Their wares have become increasingly intricate and expensive, like the Mindstorm sets that are working robots or the 3,803-piece Star Wars' "Death Star" set that retails for about $400. Legos have become some of the most expensive toys around.
Two other unrelated Lego arrests in Broward County were of people caught altering bar codes so the prices scanned at the register were significantly lower.
Max Rodriguez, busted in May 2009 at the Walmart in Lauderdale Lakes, admitting to pulling the bar code switch to acquire about 300 toys at stores across South Florida, court records show. Authorities found more than $7,000 of unopened Legos and Star Wars toys in his Homestead home.
He ended up taking a plea deal and getting three years' probation.
In May 2012, Lauderhill police busted a Sunrise mom, Barbara Aqueveque, 35, after watching her go into three Walmarts and a Target in Broward County in a single day and put false labels on Lego sets priced between $100 and $125 each, according to police reports.
She cut a plea deal in March on two grand theft charges, agreeing to two years of house arrest followed by three years' probation.
Pollara now is facing 10 theft-related charges that could send him to prison for more than 30 years. His attorney has called his competency to stand trial in question, and his case recently was transferred to Broward County's Mental Health Court.
While neither Pollara nor his attorney responded to the Sun Sentinel's interview requests, the boosting suspect has written three letters to Circuit Judge Marc Gold. In them, he alleges he is a victim of overzealous sheriff's detectives.
"I do believe I'm being held as a 'conspiracy' by court or some punishment or someone of high authority is taking a 'bribe,'" Pollara wrote. "This is not fair and it's illegal."
Pollara said detectives had coerced him into making incriminating statements.
"They came to the house and I was under the influence of narcotics and feeling 'good,'" he wrote. "BSO played 'mind games' as if I was a 'star' or 'celebrity.'"
Pollara said his mother, who has pleaded not guilty to theft charges, is in poor health and needs him at home to care for her. He also said he wants to see his "cat family," all rescued strays.
The former water filter salesman had been busted for shoplifting at least twice before, and served an 18-month prison sentence for attempting to steal irons and electric toothbrushes from a Sears in Ocala in 2004.
Five years later, he pleaded no contest to misdemeanor theft after he was caught trying to steal 17 LeapFrog games from a Toys R Us in Pembroke Pines. He spent 30 days in jail, according to court records.
So far, authorities have arrested Pollara, his mother and Simpson. Some stolen property was recovered in Maryland, but no arrests were made there, Rossman said.
Simpson, 44, pleaded no contest in January to seven criminal counts related to shoplifting in Broward County, agreeing to serve three years' probation. He also promised to testify against the alleged super-booster.
Simpson, who has known Pollara for 25 years, said he would act as a lookout, clearing his throat if someone approached while Pollara was stuffing a box. As a pair, they hit stores in California, Nevada, Vermont, Georgia and throughout Florida, Simpson said.
"We were out [in California] for four days, and I didn't get off the plane for five minutes before we went to our first Toys R Us," Simpson said in an animated, late-night police interview session caught on videotape.
Simpson described Pollara as an incessant talker who claimed to have a daughter in Australia and to have had a personal relationship with a prince in Dubai.
"How much do you think you stole in your whole career?" asked the interrogating detective, seeking to put a dollar amount on the coast-to-coast shoplifting trips Pollara is suspected of orchestrating.
"Too damn much," Simpson said.
jburstein@tribune.com, 954-356-4491 or Twitter @jkburstein ___
(c)2013 the Sun Sentinel (Fort Lauderdale, Fla.)
Distributed by MCT Information Services
Related
Before You Go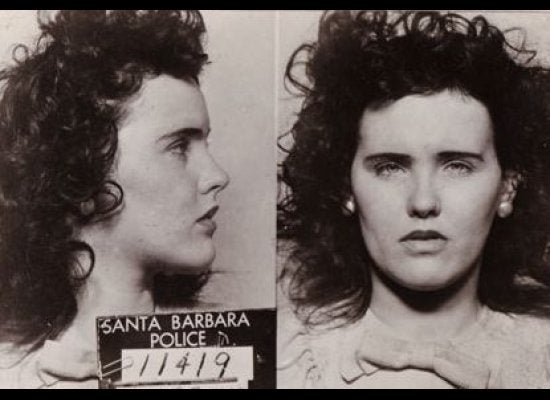 10 Major Crimes That Shocked the Nation (SLIDESHOW)
Popular in the Community