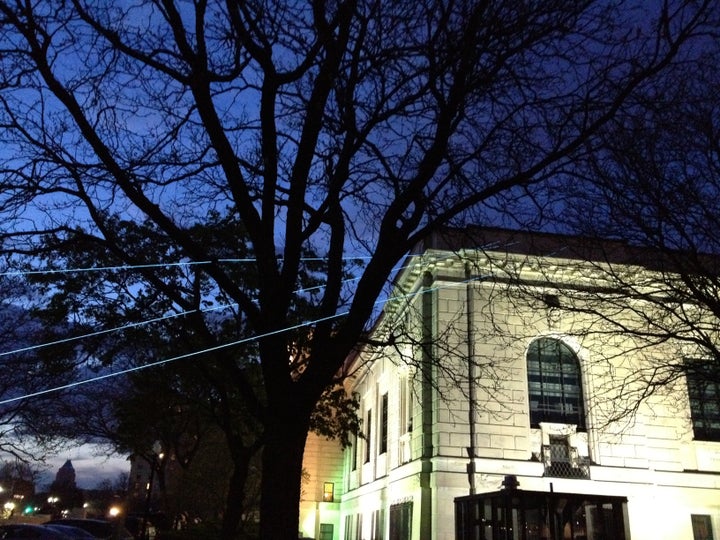 If you're walking down Woodward Avenue in midtown Detroit some evening this weekend, make sure to look up.
Artist Michael Rodemer has installed a new public work at the Detroit Institute of Arts, "Moonbeams for Motown." In the evenings on Friday through Monday, ethereal strands of white light will extend from above the roof of the art museum, through trees and to the ground.
(SCROLL DOWN FOR PHOTOS)

Rodemer, who is a professor at the University of Michigan School of Art & Design, said much of his work now is kinetic sculpture or interactive computer art. But "Moonbeams for Motown" stems from earlier pieces he did in Germany in the '80s, suspending neon glass tubes that traced the lines in trees.
"I've always enjoyed the outdoor installations ... that make people look and notice things that are around them all the time," he said.
Of course, technology has changed in the last few decades, and Rodemer used electroluminescent fiber for his current work, which is a flexible glowing material. He programmed microcontrollers that will make the brightness of the electroluminescent fibers change to create a shimmering effect.
"I hope it will be a fairly subtle effect, it might not be noticeable," he explained. "I didn't want to go with the neon sign look."
Rodemer will explain the technology behind his work, as well as other elements of his artistic process, at a demonstration on Sunday afternoon at the DIA.
Carrie Morris, a program coordinator for the DIA's Department of Public Programming who was up on the DIA's (flat) roof installing the work with Rodemer on Thursday, said she thought of him when planning programming around Earth Day on April 22.
"[His work] makes people look at the landscape in a new way," Morris said.
While some might wish the "moonbeams" would stick around longer, Rodemer was pleased with their ephemeral nature, which he said allows him to implement ideas differently than he would if he had to worry about permanence.
"It's like being able to sketch a landscape and then erase it later," he said.
Michael Rodemer will give an artist talk and demonstration at the Walter Gibbs Learning Center at the Detroit Institute of Arts, 5200 Woodward Avenue, Detroit, from 12 to 3 p.m. on Sunday, April 15, 2012. For more information, see the DIA's website.
PHOTO GALLERY
'Moonbeams For Motown'
Calling all HuffPost superfans!
Sign up for membership to become a founding member and help shape HuffPost's next chapter