WASHINGTON ― Guards at the for-profit jail on the border of Texas and Arkansas ― where 35-year-old Michael Sabbie died in July 2015 after begging guards for help ― accused the father of four of faking his illness before his death.
Guards wrote up Sabbie for "creating a disturbance" by "feining [sic] illness and difficulty breathing," according to documents a lawyer for his family provided to HuffPost. His family filed a federal civil rights lawsuit on Wednesday against Bowie County, Texas; the city of Texarkana, Arkansas; LaSalle, the company that operates the private jail; and several of the guards who allegedly ignored Sabbie's medical issues.
"Defendants' unlawful actions include depriving Mr. Sabbie of his prescription medications, denying him adequate medical care, using constitutionally excessive force against him (rather than providing him with needed medical care), ignoring his ongoing serious medical needs, including his obvious acute respiratory distress, failing to monitor him despite his severe and life-threatening medical condition, otherwise forcing him to endure extreme and needless pain and suffering, and causing his death," the lawsuit states.
HuffPost reported on the circumstances of Sabbie's death as part of an investigation into jail deaths across the country in the year after the death of Sandra Bland. Sabbie had been arrested following a verbal altercation with his wife. While initial reports suggested that Sabbie's death was "natural" and that he was simply found unresponsive in his cell, HuffPost published video showing that guards used force against Sabbie, pepper sprayed him and ignored his repeated requests for help ― "I can't breathe," "I can't breathe," I can't breathe sir. Please! Please!" ― before placing him in the cell where he died. The video showed Sabbie said he couldn't breathe 19 times.
Records show that less than 24 hours before his death, on the morning of July 21 at around 10:15 a.m., another inmate found Sabbie on the floor of his cell and alerted guards. Guards placed Sabbie in a wheelchair and brought him to the nurse's station. But the nurse, according to the lawsuit, did not conduct "several vital medical tests," including taking his blood pressure, checking his blood sugar, checking his respiration rate or administering medicine. She instead sent him back to his cell without medical assistance "in violation of basic standards of medical care and in deliberate indifference to his serious medical needs," the lawsuit alleges.
Sabbie was evidently frustrated with "the lack of medical assistance," according to the lawsuit, and began walking back to his cell. He then collapsed on the floor. Shawn Palmer, one of the jail guards, then issued Sabbie an "infraction," accusing him of "creating a disturbance" by "feining [sic] illness and difficultly breathing."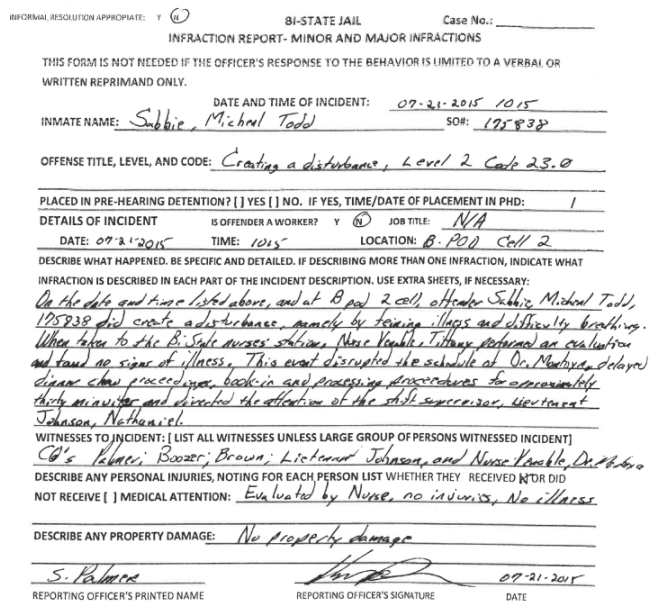 Sabbie appeared in court that afternoon, where a bailiff noticed Sabbie was "coughing and sweating heavily around his head and face area," according to the lawsuit. The judge said it sounded like Sabbie had asthma or bronchitis and asked if he wanted to sit down. Sabbie reportedly told the judge he had been "spitting up blood" and that he needed to go to the hospital.
On his way back from court, when Sabbie stopped to catch his breath, corrections officer Clint Brown "roughly grabbed him and threw him violently to the ground," as the video shows. The lawsuit adds that Sabbie "did not do anything to justify this uncontrolled and unprofessional use of force" and that Brown's actions were "objectively unreasonable ― particularly given Mr. Sabbie's obvious respiratory distress." Footage also shows that several other officers joined in, and another guard pepper sprayed Sabbie as he was struggling to breathe.
After a brief stop at a nurse's station where Sabbie was "examined" by a nurse for less than a minute, Sabbie was forced into a shower and then placed in a cell. Sabbie was supposed to be checked every 30 minutes, but a guard fabricated records of the checks, the lawsuit says. Sabbie was found cold to the touch the next morning.
The lack of adequate medical care provided to Sabbie was "motivated by constitutionally impermissible profit-driven reasons" the lawsuit alleges, adding that LaSalle "had a policy, practice, and custom of budgeting and spending inadequate amounts on jail medical care to make higher profits on the contract."
The circumstances that led up to Sabbie's death are not terribly unique. Last year, a former jail administrator in McClain County Jail in Oklahoma was indicted on federal civil rights charges for willfully failing to provide necessary medical care to a diabetic pretrial detainee. In the Milwaukee County Jail run by Sheriff David Clarke, a guard reportedly thought a 29-year-old inmate who had a seizure was faking it, and then let him go when he was unconscious. The inmate fell over and hit his head. Jail guards in Oklahoma apparently believed a veteran was faking when he was paralyzed in his cell, unable to reach food and water. An inmate in Florida who died of an infection from a dog bite from a police dog was also accused of "faking or exaggerating" an illness. This month, a jail nurse in Mississippi pleaded guilty to manslaughter for denying a diabetic inmate insulin, and reportedly told other staffers the inmate was making the problem up.
"Michael Sabbie is not the first inmate to die after being written up for faking an illness," Erik Heipt, an attorney for the Sabbie family, said in a statement to HuffPost. "And if we allow this sort of reckless disregard for human life to continue in our county jails, he won't be the last."
Popular in the Community