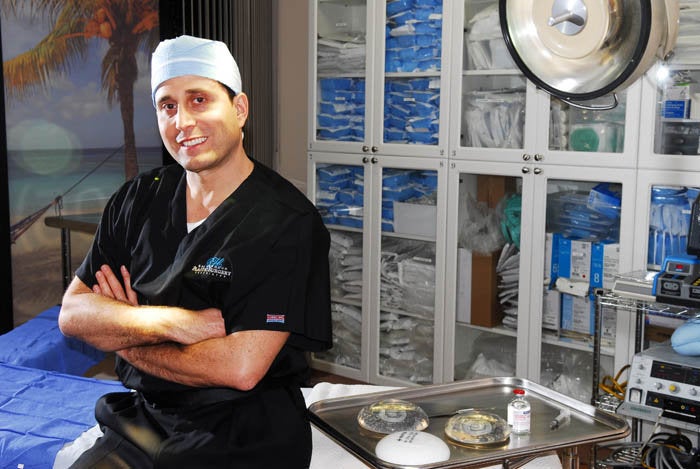 Miami plastic surgeon Michael Salzhauer recently incited controversy when he produced a rock video, "Jewcan Sam," in which a young Jewish man only gets the hot blond after undergoing rhinoplasty. Salzhauer, who goes by the nickname Dr. Schnoz, also ran a contest along with the video to give away free nose jobs.
The Bal Harbour-based surgeon is back in headlines, this time hoping to solve the perpetual singledom of some Orthodox Jews.
In the Orthodox practice of shidduch, Salzhauer explains to HuffPost Miami, Orthodox parents hire a matchmaker -- "just like in Fiddler on the Roof." The "yentas" then send a selection of resumes to parents, who sort through applicants and arrange chaperoned dates.
"The problem is," Salzhauer continues, "When the guys are 20, they date 19 year olds, when they're 21, they date 19 year olds, when they're 22, they date 19 year olds, and so on."
To make up for the over abundance of slightly older single women, Salzhauer said, they have events where mothers meet 200 girls -- "sort of a speed date with potential mother-in-laws."
Yitta Halberstam, who wrote the Jewish Press article, attended one of these and was struck by how few of the young women wore make-up or even tried to look nice, according to Salzhauer.
She also points out that whenever a match is initially arranged, the first question the mother always asks is Is she pretty?
"Clearly, although beauty is on the inside, it plays a part is making a good match," Salzhauer said, who admitted he met his wife in Brooklyn College's Kosher cafeteria without the help of a matchmaker.
"So in this article, Halberstam implores women to make an effort in their physical appearance. She even encourages mothers to put aside funds to help their daughters get nose jobs," Salzhauer told HuffPost Miami.
I am disgusted, and pained at the thought that these girls are not only being subjected to the metaphoric knife ... wielded by these "concerned MIL's" but now they must be subjected to the surgical knife as well. I feel for the mammoth hole that will be left in these poor girls self esteem when their own mothers insist that in order to be deemed worthy, they most surgically alter their appearance.

But Salzhauer agrees with Halberstam: "I have personally seen people in the Orthodox community who have trouble getting a match and then after rhinoplasty or chin implant or whatever it takes, I see them out and they've blossomed. They're engaged or married."
Salzhauer says he is only giving away free plastic surgery to applicants that come from a matchmaker. "It has to be vetted somehow. Think of it like a scholarship for plastic surgery. "
When asked if he was discouraged from doing such surgery freebies in light of the "Jewcan Sam" controversy, Salzhauer responded:
Plastic surgeons have always been donating their services for generations. Their objection was to the contest aspect -- this is not a contest per se. This is pro bono work, I'm just offering to a specific community. I understand why they were concerned about the video. It's their job to not have a sense of humor about those things. This is different.

BEFORE YOU GO