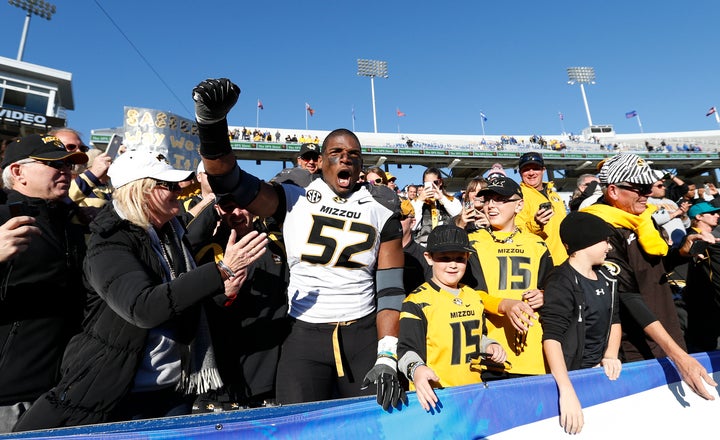 Michael Sam says he's heading back to the University of Missouri -- for graduate school this time.
Sam, who played football for Mizzou as an undergrad until he graduated in December 2013, did not specify what he'll be studying when he returns to the school.
He noted, however, that he plans to "train to get back to football" during his time there.
Sam announced last month that he was going to "step away" from football over mental health concerns.
"The last 12 months have been very difficult for me, to the point where I became concerned with my mental health," the 25-year-old wrote on Twitter on August 14. "Because of this I am going to step away from the game at this time. I thank the Alouettes for this opportunity and hope to be back on the field soon. Thank you for all your understanding and support."
Sam became the first openly gay player to be drafted into the NFL when he was signed by the St. Louis Rams in 2014. President Barack Obama himself congratulated the athlete at the time, saying: "From the playing field to the corporate boardroom, LGBT Americans prove everyday that you should be judged by what you do and not who you are."
In May, Sam signed a two-year contract with the Montreal Alouettes of the Canadian Football League. He played one game for the team in August, but announced his departure from the Alouettes a few days later.
Sam was named the Southeastern Conference Defensive Co-Player of the Year in 2013.
Last year, he won the Arthur Ashe Courage Award at the ESPYs.
"This year I have a lot of experience being part of something a lot bigger than myself," he said in an emotional acceptance speech. "At times I've felt like I've been living in a massive storm, and I know the storm will end. I'm here tonight to tell you that the lessons I learned about love, respect, and being true to yourself will never leave me."
Related
Popular in the Community