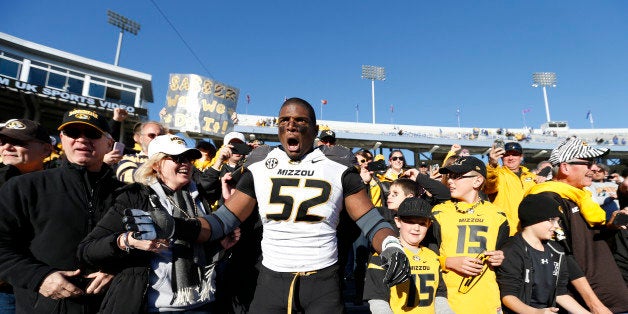 If Michael Sam were straight -- or hiding his sexuality -- I find it hard to believe he would've been available for the St. Louis Rams to draft him with the 249th pick in the draft.
In today's NFL full of pass-happy offenses and hybrid defensive fronts, football reasons alone can't justify why an award-winning pass-rusher like Sam fell so far in the draft. Playing in the toughest conference in college football, Sam was an anchor on a Missouri defensive line that helped propel the Tigers to a Cotton Bowl victory and the SEC East title. He posted more sacks in 2013 than No. 1 overall draft pick Jadeveon Clowney, was a first-team all-American and won the SEC defensive player of the year award.
Historically, Sam's drop was unprecedented for an SEC Defensive Player of the Year. Since the award's inception in 2003, all but two of its winners went in the first round. One of those players, linebacker DeMeco Ryans, was the first pick of the second round of the draft. The lowest-drafted winner of the award, 2003 winner Chad Lavalais, was drafted over 100 spots ahead of Sam, in the fifth round of the 2004 draft.
In short, either Sam is the worst player by far to be named the best defensive player in college football's best conference, or other factors were afoot. Based on his game film, the latter seems much more likely than the former. Sam was quick off the snap, displayed good play recognition and frequently maintained leverage against larger offensive tackles. Where Sam really excelled at Missouri was quickly shooting through the B-gap between the tackle and guard to get into the backfield.
He wasn't the best at stopping the run, and honestly he wasn't quite as good as fellow Missouri defensive end Kony Ealy. Ealy was more versatile and a bigger factor on run plays, but the drop-off between Ealy and Sam wasn't that big. If Ealy was worthy of the second-round pick the Carolina Panthers spent on him -- and he was -- then Sam's name only should've been called a round or two later.
Instead, Sam waited another five rounds after his teammate's selection, despite playing nearly as well as Ealy. As lesser-qualified defensive ends from smaller and smaller schools kept getting selected, the elephant in the room grew more and more difficult to ignore. Among the players drafted ahead of Sam were:
Two kickers and a punter
A defensive end from Marist
A defensive tackle who missed all of the 2013 season because he was kicked off his team
A defensive end the same size as Sam who posted a slower 40-yard dash time than Sam and racked up only 5.5 sacks playing in the Conference USA
An offensive tackle who quit early during his own pro day
No matter how pessimistically teams were viewing Sam's ability to transition to the NFL, it strains credulity to suggest that nobody in the first six (and three-quarters) rounds thought Sam provided a better value than some of the players that got picked before him. It says something about teams' priorities that being accused of threatening to rape a rape victim won't drop a player out of the top 15 picks in the draft, but dating men will drop an All-American pass-rusher down to the absolute bottom of the draft's final round.
I don't think outright homophobic collusion is to blame for Sam's unjustifiably long wait on draft day. Some teams probably passed on Sam because they wanted to avoid media attention. Even more teams probably passed on Sam because they figured the rest of the league would be too concerned with media attention to draft him.
Eventually the St. Louis Rams decided Sam provided too much value to pass him up and they took him with the eighth-to-last pick of the draft. The Rams' front seven is pretty thoroughly stacked, so cracking a starting lineup even as a linebacker may be tough for Sam, and he may have trouble making the team. Regardless of what obstacles he may face on the rest of the journey, Sam has made history by being the first openly gay player drafted into the NFL.
It's just fishy that it took so long for a player with his pass-rushing acumen to be drafted and make that history.
Calling all HuffPost superfans!
Sign up for membership to become a founding member and help shape HuffPost's next chapter