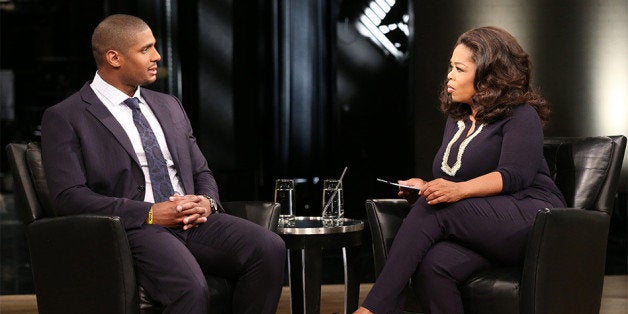 When Michael Sam became the first openly gay man drafted into the NFL, the world watched him celebrate with his longtime boyfriend, Vito Cammisano. In those brief moments captured on film, we were given a small glimpse into Sam's world. The lens opened a bit wider on Saturday night with the airing of "Michael Sam" on OWN, a 90-minute documentary about the history-making athlete and his desire to live an open, authentic life. Afterwards, Sam sat down with Oprah for his first interview since being drafted and later cut from two teams. Below are six big moments we're still talking about.
After three days of anticipation, Sam learned he was picked up by the St. Louis Rams, an emotional moment for any player. While celebrating with his boyfriend, Sam playfully smashed cake in his face and gave him a kiss, a moment some criticized as controversial and staged.
Sam says the kiss was absolutely not staged. In fact, he says, cameras were supposed to be finished filming at that point. "They were only supposed to film the moment I got drafted. That's what people don't understand," he says. "They say it was staged. Well, I'm having fun. I'm in a good mood."
Does he think the kiss was too much? "If you didn't like it, grab your remote control, turn the channel," Sam says.
Since publicly coming out, Sam says other gay men in the NFL have reached out to him. "Very few reached out to me and pretty much just told me their gratitude," he says. "They wished that they had the courage to come out."
When asked how many, Michael declines to give a number. "There's a lot of us out there," he says. "I'm just the only one who's open."
He Would Never "Out" Another Player
Sam tells Oprah he would never encourage another NFL player to come out just because he did. "They need to come out whenever they feel comfortable for them coming out," he says. "Not once have I ever tried to advise them coming out."
He did, however, think his openness would spark others in the NFL to come out publicly as well. "I was wrong, but everyone has to come out in their own time," he says.
Sam Was Tormented as a Kid
Sam's two older brothers, known around his small Texas town as the "damn Sams," bullied him mercilessly. "They used to abuse me daily," Sam says. "Maybe just for fun. Maybe because I was different."
In the seventh grade, Sam recalls receiving his very first trophies for honors in football, basketball and track. "I was so proud of those trophies," he says. "My older [brother], he was so jealous and he just broke them in front of me and it was just the saddest thing. I couldn't have anything without them destroying it or taking it from me."
He'll Forgive His Brothers -- One Day
When he graduated from the University of Missouri as an All-American, Sam says his mother handed him a letter from one of his brothers.
"I never read it just because all the memories came back to me and I chose not to read it," Sam says. "I know one day I will forgive my brothers for everything they did to me."
Sam Hasn't Given Up on His NFL Dreams
After being cut from the St. Louis Rams, Sam was picked up by the Dallas Cowboys practice squad, only to be released after seven weeks. "Do you think now that the reason why you are not with a team is because you weren't good enough to play?" Oprah asks Sam. "Or because you are gay?"
"I don't like to think that way," Sam says. "But I do believe I'm a very talented football player and I'm going to continue on working hard and trying to get that opportunity to play in the league."
As to why he was cut from the Cowboys, Sam says it was just business. "I did everything I was told to do," he says. "I was on a scout team. There was nothing I could do, the roster was full already and I had to go."
Sam is now acting as a free agent and says he'll hold onto his NFL dreams for as long as he can. "The season's coming to an end and I know I'm still fresh. I could still get a call right now -- it's highly unlikely, but I can go up in next season and start all over again."
"I believe good things are on the horizon," he says.
Popular in the Community