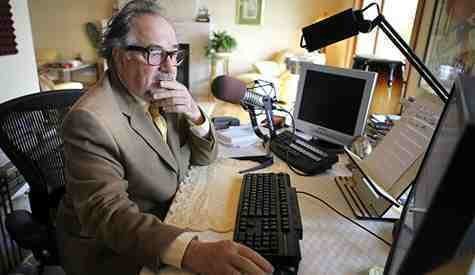 I'm having a hard time discerning the logic behind talk-radio host Michael Savage's recent threat to post pictures and "pertinent information" about the people who work for Media Matters For America on his website. Oh, wait! I see my mistake! I am sitting here, contemplating Michael Savage, and attempting to "discern logic." Okay, my bad.
The story goes like this: Michael Savage hates him some Media Matters folks, for constantly harping on his craziness, and probably because he blames the media watchdog organization for the way he was banned from entering Great Britain by Home Secretary Jacqui Smith. So, Savage recently called upon "all people in the media who have been harassed by this Stalinist group, Media Matters, to join forces to publish the names of the people and put their pictures up on their websites." Ahh, yes! Who can forget the robust growth of media watchdog groups that flourished under Stalin!
What's strange about this is that Media Matters has been making the case for some time now that right-wing voices have been ramping up rhetoric that specifically urges violent acts and intimidation. So now, Savage is talking about a running a web-stalking campaign against them? Hmmm. I wonder what sort of conclusions a person might draw from that?
The history of right wing extremists using "wanted" posters against abortion providers is well documented. Recently the right wing Christian group the American Center for Law and Justice celebrated its court victory for the "truth truck" that promoted incendiary attacks on Dr. George Tiller. Sadly two days later Tiller was dead, assassinated in his place of worship. While the court case and Tiller's murder cannot be directly linked it demonstrated a certain morbid insensitivity that the group continued to trumpet the court victory after Tiller's death.


[...]

Against this backdrop the threat to post pictures and personal information about media watchdogs as a response to criticism can legitimately be perceived as a threat. Michael Savage may be famous for brash talk and incendiary language, but recent history must be taken into account as his "Savage Nation" may take the talker's inflammatory posting as marching orders to take action against his enemies.
And against this backdrop, it seems to me that making Media Matters the target in the same way that they have been writing about, with earnest concern, only helps to prove their point. It just doesn't make logical sense for Michael Savage to do...oh, but there I go again!
[Would you like to follow me on Twitter? Because why not? Also, please send tips to tv@huffingtonpost.com -- learn more about our media monitoring project here.]
Related
Popular in the Community