In these Instagram overkill selfie loving disposable fashion times, it's refreshing to see work painstakingly created by a real artisan. Michael Schmidt is all that and more. His design expertise spans jewelry, wardrobing and interiors. He specializes in using precious metals and found materials. His innovative amped up rock star creations have adorned Madonna, Lady GaGa, Steven Tyler, Beyonce, Rihanna, and Cher. He's involved in an ongoing collaboration with designer Jeremy Scott and Chrome Hearts. He constructed a full length gown out of 3,500 razor blades for Deborah Harry that was part of the 'Rock Style' exhibit at the Metropolitan Museum of Art's Costume Institute. His work is on permanent display at the Rock and Roll Hall of Fame and Museum in Cleveland. The Pasadena Museum of California Art honored him with a career retrospective in 2010.
Michael and I recently met up for an evening of semi debauchery starting at Clifton's Cafeteria in downtown LA. Michael is tall, ageless and his wrists are always covered in a punk rock melange of precious metals. That night he wore heavy silver chain bracelets studded with diamonds, and an intricate chain mail cuff. We talked amid the drunken screams of twenty-something revelers.
How did you get started designing jewelry?
I moved to New York 1983 from Kansas City. I was a kid with no job and no prospects. I went to see Diana Ross in Central Park and I fell in love with the city, I started making jewelry out of stuff I found on Canal St and wherever. Eventually I started doing more and more elaborate things. I made a chain mail dress that ended up in the window of a store called Dianne B in Soho. One day Cher walked by and saw the dress. She went in and asked them if they would connect us. They said no because they wanted her to have to go through them. Fortunately I had a friend who worked in the store who slipped Cher my phone number and that was the start of it all. We worked together for a long time and she started giving away my things as gifts to other rock'n'roll friends of hers like Tina Turner and Bon Jovi and that's how I started working with bands. So thirty years later here we are.
Tell me about your design studio and how you create your pieces.
I have an amazing team, three full time people and another couple part time and when we do a tour or large project it can be as many as 16 people. Everyone comes to me with a basis in jewelry. You have to have a jeweler's finesse to do all the crazy things we do. We pride ourselves on being to create things and work in materials that nobody utilizes, invent new materials. You have to be able to work on your feet and really accept and excel at a challenge. I have a lot of clever people who work with me.
How did the vampire death glove Lady GaGa wore in American Horror Hotel come to be?
Lou Eyerich, the show's costume designer called me out of the blue and said I've been looking all over Hollywood for someone to create this thing. It's a key component to the show. Is it something you think you can tackle? It was a unique challenge. The glove itself has a lot of sterling silver detailing but it also required a mechanism that enabled GaGa's character to flick out a blade and kill. It was a great challenge and super fun. We did about ten of them in various colors. Figuring out the mechanism was the daunting aspect but once we had that it went smoothly.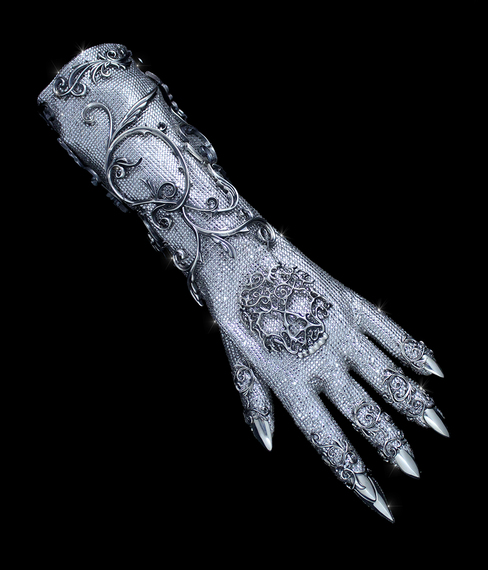 I covet the guitar strap you made for Madonna's last tour. What kind of pieces have you designed for her?
We've worked together on five tours. The first thing I did for her in 1995 was an aluminum chain mail dress she wore in her Fever video. I work with her two main stylists, Arianne Phillips and B. Akerlund. When they need a finishing piece for a look they'll reach out to me. We've done all kinds of insane things together. I like working with Madonna. She's very, very disciplined. She demands the best from her people and I respect that.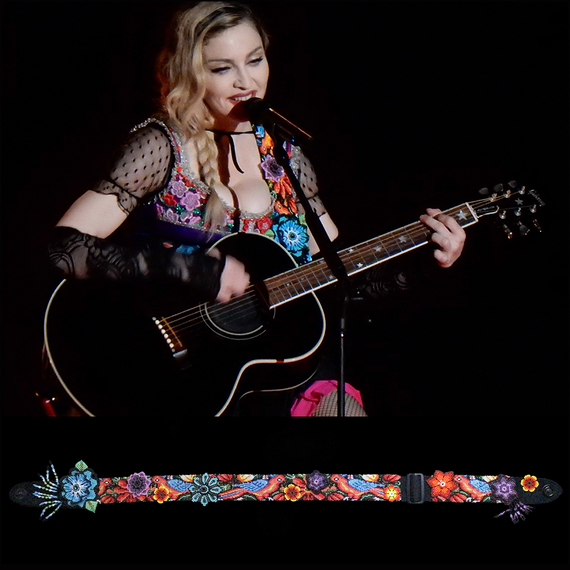 You've worked on several tours with Rihanna. You designed the silver fangs she wore in her Princess of China video. What was the last piece you made for her?
I was asked to create a pair of shorts and decided to rework the classic Daisy Dukes. I devised a way to print onto metal mesh then designed a metal mesh version of the shorts. They ended up on the cover of Rolling Stone.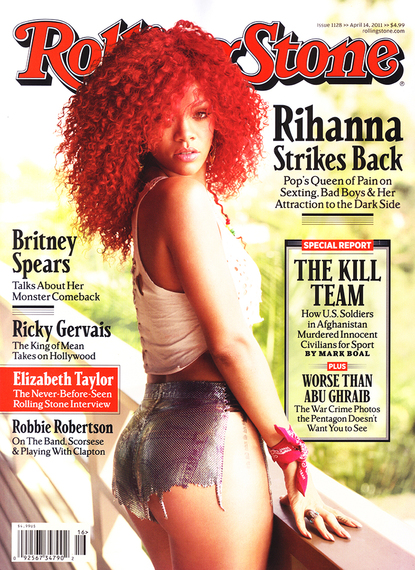 Tell me about your design work with Ace Hotels including the 3 D printed powdered nylon black crystal covered gown worn by your friend Dita Von Teese.
I've worked with the Ace hotel on four projects, the latest was two chandeliers for their new property in New Orleans. They're very ornate scroll work, iron work chandeliers completely drenched in wax. Very gothic, and I think appropriate for the city. I love New Orleans and the Ace so any opportunity to do something fun with them is always welcome. I've done a cotton rope macrame curtain for their property in Palm Springs, a large-scale chain chandelier for their property in Los Angeles and then of course the 3D dress was launched at the Ace in New York. They were having a symposium on 3D printing and how it may impact the fashion industry. I've known about 3 D printing since the 80's. it was an opportunity for me to try something new.
I first met you in the nineties at Squeeze Box in New York on the night you used to curate. It was one of my best club experiences ever. How did that come together?
My ex Patrick called me up and asked me if I wanted to do a gay night at club he's was managing on the lower west side of Manhattan. My initial response was to say no. I'd never promoted a night before and didn't know anything about it but the more I thought about it I realized it was an opportunity do the club we always complain that doesn't exist. Back then in the 90's New York was very segregated. Gay people didn't go to straight clubs. Straight people didn't go to gay clubs. Gay people weren't into rock'n'roll and if they were they didn't have a place to go. It was an opportunity to do the club we always complain doesn't exist. I knew all these amazingly talented drag queens who could really sing but were always asked to lip-sync. I was very anti lip-syncing. I decided to put together a punk band that the queens could sing live with. We had local bands open for them and that drew in the straight crowd and the gays came for the later show. It forced them to mix and it just snowballed. It lasted about eight years. Some amazing things came out Squeeze Box like the The Toilet Boys, and Hedwig and The Angry Inch got it's start there. I knew a lot of singers due to my other career. We'd have people come down and sing with the queens including Debbie Harry, Joan Jett, and Marilyn Manson. The shows became legendary. It brought the gay and straight scenes together. It was a platform that introduced a rock'n'roll aspect to queer nightlife. It was an outlet for some really talented people to perform which was the ultimate goal.
How did your new jewelry line evolve?
For sometime I've been going back to my roots because I like working on a very small scale so jewelry really suits me. It enables me to work with my hands in a way that clothing or sculpture doesn't. I have two collections; one is a metal mesh Swarovski crystal collection of about fifty pieces. The newest thing we're doing is moving into diamonds. It's a collection of precious metals and diamonds and that I'm really excited about. it involves some 3D printing and all of the skills that we've honed. I'm channeling those into this really refined collection that I'm very proud of. That to me is the future.
When I work with an entertainer, clearly I take my inspiration from them. There are specific dictates that have to be met on a tour or video. I strive to design custom pieces that take their persona into account. Often times there are specific dictates that have to be met. If it's a theme to a tour or a video These are custom pieces that takes their persona into account. Whatever their needs are, that's what inspires me in those instances. Clothing on that level is a collaborative experience. The jewelry collections are just mine inspired adapting unusual materials to the body creating fabrics out of metal, plastic, or whatever. That to me is endlessly fascinating and very challenging and I get to funnel that fascination into all the work we do. Specifically with the jewelry, I get inspired by thinking through the process, rendering the impossible into something real.