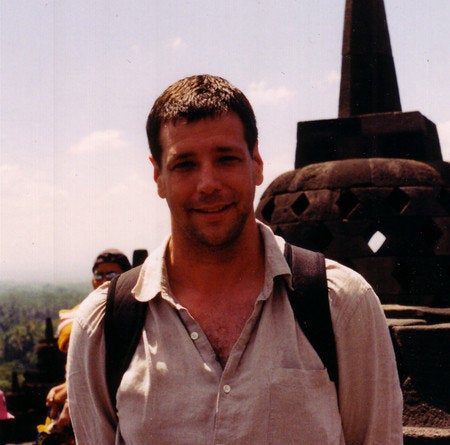 A writer and travel journalist from Manhattan Beach, Calif. has been kidnapped by Somali pirates while doing research on a book about piracy.
According to Somalia Report, who first reported the kidnapping, 15 men in two Land Cruisers abducted Michael Scott Moore and beat his Somali associate last Saturday. After local leaders tried unsuccessfully to negotiate with his abductors, Moore was relocated several times throughout the region, said Somalia Report.
Two days after Moore was kidnapped, Somali leader Mohamed Ahmed Alim tried to negotiate with the pirates again, but they would not discuss his release until a ransom was paid, reports the Los Angeles Times. The ransom figure has not been disclosed.
The State Department confirmed on Thursday that a U.S. citizen was being held by Somali pirates, but they did not mention Moore's name. In a briefing with press, spokesperson Victoria Nuland said that the State Department has been in contact with the victim's family, as well as sources in Kenya and Somalia to investigate more about the incident. "We are concerned about this individual's safety and well-being," Nuland said, before calling for the immediate release of all kidnapping victims.
I also went to Africa late last year to write a series of articles about Somali pirates. A book about piracy has the same appeal to me as the surf book — it has the same clash between hard fact and cliched mythology. It would also involve a great deal of travel.
While it isn't known yet how long Moore has been in Somalia researching his book, he last updated Facebook in late December and Twitter in early January.
Moore is the author of Sweetness And Blood, a book about how surfing spread from Hawaii to California, and Too Much of Nothing, about surfing sub-culture and two teen boys growing up in a city modeled on Los Angeles. A journalist profile on Miller-McCune also notes that Moore was a Fulbright fellow for journalism in Germany and has written for The Atlantic Monthly, Slate, the Los Angeles Times and Spiegel Online.
Navy SEAL Team 6, a special ops military force, just carried out a rescue mission in the same region on Tuesday to take back Dane Poul Hagen Thisted, a Danish citizen, and Jessica Buchanan, an American citizen. The two had been working to de-mine the region when they were captured. The Washington Post notes that there are several Western hostages who are still being held in Somalia: "Several hostages were still being held in Somalia, including a British tourist, two Spanish doctors seized from neighboring Kenya and an American journalist kidnapped on Saturday." SEAL Team 6 is the same special-ops group who carried out the mission to kill Osama Bin Laden in Pakistan.
Related
Popular in the Community