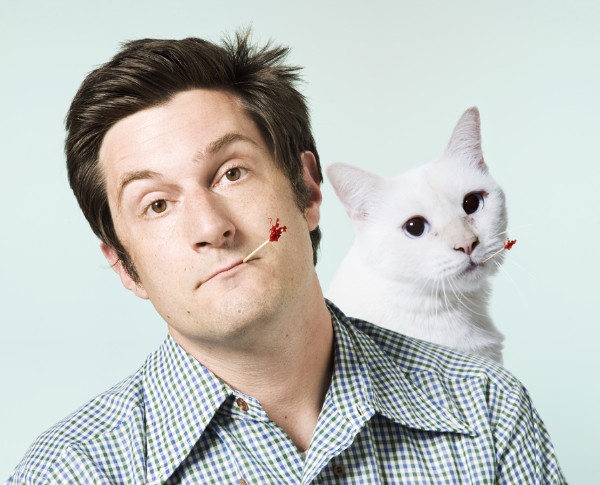 Michael Showalter is perhaps best known for co-writing and starring in Wet Hot American Summer, the seminal camp movie send-up that featured everyone from Amy Poehler and Paul Rudd, to Bradley Cooper and Janeane Garofalo. But Showalter has been finding new ways to make people laugh since he was a member of the sketch comedy troupe The State, on MTV, and later Stella, with Michael Ian Black and David Wain. In addition to doing standup, he wrote and directed the 2005 romantic comedy The Baxter, teaches graduate screenwriting at NYU, and last year published a comedic memoir called Mr. Funny Pants.
Recently the author, director, and cat-person took the time to answer a few questions about writing, nerding, and musical theatre.
Your parents were both Ivy League professors and you grew up in Princeton, NJ. How nerdy do you consider yourself on a scale of 1 to Spock?
"Tribble." Is that an acceptable answer?
What were your obsessions as a kid?

(Not necessarily in this order:)
1. Animal House/John Belushi
2. Mad Magazine
3. Baseball cards
4. Broadway musicals
5. Mork from Ork
6. Girls
7. Pizza & hoagies
Have you ever played D&D?

Never full-fledged D&D but we used to play "mini-D&D" all the time. We'd make our little mazes and maps and just get regular dice. I don't even recall how it worked exactly.
Which books have you read more than once?

More than once? Yeesh. That's gonna be an odd list:
Rolling Stone Record Guide
Hitchcock/Truffaut Interviews
Screenplay by Syd Field
The Complete Book of Symptoms & Treatments

You were a semiotics major at Brown. How did you decide on that? And what does a semiotics major say to a girl at a party?
I went to college thinking of maybe pursuing a career in film criticism. Semiotics was as close as I could get to that.
"Hey, baby. I'm semiotics major. Wanna interpolate?"
You also wrote plays. What were they like?

I didn't really write plays. I wrote something with David Wain and Joe LoTruglio many years ago called, "Sex a.k.a. Weiners and Boobs." It's sort of like a comedic, theatrical version of High Noon.
Is it true that you love musicals and dream of being in one?

Indeed it is! I love musicals. When I was at camp and in middle school and high school I did a bunch of them (Gypsy, Three Penny Opera, Bye Bye Birdy, Oliver, South Pacific and Oklahoma to name a few.) I've always loved going to see Broadway shows. I've seen'em all: Rent, Chorus Line, Cats, West Side Story, Guys & Dolls, Wicked, you name it! My not-so-secret ambition is to sing and dance in a Broadway show.
You've talked a fair bit about structure: from the structure of a screenplay to the structure of a joke. As a screenwriting professor now yourself, what do you tell your students when they hit a structural roadblock in their writing?
I am a big proponent of writing a great outline. That way you can avoid hitting a roadblock. There is no worse feeling than writing yourself into a corner but if you've figured it all out in the outline then you won't have that problem. Think about it: would an architect ever build a house without a blueprint? Just wing it? He'd get all the plumbing wrong! It is no different with screenwriting. Have a great blueprint to work from!
Thanks to an endless stream of cat videos everyone's obsessed with cats nowadays, but you were an early adopter, so to speak. What do you like about cats and why do you think they rule the internet the way they do?
I'm not sure why I like cats so much. I mean, they're really cute obviously. They are both wild and domestic at the same time. This is somewhat endlessly fascinating. One second they'll be snuggling at your feet and the next minute they are killing a mouse (or a toy mouse at least.)
Were there any alternate titles for Wet, Hot, American Summer?
For a long time it was called "One Nine Eight Two." ("1982", get it?) We loved that title. "Wet Hot American Summer" probably has a little more zing to it though.
Finally, in your book Mr. Funny Pants you say that there's no way to look cool while holding an ice cream cone. What things always look cool while someone's doing them?
1) Fixing something on the moon.
2) Anonymously donating money to charity.
3) Picking up garbage.
Popular in the Community