A South Carolina circuit judge declined to grant or deny bond Thursday for the former North Charleston police officer who was filmed in April shooting an unarmed black man as he fled.
Michael Slager, 33, will have to wait to find out whether he may be released from jail ahead of his first-degree murder trial for the shooting death of Walter Scott, 50.
About the only thing anyone agrees on is that Slager had pulled over Scott for a broken taillight. A bystander's widely circulated cell phone video shows Slager shooting Scott five times in the back in a vacant lot. Soon after the video's release, the North Charleston Police Department fired Slager. A grand jury indicted him in June. Prior to the release of the video, authorities had been sympathetic to Slager's claim that Scott had fought him for control of his Taser.
During Thursday's hearing, the prosecution and defense gave differing accounts of the incident. Prosecutor Scarlett Wilson claimed that Slager planted evidence at the scene, while the defense claimed that Scott assaulted Slager before he was shot. Circuit Judge Clifton Newman said he would need more time to make his decision.
In a jailhouse interview with NBC Wednesday, Slager said there was far more to his encounter with Scott than what the video shows.
"That's what makes me upset, is that nobody knows what actually happened," he said.
Large crowds gathered amid heavy security outside the Charleston courthouse Thursday. Members of the media were reportedly blocked from watching the proceedings, which lasted over three hours.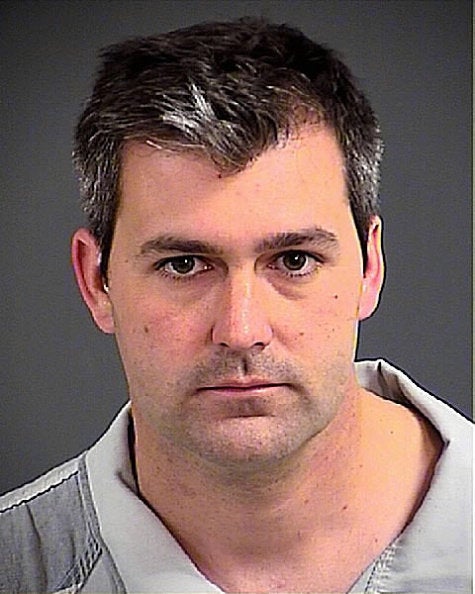 Both Wilson and Andy Savage, Slager's defense attorney, complained that the State Law Enforcement Division had destroyed evidence during its investigation of the shooting.
Neither Wilson's office nor Savage immediately responded to The Huffington Post's questions about the hearing.
Documents filed this week by Savage maintain that Slager used his gun because he felt threatened by Scott. Scott's DNA was allegedly found on Slager's Taser, said the defense attorney.
"The video is admittedly awful, horrible," Savage told HuffPost before the bond hearing. But, he said, "it ignores the events leading up to it."
He argued that the public outcry over the video caused local authorities to ignore other evidence and treat his client unfairly.
"My feeling on this is that the mayor and the chief of police of North Charleston, when confronted with the possibility of a riot because of the murder of an unarmed black man by a white cop, chose expediency over due process," he said.
If convicted, Slager faces 30 years to life in prison.
The prosecutor's office did not make anyone available to HuffPost for comment Thursday. In June, Wilson reportedly said that "the prosecution work has just begun" and that her team would be "focused on getting all admissible evidence before the judge and jury and pursuing this case vigorously."
Savage's filing also includes medical papers like Slager's psychiatric evaluation and a toxicology report saying that Scott had cocaine in his system when he was shot. The trace amount of cocaine in Scott's system, however, was below the level typically found in an impaired driver, The Post and Courier reported.
Scott's family said Tuesday that Savage had introduced the documents to tarnish Scott's image and defame his character.
Related
Popular in the Community