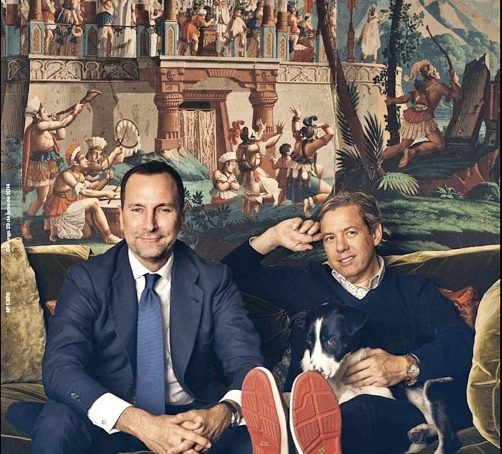 Designer Michael Smith and his partner of 15 years, James Costos, are used to being photographed in their Los Angeles and Palm Springs homes. Smith's cachet in the architectural world is expansive -- but their move to Spain two years ago has put them in a new kind of spotlight.
Costos was named the United States Ambassador to Spain in 2013; the duo are one of the first same-sex couples to make an embassy their home, a fact worth noting in the overwhelmingly Catholic country.
"We were very well received. They embraced us and welcomed us just as they would any other ambassador," Costos told The Huffington Post over the phone from Spain. 
For his part, Smith, who has been commissioned to work on houses for Steven Spielberg, Bruce Springsteen and Cindy Crawford, among others, travels to Spain approximately one week out of every month to be with Costos at the Embassy in Madrid and spends the rest of his time working in Los Angeles. The Huffington Post met Smith on the rare kind of day in L.A. where he was working from home with his 12-year old Labradoodle Jasper at his feet.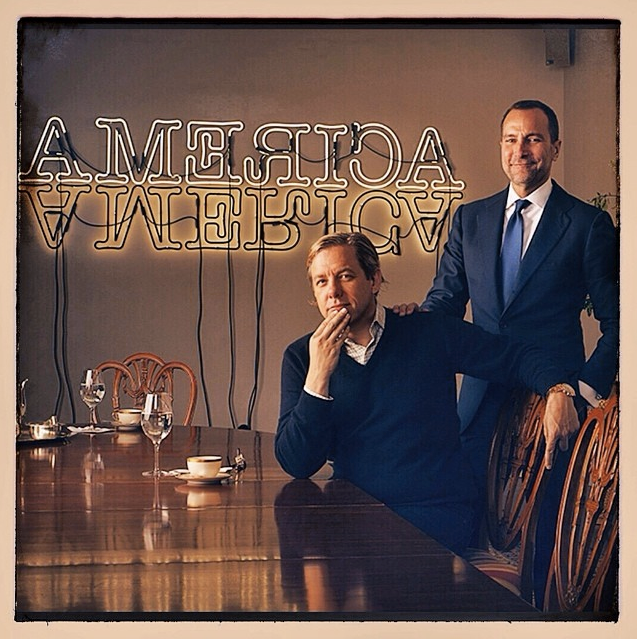 "We realize the importance of it -- the precedent," Smith told HuffPost. "We knew that it was going to have weight. And we make a big point of being active, but we aren't activists. It wasn't like we were this big gay couple coming in."
And yet, Costos says (with a chuckle) that people have referred to him as the Gay Ambassador. "I say I just happen to be gay. It's just like everything else -- I've been on the board of The Humane Society and I'm a vegetarian but these are just some of the things that define me as a person. They don't define me in general."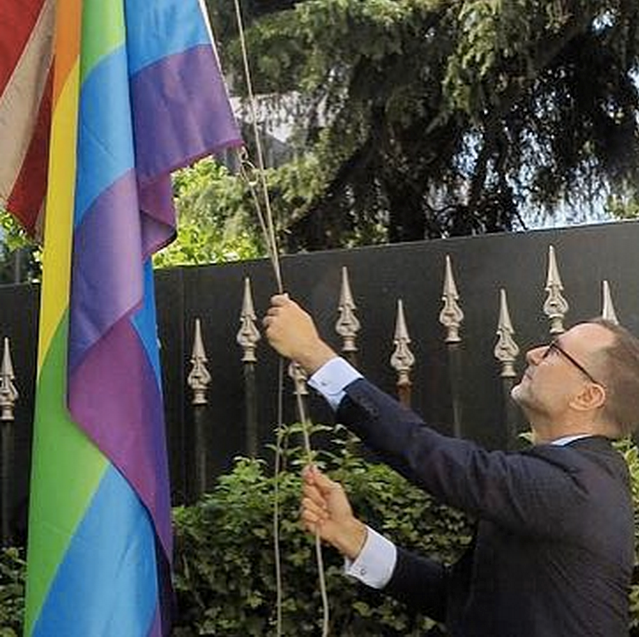 Smith is proud of the example they are setting, even if they never intended to do so. "I didn't feel like we had to break new ground in Spain. But I think we have broken new ground as a result of being so accepted and so public," he said.
It's unusual for the spouse of an ambassador to have a full-fledged career and to not live at the Embassy full time, Smith said. It's also rare that as the spouse, his relationship with the Obamas pre-dates Costos' appointment as ambassador. Smith has been the White House decorator since President Obama took office and is responsible for the Obama's private quarters as well as the Oval Office's 2010 makeover. That same year, Smith was appointed to the Committee for the Preservation of the White House.
"The roles of a traditional diplomat and wife are very much changed," Smith said. "I think this has changed the perception of couples in general. The next person that comes is will not necessarily be bound by conventions."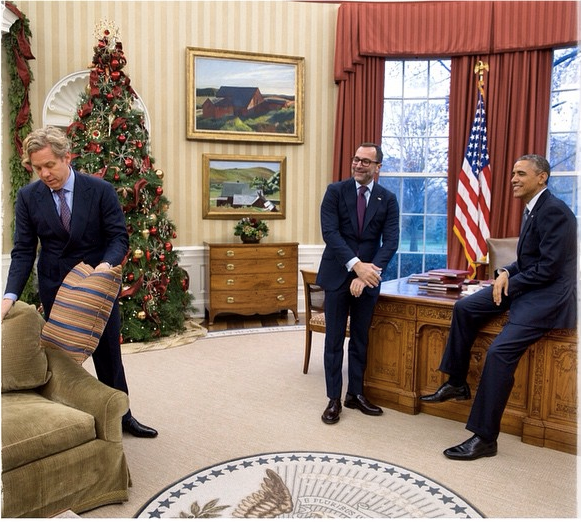 When asked if he and Costos have encountered any barriers in Madrid, Smith answers with his own question: "How would we know?" The couple has made the Embassy a chic destination in the city, regularly hosting parties, events and a big celebration when marriage equality was passed in America.
"I think we have just really knocked down that wall in the upper echelon. The thing is, it would never occur to us not to," Smith added.
Smith took it upon himself to re-design the interior of the U.S. Embassy by bringing in unique furniture and his famous sense of style. Renowned artwork decorates the walls. The couple has already decided to leave many of the new additions behind for Madrid -- and the next ambassador -- to enjoy. 
Smith and Costos are devoted animal lovers and already have three dogs in Los Angeles. After deciding against bringing them to Spain since Smith is still in L.A. so often, they adopted two rescues and named them after artists. Greco is named for the Spanish painter El Greco and Whistler is named for America's James Whistler, who hailed from Costos' hometown of Lowell, Massachusetts. Costos has a couple of Whistler sketches in his office and says they are a reminder of home.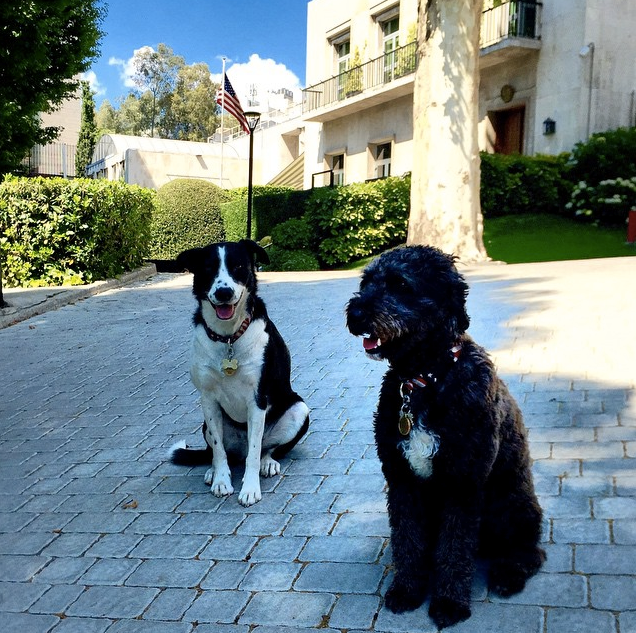 Costos, who was the Vice President of Global Licensing for HBO, and previously worked for Tod's and Hermes, has spent the majority of his time as ambassador focusing on economic recovery in Spain. "Everything I'm doing here is related to entrepreneurship, future leaders of the country and investment between Spain and the United States," he said. "I want to help find opportunities for people to become active participants in their communities."
He looks at the progress Spain has made in the ten years since marriage equality was legalized and knows that America will encounter some of the same roadblocks.
Six months into the job, he started reaching out to the LGBT community and hosting roundtables in Madrid to learn more about the experience of being gay in the workplace. Many Spaniards spoke to Costos about how open the country feels and how thrilled they are to live in a place with marriage equality.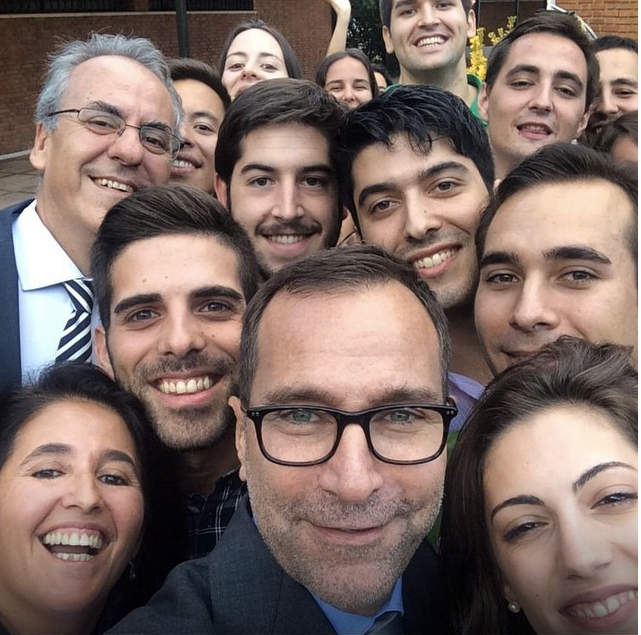 And yet, Costos points out that hearing these stories made it clear to him that remnants of homophobia still exist. "It's about education, conversation and making sure that other voices are being heard. We can do that. That's the power of my office. At the end of the day, what I have is the power to give a louder voice to people who have issues, questions and problems," he said.
"We have to continue to talk about these things. You can have all of the laws and protection in place, but how do you get rid of homophobia? This is something that the U.S. is going to have to deal with."
Progress in the United States, however, is something Smith is sure to keep talking about. Sometimes the biggest indicator of news is when it's not considered news at all, he says. When the Obamas spent the weekend with Smith and Costos at their Rancho Mirage home outside of Palm Springs last year, no one said a word.
"Think about that," Smith said with a smile. "If Clinton or Bush had stayed with an openly gay couple for the weekend, that would have been big news. But nobody wrote about it. The only article written was about how nobody was writing about it. You don't realize that you're changing a narrative, but it's changing."
PHOTO GALLERY
U.S. Celebrates Marriage Equality
Calling all HuffPost superfans!
Sign up for membership to become a founding member and help shape HuffPost's next chapter