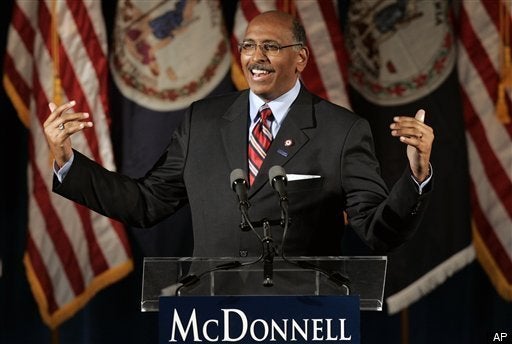 Yesterday, a defiant RNC Chairman Michael Steele shot back at his critical colleagues by saying, "I'm telling them and I'm looking them in the eye and say I've had enough of it. If you don't want me in the job, fire me. But until then, shut up. Get with the program or get out of the way."
Is the RNC taking Steele up on the whole "fire me" offer? All eyes on Rick Klein's Twitter feed, where he reports today that Steele abruptly canceled a scheduled appearance on ABC's "Top Line", thirty minutes before air time: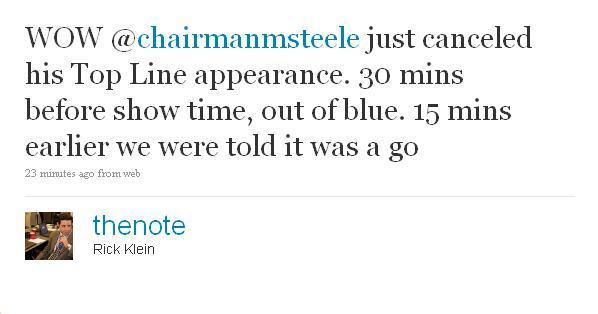 Klein followed up by reporting, via Twitter: "we were told Steele was called into an 'emergency meeting' at RNC HQ and needed to cancel press."
Obviously, we'll stay abreast of this as details emerge.
Steele's 2010 has not started off well, and his critics' concerns are far from superficial. Chief among them is the RNC's current cash flow situation -- back when Steele won the chairmanship, the RNC had $23 million in the bank. But profligate spending on the 2009 off-year elections hit those reserves hard: it's reported that the RNC is down to $8.7 million. Over at the American Spectator, Phillip Klein argued that the best reason to fire Steele is that the RNC is out of cash even as it seeks to capitalize on "the best political environment for Republicans since at least 2004."
Meanwhile, the guy who's been getting rich is Michael Steele. Steele closed out 2009 under a cloud after it came to light that he'd been giving paid speeches, to the tune of $20,000 a pop. The news surprised observers in all camps, including former RNC Chair Richard Bond, who said he was "shocked" at the news. That shock's been renewed now that Steele is out promoting a new book, "Right Now: A 12-Step Program for Defeating the Obama Agenda". The Washington Post reports today that this book, too, "caught GOP leaders by surprise."
The release of Steele's book, "Right Now: A 12-Step Program for Defeating the Obama Agenda," surprised Republican congressional leaders, some of whom first learned of the book by watching Steele's television appearances this week, three top GOP congressional aides said Friday. The staffers would only describe their bosses' communications with the Republican National Committee chairman on condition of anonymity.

"The book came out and everybody went, 'Whoa, what happened?'" one aide said, adding that his employer, a senior House Republican, learned of the book by watching cable news.
"No one in the House or Senate leadership knew he had a book contract."

"He's freelancing," said another top congressional aide.
Compounding this are his recent statements about the GOP's fortunes going into the 2010 election. When asked by Fox News's Sean Hannity if the GOP is poised to take back power this year, Steele replied: "Not this year," adding, "I don't know yet, because I don't know all the candidates yet. We still have some vacancies that need to get filled, but then the question we need to ask ourselves is, if we do that, are we ready?"
One could see that as a fairly blunt and honest read of the field, but when it's compounded by the RNC's cash flow problems and Steele's moonlighting, it's hardly good optics. And it's maybe not the best time to be calling on those critics to "Shut up or fire me."
Ben Smith notes today that Steele told Dennis Miller this morning, "I didn't ask for, I didn't seek this job, I didn't ask for it." Smith goes back to Philip Klein, who wins the day with this retort: "Maybe I imagined receiving emails on behalf of his candidacy, and maybe this video in which Steele announces his candidacy by saying, 'I want the gig. I'm ready, I'm ready to lead this party' is an elaborate fabrication."
UPDATE: Per Rick Klein: "RNC spokesperson says Steele did cancel because of meeting at RNC at noon. not, however, an "emergency RNC meeting." for what it's worth."
And: Christina Bellantoni notes: "Steele had the time to appear on Laura Ingraham's radio show between 11 and noon, just before the publicist canceled. On the show he said he would like to be governor of Maryland."
Steele has been under fire this week for predicting that Republicans will not take back the House this November, a remark that angered party strategists on Capitol Hill. Dawson said he understood that Steele was trying to set appropriate expectations, but added that he would have expressed himself differently.

"Michael Steele does have a different style, whether it's offensive or to be applaued," he said. "Would have I have said it? Probably not. But what I will say is political parties are judged by wins and loses and setting expectations. And you have to very careful about what expectations you set."

Dawson said Republicans "will come very close to taking a majority" this fall.
UPDATED, AGAIN: So, apparently, Michael Steele is now claiming that he wrote his book before he became RNC Chair. If that's true, he should be definitely kept on as chair, because as TPM's Eric Kleefield points out, HE MUST HAVE "THE SHINING" OR SOMETHING:
Unless Steele is remarkably clairvoyant, it seems as though it could not have been written before he became chairman -- it is overwhelmingly a commentary on the political situation in America under President Barack Obama, as of late 2009.

The book is full of references to current events in 2009: The stimulus bill, the health care debate, foreign policy, ACORN, the party switch of Pennsylvania Sen. Arlen Specter, the confirmation of Supreme Court Justice Sonia Sotomayor, the Tea Parties and the 9/12 March on Washington, etc.

On page 38, Steele uses a partial quote from Barney Frank, which was spoken on the Ed Schultz show on October 26, 2009. Steele also takes the quote amazingly out of context, as a Nexis search would demonstrate, to give the misleading impression that Frank was openly admitting that Democrats want to control every last area of the economy -- but that's another story.

On page 61, Steele says of Obama: "He champions bipartisanship, but he supports a process where Nancy rams a 2,000-page healthcare bill through the House of Representatives on a Saturday night with just a single Republican vote." That vote occurred on November 7, 2009.

In his chapter, "Take Back National Security," Steele discusses the Iranian elections, the Honduran political crisis, and the Fort Hood shooting, among many other hot topics of this past year.
Calling all HuffPost superfans!
Sign up for membership to become a founding member and help shape HuffPost's next chapter