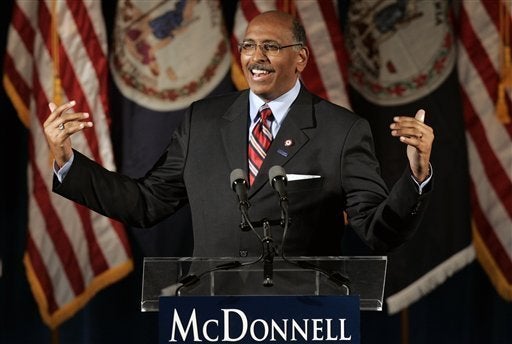 Republican National Committee Chairman Michael Steele spent several hours meeting with Tea Party leadership in Washington on Tuesday, the latest sign of ramped-up Republican efforts to court the conservative activists.
Around 50 leaders representing 30 Tea Party groups met with Steele and other GOP advisers to talk about strategies and the importance of conservatism in the 2010 midterm elections.
"The chairman believes it is extremely important to listen to this significant grass-roots movement and work to find common ground in order to elect officials that will protect these principles," RNC spokesperson Katie Wright told the Washington Post.
In an email to TPMmuckraker, Robin Stublen, another Florida-based Tea Party activist who has argued previously against working with the GOP, warned of "a back door attempt by the RNC to put their 'stamp' on the movement that welcomes all conservatives regardless of political party."
The GOP's interaction with the Tea Party has been increasing, but Republican leaders appear wary of the Tea Party's hesitance to trust the mainstream political system. The Washington Post reports:
Steele, House Republican leader John A. Boehner (Ohio) and other party leaders have said recently that winning over tea party activists is critical to the GOP's hopes of regaining congressional majorities in November. But Republican leaders have been careful not to try to take over.

"I'm not looking to co-opt the tea party movement," Steele told reporters in Hawaii last month during the RNC winter meeting. He added: "I'm looking to work with activist citizens who are mad, who are frustrated and angry about the direction they see the country going."
And some Tea Party activists who traveled to Washington weren't expecting much in the way of cooperation to come out of the meeting with Steele.
"Steele wants to try to co opt us, but we're coming to tell him he doesn't get it. We want to return the Republican party to its roots. We're expecting some fireworks," one Tea Partier told Fox News before the conference.

REAL LIFE. REAL NEWS. REAL VOICES.
Help us tell more of the stories that matter from voices that too often remain unheard.