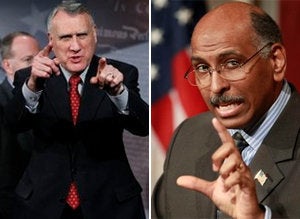 WASHINGTON -- The second-ranking GOP senator has distanced himself from the national party chairman after recent news that the party spent nearly $2,000 at a sex-themed nightclub in California.
Arizona Sen. Jon Kyl said he didn't elect Michael Steele as Republican National Committee chairman so he can't say whether he thinks Steele should step down. But Kyl told "Fox News Sunday" that "this kind of thing has got to stop or they won't get any contributions."
"The people that contribute to the committees, both Democrat and Republican, want to know that their money is well spent for the cause, and it needs to be that way," he said.
Also on Fox, the recruitment chair of the House Republican campaign committee said the RNC needs to get its act together.
"The RNC does have some challenges they need to correct. Not only does the American people request it, but the Republicans request it as well... If we're going to show the American public we believe in accountability back to Washington, we need to make sure the RNC has accountability just the same," Rep. Kevin McCarthy (R-Calif.) said.
When FOX host Chris Wallace noted that McCarthy didn't give RNC chairman Michael Steele a vote of confidence, McCarthy suggested that Steele needed to implement reforms at the committee.

"I think Michael Steele has worked very hard. When you find the challenges going forward this past week, he was not at the location. He's trying to correct it. But you've got to bring the trust back and that may mean shaking up some roles within the RNC as well."
The RNC has fired a staffer who helped organize the Jan. 31 visit to Voyeur Hollywood West. The RNC has said it would recoup the money from a donor who paid the tab.
Party officials have said Steele knew nothing of the nightclub visit by a group of young Republicans.
Popular in the Community