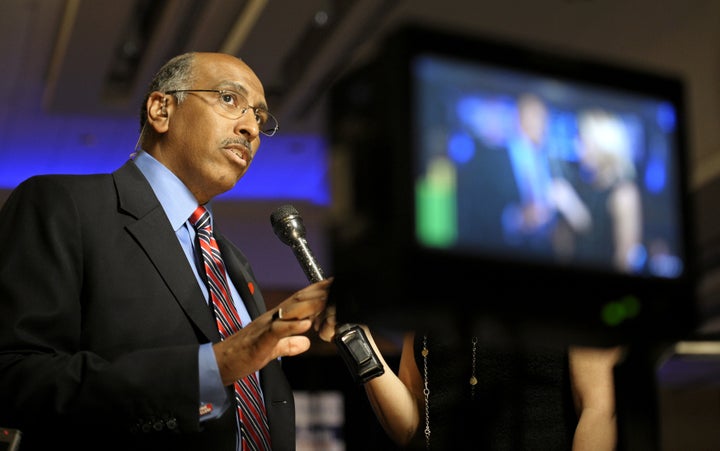 Michael Steele's short temper has turned into a political weapon that's being used against him, as one of his key challengers in the race for the Republican National Committee chairmanship demands Steele apologize for calling a fellow committee member "an idiot."
During an appearance on WBAL radio last week, Steele was asked to address a concern from Indiana Committeeman Jim Bopp, Jr., who had claimed that the RNC chairman played the race card in framing his own reelection fight as a test that will "speak volumes about our willingness to truly be the party of Lincoln."
"Well, Mr. Bopp is an idiot," Steele responded on WBAL. "If he took that away from, and I don't want to be crass, and I don't want to throw stones at him, but I just think that's an idiotic statement to make."
Steele followed up by saying Bopp's grudge was personal, and that his comments may have had "something to do with my cutting his million dollar contract with the RNC."
Gentry Collins, one of the five candidates vying to replace Steele, and perhaps his most outspoken critic -- though another challenger on Monday warned contenders not to support Steele under any circumstances -- quickly picked up on the comments and demanded an apology on Bopp's behalf.
"It's no wonder major donors have been abandoning the RNC in record numbers," Collins said on Tuesday, according to CNN. "When the Chairman engages in name-calling of members of his own committee, he diminishes the RNC, the office of Chairman, and himself. For the good of the Committee, he should publicly apologize to Mr. Bopp. I've known and worked with Jim Bopp both on the committee and on campaigns - it would be hard to find a more principled leader in our Party. Mr. Steele should be thanking him for his service, not slandering him over the public airwaves."
The election for RNC chair will take place on January 20.
WATCH Steele's "idiot" comment:
Popular in the Community