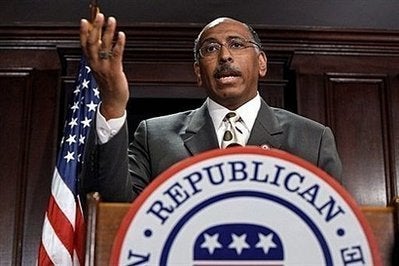 In a statement, Steele put Bayh's announcement in the context of other recent Democratic retirements, saying that it was a sign Democrats were "running for the hills because they sold out their constituents and don't want to face them at the ballot box."
"Senator Bayh announced today he won't seek reelection, claiming to be disenchanted with the political process," Steele said. "After Democrats spent billions of taxpayer dollars on a failed stimulus and voted to spend billions more for their unpopular government-run health care plan, I think it's fair to say that Americans are disenchanted as well."
Bayh joins two other Democrats -- Sen. Byron Dorgan (D-S.D.) and Sen. Chris Dodd (D-Conn.), who have also announced they are leaving the Senate. Democrats are also facing a wave of retirements in the House of Representatives. But Republicans too are facing their own retirement problem -- three GOP congressmen announced their exits over the last two weeks.
Still, Steele did not miss an opportunity to tweak the Democrats on the day that Bayh, who was said to be under consideration for the vice presidential slot in 2008, said he would leave politics -- for now.
"One year after the $862 billion stimulus was passed," Steele said, "Americans are making it clear that they are tired of the Democrats' binge-spending agenda, are done being ignored, and are going to do something about it in November."
Popular in the Community