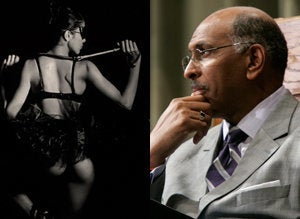 The Republican National Committee is cutting ties with a staffer who treated a group of donors to an after party at a bondage-themed club in West Hollywood. The event was expensed for nearly $2,000 and also cost the unnamed employee a job. Some members of the GOP had already called for the resignation of RNC Chairman Michael Steele, who reportedly did not attend and was unaware of the incident.
"This was not an RNC sanctioned event and was not associated in any way with any RNC official event," McKay wrote of the February outing to Voyeur, a West Hollywood club modeled after the risqué Tom Cruise-Nicole Kidman movie "Eyes Wide Shut."

The late-night excursion followed an official RNC event in Los Angeles for donors in its "Young Eagles" program, McKay wrote, stressing that neither Chairman Michael Steele nor any senior staff were aware of either the outing or the committee's reimbursement of the cost.
The cost of the festivities was initially covered by a Republican donor and paid back by the RNC. According to the memo, the man has verbally agreed to repay the repayment. The Washington Post reports:
The reimbursement went to Erik Brown, a Southern California GOP donor who has spent time with Steele in the past and whose marketing firm has earned more than $160,000 from the RNC and other Republican committees, according to campaign disclosure records.
It's unclear if these actions will be enough to appease the Republicans who were calling for a pound of flesh earlier on Monday. As reported by the Huffington Post, Douglas MacKinnon, former press secretary to Majority Leader Robert Dole, had harsh words for the RNC's top man.
"No matter which side of the aisle you find yourself, if you are giving a political party your hard-earned money, you should have no doubts that it is going to be spent as advertised and not to provide a spoiled, egocentric, out-of-touch chairman with frivolous luxuries which are out of reach of the vast majority of the American people. Michael Steele needs to resign and let the RNC vote in a man or woman who understands that his or her needs do not come before the needs of the nation or the party."
MSNBC host Rachel Maddow mentioned HuffPost's coverage during her show on Monday night, and went on to skewer Steele over his tenure as RNC Chairman. She also shared a few laughs about the 'naked lady place' scandal with GQ's Ana Marie Cox.
Popular in the Community