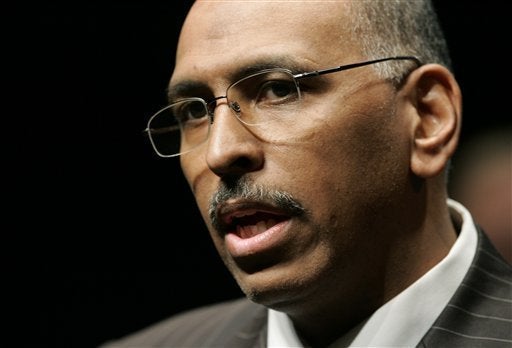 When Republican National Committee Chairman Michael Steele appeared to suggest last week that there could be no victory in the war in Afghanistan, he once again sparked a round of calls for his ouster.
Though Steele received sharp criticism from GOP leaders in the wake of his comments on Afghanistan -- including from few key conservative commentators, but not elected officials, who called for his resignation -- it is looking increasingly likely that Steele will be able to avoid forced removal from his RNC post.
Republican Party rules could make it difficult for any of Mr. Steele's critics to secure his ouster. Under the rules, two-thirds of the committee's 168 members, or 112 members, would have to vote in favor of such a move.
"It's very hard to force a chairman out of his position," Katon Dawson, former South Carolina GOP chairman who called for Steele to step down, told the Journal. "I don't sense [RNC members] want the distraction," he continued, noting that many GOP operatives were in the midst of priming the fundraising pumps for November elections and couldn't afford to deal with these internal dramatics at the moment.
The Washington Post's Chris Cillizza notes that Steele's latest gaffe has all but ensured that the RNC will have a new chairman following the 2010 elections, but that -- at least for the moment -- Steele's tenure is shielded by the circumstances of the election season.
"Most members have already come to the conclusion that they can't have Steele as chairman in a presidential cycle," a high-level GOP operative told Cillizza. "If you think his gaffes are a distraction now, imagine them in the heat of a presidential campaign."
Rich Lowry of the National Review appears to reach the same conclusion, but argues that Steele's fate could be influenced by former RNC Chairman Haley Barbour:
If there's one person who could affect his fate it's probably Haley Barbour, who is influential with the governors as head of the RGA (the governors, in turn, are very influential with the committee members) and who has a lot of sway with the committee members himself as a former RNC chairman. If Haley thinks Steele should go and works against him, it'd be a big deal.
At any rate, Lowry sees the scenario of a divine intervention by Barbour as unlikely, leaving Steele extremely vulnerable. Hotline On Call notices the vultures are beginning to circle the wounded RNC chairman and profiles the leading contenders to take Steele's position during elections next January.
Not all are lamenting the internal theatrics currently playing out within the GOP, however. A Democratic Party strategist recently told Politico's Playbook:
"We're breathing a sigh of relief that it looks like Michael Steele has survived. We have no interest in seeing him go anywhere. For us, he's the gift that keeps on giving. Any time the Republicans look like they have a little momentum, just wait and Mount St. Michael will blow. And it's not just that it's good fun for us to see the Republican Party chairman in such a fix -- it helps us as a party because it hurts Republican morale, fund raising and unity. We'd be happy to see Michael Steele stay right where he is."
Calling all HuffPost superfans!
Sign up for membership to become a founding member and help shape HuffPost's next chapter