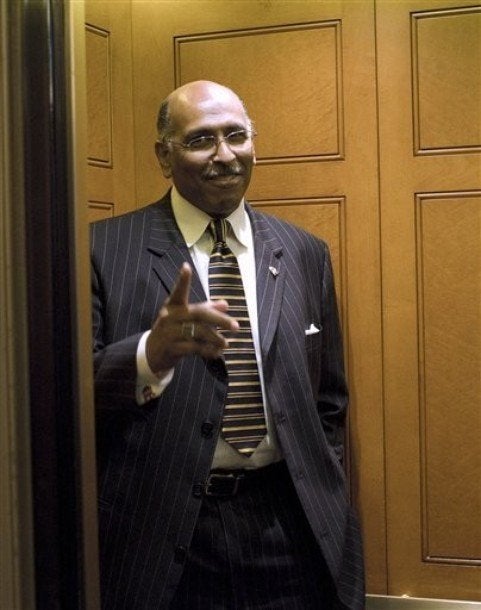 RNC Chairman Michael Steele on Sunday offered some of the most forceful disapproval of Rand Paul's libertarian positions to date from within the broader Republican Party.
In dual Sunday news show appearance, the Republican National Committee leader said he was "not comfortable" with Paul's position on the Civil Rights Act -- which he called "misplaced in these times" -- and cautioned that if he were to be elected the Tea Party-backed candidate would have to temper his views accordingly.
"He had a philosophical difference as many members who come to Congress have a different philosophies," he said. "But when you get here, what you do and how you execute the job is what matters."
Perhaps a reflection of his own personal history, Steele's rebuke was remarkably direct. At the very least it dwarfed the muddled responses from Republicans in the Senate, who have largely skirted the question of whether they, like Paul, think the Civil Rights Act intruded too deeply in private enterprise.
"I think his philosophy is misplaced in these times," said Steele during an appearance on "Fox News Sunday." "I don't think it's where the country is right now. The country litigated the issue of separate but equal, the country litigated the rights of minority people in this country to access the enterprise, free enterprise system, and accommodation and all of that. And that was crystallized in the Civil Rights Act and the Voting Rights Act of '64. And I think that the party stands very firmly behind its efforts then as we do now, to press forward on new civil rights issues... But I think in this case, Rand Paul's philosophy got in the way of reality."
In a separate appearance on ABC's "This Week," Steele said: "I think it's important to understand that Rand Paul has clarified his statement and reiterated his support for...pushing civil rights forward, as opposed to going backwards. Any attempt to look backwards is not in the best interest of our country certainly, and certainly not in the best interest of the party."