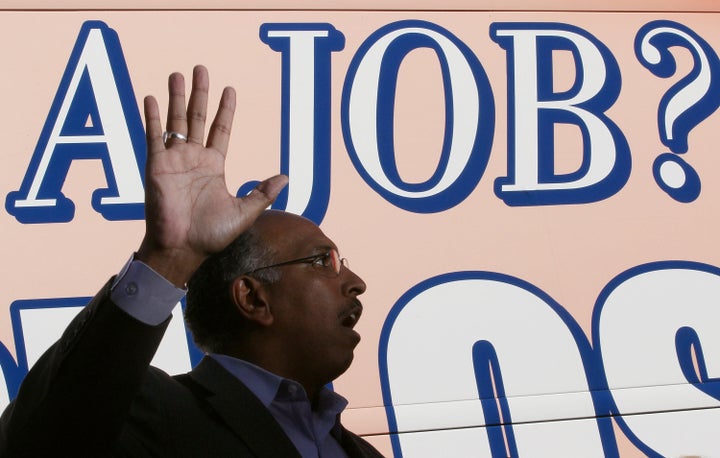 RNC Chairman Michael Steele's reelection odds appeared to grow longer Wednesday, as Republican governors met in San Diego and some discussed avenues for assuring that the GOP's national committee is not headed by him next session.
Republican Governors Association chairman and Mississippi Governor Haley Barbour felt no need to suppress his desires for new leadership in the RNC:
"To defeat an incumbent president, even one that's got the political problems of this one, the RNC has to operate at absolutely maximum capacity and this year they operated far, far, far below that in terms of fundraising, in terms of grassroots organization, and in terms of building strong, self-reliant state parties," said Barbour in an interview with Politico.
According to Politico's report, Barbour was quick to lay out calculations and plans for how best to oust Steele:
A midday, governors-only meeting included a discussion about the RNC, and sources familiar with the conversation said there was broad agreement that a change was needed at the national party. Barbour asked his colleagues, one governor at a time, how many of their states' three votes each could deliver (the RNC's governing body is comprised of 168 members, including a state chairperson and national committeeman and committeewoman from every state along with the territories).
Some other key governors suggested that the RNC needs a leadership change.
Texas Gov. Rick Perry floated his own choice, the RGA's young executive director, Nick Ayers. The Hotline reports that multiple governors, including Gov. Tim Pawlenty of Minnesota and vice-chair of the RGA, expressed concerns about the RNC's field operation.
This is, perhaps, the clearest sign of trouble for Steele thus far. Earlier in the week, his chief lieutenant resigned, leaving a biting four-page rebuke of Steele's tenure atop the committee.
So far only Saul Anuzis, the former Michigan GOP Chairman, has announced a run, although additional candidates are rumored to be interested in the job.
Popular in the Community