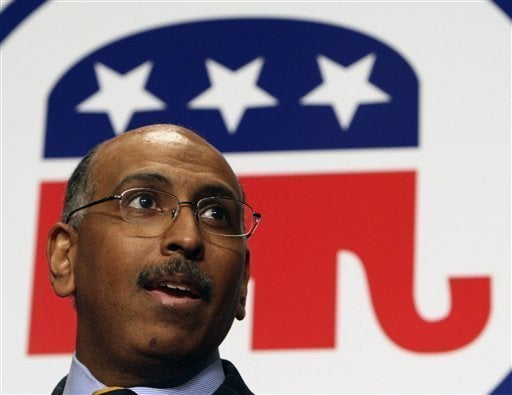 In the world of politics, there was plenty of eye-rolling and mockery at reports that Republican National Committee Chairman Michael Steele spent lavishly on gratuitous and questionable expenditures in February.
For Republican donors and strategists, however, the revelation sparked yet another round in a lengthy debate over whether the rambunctious GOP leader really is the right fit for the party in the minority.
On Monday morning, the Daily Caller reported that the RNC spent thousands of dollars on high-end travel arrangements, swanky hotels and, most remarkably, "meals" at a lesbian-and-bondage-themed nightclub in West Hollywood. The latter expense, naturally, grabbed most of the attention and the cleverest of headlines -- prompting the RNC to simultaneously state that it would investigate the expenditures and that it wasn't Steele who went to the club.
But the damage had already been done. While several GOP strategists are willing to grant Steele a pass -- under the rubric that one has to spend lavishly to raise lavish amounts of money -- several big donors and party officials are completely baffled.
"For those donors who truly believe in conservative values, this latest news about Steele has to be very disturbing," said Douglas MacKinnon, former press secretary to Majority Leader Robert Dole. "No matter which side of the aisle you find yourself, if you are giving a political party your hard-earned money, you should have no doubts that it is going to be spent as advertised and not to provide a spoiled, egocentric, out-of-touch chairman with frivolous luxuries which are out of reach of the vast majority of the American people. Michael Steele needs to resign and let the RNC vote in a man or woman who understands that his or her needs do not come before the needs of the nation or the party."
"I think it certainly suggest a certain tone deafness," confirmed Mark DeMoss, a longtime GOP donor who has decided to stop giving to committees. "I think it suggests either that you are out of touch or that you are more important than your constituents and your donors and either case is bad, whichever one you are guilty of."
The RNC, naturally, sees these concerns as a sideshow distraction with little merit -- pointing, specifically, to the reluctance of many donors (though not DeMoss) to attach their names to their quotes. The committee has raised boatloads of money, RNC Communications Director Doug Heye told the Huffington Post. And the vast majority of it has been spent carefully.
"I want people to be able to demonstrate how it is the case [that our spending is wasteful], he said. "And no one has done that... The RNC last month outraised the DNC just as we did in seven of the 12 months in 2009. And that is without having the presidency in our party and without controlling either chamber of Congress."
The results have, indeed, been beneficial, with wins to show in Massachusetts, Virginia and New Jersey. But the RNC also happens to be burning money at an alarming rate, having spent more than it raised in nine out of the last 12 months. And at a moment when so many independent voters are up for grabs, concerns have begun mounting that Steele is squandering the Republican Party's historically ripe opportunity for electoral gains.
"He doesn't give a damn," said one big-time Republican donor and RNC member who asked to speak on condition of anonymity. "The rest of us, and I think rightfully so, pay our own expenses. It is more than that. It is frankly, I think, the wrong tone is being set."
For DeMoss and other donors (many of whom refused to go on record for this article), the issue extends well beyond the most recent revelations of controversial expenditures. For months -- indeed, extending back to when Steele took over the RNC post -- questions have surrounded his financial and communications stratagem.
The RNC chair previously was on the defensive in the wake of negative reports about questionable and excessive expenditures. He oversaw the committee's transfer of $20,000 to the 86,000-person Northern Mariana Islands, the local Republican Party of which supported his campaign to head the RNC. He conducted his book tour independently from RNC press aides, during which he announced that the GOP might not be ready to lead the country -- a bumbling misstep that had other Republicans comparing him to former Senator and scandal-tarred Larry Craig.
The gaffe that seems to have irritated the party the most, however, was Steele's decision to schedule this year's RNC winter retreat in Hawaii, where he maintained that he and others were "working hard" while wearing a Hawaiian shirt and flower lei. The imagery rankled party members who had for months been depicting President Obama and Democrats as out of touch with working class Americans.
"That really hurt our messaging advantage," said one GOP donor who asked to speak anonymously to discuss party affairs.
"Had I been chairman, and I'm not sure I'm qualified, I think I would have gotten that one right," said DeMoss. "I would have said we will hold our annual meeting at Charlotte or St. Louis or something. Not at Hawaii or at a resort. I would have said most of the country is hurting and we have to tone down our meeting."
In that situation, however, Steele may be the victim of bad timing as much as poor judgment. The previous RNC winter meeting took place a Prince George's County, Maryland -- hardly a picturesque beachfront setting. The next one will take place there as well.
As for the expenditures, officials who have worked with the committee still have questions about why exactly Steele has yet to tighten a process that has already produced its fair share of embarrassments. Under what logic, for instance, would the RNC finance team clear a $2,000 expense at a voyeuristic nightclub; rather than, say, make the official (a California GOP consultant) pay out of pocket?
It's a question that will undoubtedly be asked of the committee in the days and weeks ahead. Heye is fairly confident that the story and the fracas it produced will die down shortly. Steele, for what its worth, continues to have defenders throughout the party.
"The appearance is bad, I'll give you that," said Larry Farnsworth, a Republican strategist and former press secretary to House Speaker Dennis Hastert, "But... it's tough raising money and I don't think donors want to meet for free waffles and coffee at the Holiday Inn Express. These guys want to be wined and dined, it's the dirty part of politics."

Popular in the Community