Former Republican National Committee chairman Michael Steele on Friday blasted a leading conservative's speech, which claimed that he had only been hired because he is black, as "painfully stupid."
Walters was discussing the Republican reaction to the 2008 presidential election of Barack Obama, the country's first African-American president. This historic election, he said, prompted conservatives to pick Steele, implying that he was not the most qualified person for the job.
"That was the wrong thing to do," he told the audience of hundreds in Oxon Hill, Maryland.
Steele, a former lieutenant governor of Maryland who went on to become the first black RNC chair, made the Friday night comment responding to Walters in an interview with the Observer.
"If he feels that way I'd like him to come say that to my face. And then I'd like him to look at my record and see what I did," Steele added. "I can't believe an official of CPAC would go onstage in front of an audience and say something like that. I've been a strong supporter of CPAC for many years and I thought they raised them better than that here."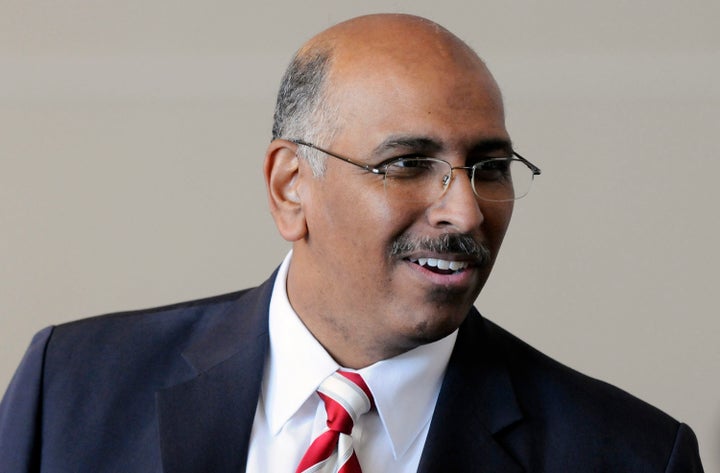 Later Friday evening, Walters called Steele in an attempt to apologize.
"That's not acceptable, it's not enough," Steele told guest host Joy-Ann Reid.
Steele, now a pundit and political consultant, elaborated on his criticism of Walters' comment on Saturday morning.
"It's the groupthink that has emerged within the party that has now poisoned the national dialogue as we saw play out in the campaign of 2016," Steele said on a special episode of his SiriusXM radio show "Steele and Ungar."
Steele also said the fact that Walters is a person of color himself makes what he said "even crazier."
Later in the day, Steele confronted Matt Schlapp, chairman of the American Conservative Union, which organizes CPAC, about the remarks in an interview on his SiriusXM show.
The interview took a tense turn when Schlapp characterized Walters' comments as "unfortunate words."
"They were stupid. It's not 'unfortunate.' Call it what it is," Steele said. "It is stupid to sit there and say that we elected a black man chairman of the party and that was a mistake. Do you know how that sounds to the black community?"
"Yes, I know," Schlapp replied.
"Do you know how that sounds to Americans?" Steele continued.
"And do you know how they then equate that level of stupidity to conservatism?" Steele concluded. "That's the objection I have about the moment we're in."
Steele chaired the RNC in 2009 and 2010, a period in which the conservative Tea Party movement fired up Republican voters. The party swept the 2010 midterm elections and took back the House of Representatives under Steele's watch.
But Steele displeased Republican donors and operatives with how he led the RNC's finances, amassing $21 million in debt. Reince Priebus unseated him as chairman of the GOP's central organizing arm in 2011, serving at the RNC's helm through the 2016 elections.
REAL LIFE. REAL NEWS. REAL VOICES.
Help us tell more of the stories that matter from voices that too often remain unheard.
BEFORE YOU GO
PHOTO GALLERY
Donald Trump's 10 Best Days As President