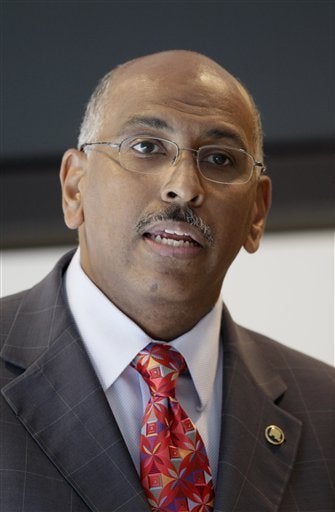 Republican National Committee Chairman Michael Steele expressed an unusual interpretation of the relationship between Barack Obama and the war in Afghanistan at a Connecticut fundraiser Thursday.
"This was a war of Obama's choosing," Michael Steele said at the event. "This is not something the United States has actively prosecuted or wanted to engage in."
Steele also accused Obama of "demonizing Iraq while saying the battle really should be in Afghanistan."
"Well, if he's such a student of history, has he not understood that, you know, that's the one thing you don't do is engage in a land war in Afghanistan, alright, because everyone who's tried over a thousand years of history has failed," Steele continued.
Steele also extended his criticism of the War in Afghanistan to the mission's strategy, addressing the recent dismissing of General Stanley McChrystal.
"The [General] McChrystal incident, to me, was very comical," he said. "I think it's a reflection of the frustration that a lot of our military leaders has with this Administration and their prosecution of the war in Afghanistan."
Democrats were quick to highlight Steele's comments as further evidence that RNC Chairman has a penchant for misspeaking in ways that mangle the GOP message.
"This clip puts him at odds with about 100 percent of the Republican Party," DNC Communications Director Brad Woodhouse said.
RNC communications director Doug Heye later attempted to walk back Steele's comments.
"The Chairman clearly supports our troops but believes that success of the war effort in Afghanistan requires the ongoing support of the American people," Heye said. "The responsibility for building and maintaining [a] strategy falls squarely on the shoulders of the President. Like so many Americans, Chairman Steele wants to hear an explanation from President Obama on what his strategy is for winning the war in Afghanistan."
UPDATE: Steele issued a statement through the RNC on Friday afternoon in attempt to clarify his earlier comments amid criticism coming from both sides of the aisle:
"There is no question that America must win the war on terror," Steele said. "During the 2008 Presidential campaign, Barack Obama made clear his belief that we should not fight in Iraq, but instead concentrate on Afghanistan. Now, as President, he has indeed shifted his focus to this region. That means this is his strategy. And, for the sake of the security of the free world, our country must give our troops the support necessary to win this war."
The RNC Chairman added, "As we have learned throughout history, winning a war in Afghanistan is a difficult task. We must also remember that after the tragedy of September 11, 2001, it is also a necessary one... That is why I supported the decision to increase our troop force and, like the entire United States Senate, I support General Petraeus' confirmation. The stakes are too high for us to accept anything but success in Afghanistan."
Watch the video of Steele's remarks:
Popular in the Community