He's a star on The Chew, a beloved Iron Chef and one of the most passionate carnivorous chefs out there, with restaurants like Roast in Detroit that serves BBQ pork bellies and beef cheeks.
So why is celebrity chef Michael Symon doing a Meatless Monday cooking demo at the Aspen Food & Wine Classic in June?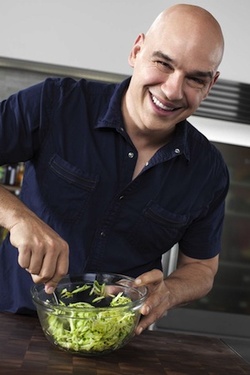 Chef Symon fills us in on how he's embracing his inner veggie and shares two favorite Meatless Monday recipes -- Swiss Chard Ravioli and Eggplant Dip with Homemade Flatbread.
Peggy Neu: You have a well-known love affair with meat. You even sell a T-shirt that says "eat more meat." So what's up with Meatless Monday?

Michael Symon: I was born and raised in the Midwest, so meat was a large part of my growing up and a large part of my diet. That being said, when it comes to cooking and eating, I always try to preach that life is about moderation. Even if I'm having beef for dinner, it's probably going to be a 3-4oz portion with heaps and heaps of vegetables.
Because I'm so known as a meat-chef, when I talk about Meatless Monday some people look at me like I've lost my mind. I'm like, look, I'm not saying beef and pork is bad, I love it and I eat it six days a week, but one day a week - and quite frankly given my schedule, it's not always Monday - I just remove meat from my diet. I think it gives the earth a second to breathe and gives my body time to do what it needs to do.
So when did you start doing meatless days?

When I met my wife 20+ years ago, she was a vegetarian, so I was the closest thing to the devil that she had ever met. She was like, "All you eat is meat! What is wrong with you?" Her diet was more vegetable and plant-based and my diet was more heavily meat-based, so we found a middle. It just became part of our life routine.

How did you even woo her?
After years she just gave in. But I found her beautiful and interesting, so if I had to eat vegetables 5 days a week to get another date, so be it!

What's your advice for how die-hard carnivores can make vegetables exciting?
No matter how great a chef or cook you are, if you start with a bad product the chance of putting out a great meal are very limited. In Cleveland, I'm so fortunate that we're surrounded by farms with an endless variety of beautiful vegetables. For me, I always eat very tightly with the season, even if the season is only six weeks. Like right now we have ramps and I can't eat enough of them and in six weeks I'll be kinda bored with them, but that's okay because a new season will start with new vegetables. I think you can also keep it exciting by using different legumes and interesting grains like quinoa and farrow.
We really loved The Chew's episode on Meatless Monday. What's it like working on the show?
It's just horrible! I don't know how I do it every day! But honestly, I love it. My co-hosts are fantastic people. Mario and I have been friends for a long time. I've gotten to be great friends with Clinton, Daphne, and Carla. That they actually pay me and this is a job is an incredible blessing. I love to go to work every day.

We saw that your upcoming book is called A Modern Day Meat Bible. Is the next one going to be A Modern Day Vegetable Bible?
Actually, in the meat book I talk a lot about vegetables. There's a whole section of the cookbook devoted to vegetables and grains just as there is for beef. I also talk a lot about portioning and cooking the right meats that are better for the environment. I'd rather see people eat a small portion of sustainably raised and organic meats than a 20oz portion of whatever you want to refer to that other meat as.
Can you give us a sneak peek on what you have in mind for Aspen?
It'll depend on what's in season. I'm a pretty fly by the seat of my pants cook. I'll go, see what's in the markets, then I'll cook. It just always works best for me that way.

Is there a home for Meatless Monday in your restaurants?
We've talked about it... Lola and Lolita we could probably do it relatively easy. My other restaurant is Roast in Detroit, and it really wouldn't work there.
That being said it's still something I believe in very strongly and when I tell people they look at me like I'm crazy! They say "you own a restaurant that cooks animals on spits and specializes in hamburgers, why would you ever promote not eating meat for one day a week?" For me, it's just a choice that I make, not only for myself, but also the Earth that I stand on.

Chef Symon Meatless Monday recipes
Ravioli Filling
2 pounds swiss chard-cleaned, chopped
1 pound sheeps milk ricotta
1 lemon--juice and zest
2 tablespoon extra virgin olive oil
6 cloves garlic-minced
1 shallot-minced
salt and pepper to taste

Sweat out shallot and garlic until translucent, add swiss chard and keep stirring until chard is broken down and cooked. Set aside until cool than add in ricotta, lemon and olive oil. Mix really well and check for seasoning.

Ravioli Topping
4 tablespoons toasted almonds-crushed really well
2 tablespoons chopped flat leaf parsley
2 tablespoons lemon zest
Mix altogether

5 pounds Egg Pasta Sheets
6 eggs for egg wash
4 tablespoons of butter for sauce
2 tablespoons chopped parsley

Lay down a sheet of pasta, spread the egg wash across, put down filling and lay another sheet over top. Form the dough around the filling and cut out the ravioli out of the dough. Set aside.

In a saute pan put 4 tablespoons of butter in on medium heat and cook until butter is melted and starting to turn brown. Set aside. Drop the ravioli in salted boiling water for roughly 2 minutes. Take out and put in browned butter, toss gently with chopped parsley. Put the raviolis in bowl, pour some of the browned butter over top and finish with almond crumble on top.
Eggplant Dip with Homeade Flatbread
Charred Eggplant Dip
Makes about 4 cups
3 large eggplants
1 jalapeno
2 tablespoons olive oil
1/2 medium onion (1 cup ), small diced
2 cloves garlic (1 teaspoon), minced
3/4 cup feta
2/3 cup mascarpone
Juice of 2 lemons
Zest of 1 lemon
Salt, to taste
Cumin Seeds, toasted for garnish (optional)

Begin by blistering the Eggplant and Jalapeno on your grill until heavily charred and softened. You can also use your gas stovetop burner by turning on the heat to high, then placing the eggplants and jalapeno right on the flame. Char for about 4 minutes per side until blackened and softened. Place in a covered container for 5 minutes. In the meantime, sweat the onion and garlic in the olive oil with a pinch of salt until tender, about 3 minutes. Split the eggplant down the middle lengthwise and scoop out the flesh, being careful not to get any black bits from the skin. Peel the jalapeno, removing and discarding the seeds. Mix together the eggplant and half of the jalapeno with the onion and garlic mixture. (You can add the whole jalapeno if you would like it a little spicy.)

In a blender, puree the eggplant mixture with the feta, mascarpone, salt, lemon juice, and lemon zest, adjusting with salt if necessary.

Serve with toasted cumin on top with flatbread or warmed pita on the side.
Flatbread
10 cups pizza flour
2 1/4 tablespoons Kosher salt
1 1/4 teaspoons fresh yeast
3 1/2 cups water

In the bowl of your mixer, bloom the yeast in the water by mixing it in, breaking up any lumps, then letting it sit until it becomes slightly foamy and the water is cloudy, about 5 minutes.
Combine the flour and salt and then add to the bloomed yeast mixture. With the dough hook attachment for your mixer, mix on medium speed for 11 minutes. The dough should come together as one mass and begin climbing the hook.
After the dough has been mixed, turn it out into a lightly oiled mixing bowl, and let it proof until it is doubled in size. This should take a few hours, depending on how warm the air is. You should also have this bowl covered with a damp cloth or plastic wrap during this process so it doesn't dry out.
After the dough has risen, portion it into 7-8, 9 oz. balls. Place the portioned dough on a sheet tray with a piece of parchment paper that has been lightly oiled. Cover the sheet tray really well with plastic wrap and refrigerate overnight. The dough will be rested and ready to use the next day.
Press dough out and either grill or bake in the oven to desired doneness.
Related