This morning I found myself increasingly frustrated by Michael Symon and his twitter followers.
He created a loose meat sandwich that was supposed to be under 5.00, and used a lot of pantry ingredients that boosted the price. Onions, beef stock, pickles, mustard all cost money. Not the biggest deal on earth, but I think he could have done a better job. Let's share the tweets.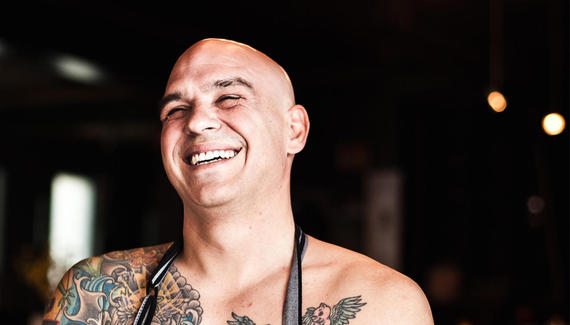 I am removing the twitter handles to prevent twitter flame wars against my respondents.
My Tweet: @chefsymon Onions cost money, as does beef stock, as do pickles. You failed. Time to visit the pantry of a truly poor person.
His Response: which they had in their pantry .. u don't know how I grew up so or how it was when we raised our son..so don't hate
I guess GMA has an excellent pantry. Few poor do.
no matter how poor you may be you can still create a good pantry with planning
I grew up in the projects of NYC when we did have a home. We could have made this. Way to go #ChefSymon
plan is to move somewhere more affordable..
or wait 5 days buy pickles & 5 days later buy stock another 5 days get onions can use all again
I don't know every poor persons story but it's hard to be down and out without also being lazy
Excellent use of class warfare Keep up the original thought
I'm a realist Karl. Everyone has choices, it's on you as an individual to make the most of it fella
And on it went. I have excluded my responses to each tweet as my point will be reiterated here.
First of all I was not talking about myself, but about the communities I volunteer in. Clearly none of these people have any idea what true poverty means or what is in their pantries.
Because the rents in NY are so high a lot of people work and work multiple jobs to not be homeless. It does not take much to be cut off of food stamps and for many the idea that they could spend 5 dollars on one meal is a dream they can't imagine.
They have no money to move and no where to go.
It is not uncommon for people working hard and more than one job to find themselves with 1.00(or less) and the need to feed two or more people. When the generic Mac and cheese goes on sale 2 for 1.00 there is a line at the Dollar Store, which is the grocery store for many poor. Forget the butter and milk the recipe calls for they use water and one box has to suffice for a meal for two or more.
In doing health fairs and events I meet a lot of diabetics who are desperate to eat well as their doctor orders, but simply cannot with their budget. I make as many suggestions as I can. They laugh at the list of the Doctor's suggested foods: Wild Salmon, Quinoa, Nuts, EV Olive Oil etc.
As a white male with a full pantry and refrigerator it is painful to sit and listen. I do my best to make suggestions, to try and help. It can be soul crushing to realize that even with all of my knowledge I can't solve the problem.
Even those who get food stamps don't have enough to eat well all the time.
I think Michael Symon and all the other chefs who participated in this could have done a better job by talking about the cost of those pantry items and giving viewers a real idea of that that tasty dish really costs.
Maybe GMA has to go a bit further with the challenges. Give the chefs 1.00 and no pantry items and see what they can come up with for the truly poor. The healthiest thing I have ever come up with on that budget is a meagre cabbage soup (only available when all items are on sale).
No hate Symon, but I think all chefs need to unite and maybe lobby congress and the senate to raise the cap on income and give the truly poor a fighting chance to at least survive.
REAL LIFE. REAL NEWS. REAL VOICES.
Help us tell more of the stories that matter from voices that too often remain unheard.