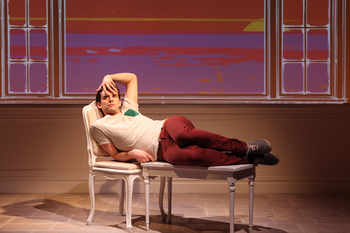 When ABC's hit show Ugly Betty wasn't renewed after four critically acclaimed seasons, actor Michael Urie, known to millions of fans as Marc St. James, returned to his roots in the theater. Today the 33-year-old graduate of Juilliard is starring in Buyer & Cellar, one of the most celebrated off-Broadway shows this year. Written by Jonathan Tolins, the play tells the fictional story of Alex More (Urie), an out-of-work actor who lands a job working as a shopkeeper in Barbra Streisand's basement that she has transformed into a shopping mall.
Ironically, just blocks away from where Streisand got her start, is the Barrow Street Theatre, the home of Buyer & Cellar. Urie's dressing room is located in the basement, and it's quite different from Streisand's lavish surroundings the show imagines. She may, however, actually approve of the décor. Hanging on his dressing room mirror is her CD, Classical Barbra. Tacked on the wall is her Lazy Afternoon album. Off to the side is her doll. And hanging above the mirror are snapshots of her with Sammy Davis Jr. a fan took in the '70s and gave to Urie, who happens to love Davis. So, even though it looks like a gay man's childhood bedroom, it's kind of surprising when Urie says, "I like her. I'm a fan, but I'm not a fanatic."
Much like his career, Urie's personal life has also thrived. For the past five years he's been in a relationship with actor Ryan Spahn. Prior to meeting Spahn, Urie had relationships with both men and women. It's what prompted him to tell The Advocate in 2010 that he identified as queer. He prefers, though, not to get hung up on terminology.
"At this point, I've been with the same guy for five years and there's no end in sight. But, that doesn't mean that anything that happened before that was a lie," Urie said. "I never lied to myself--even when I was going out with ladies. Sometimes it was serious. It was like true love, and it didn't work out for whatever reason, so I just never wanted to pretend like that was a false time in my life."
While eating his dinner--a PB Acai bowl from Juice Generation--Urie opened up about his childhood crush, plans for marriage and his experience with James Franco.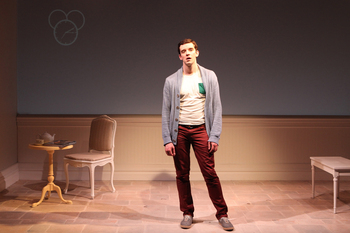 Dustin Fitzharris: There are people who truly worship Barbra Streisand. Is there an entertainer you just love?
Michael Urie: Barry Manilow. I'm a total Fanilow!
Fitzharris: Would you like to work in his basement the way your character does for Barbra?
Urie: The thing about Barbra is she's like everything. She's not only a crazy good recording artist, but she's also a serious actor, director and philanthropist. So, when you think about whose basement you'd like to work in, hers probably has the most going on.
Fitzharris: What would people find if they worked in your basement or apartment?
Urie: Dog and cat hair. They would find a lot of Playbills. If they went deep, they would find that I have a Pez dispenser collection, which is somewhere. I still get one from my parents all the time. Barbra has a lot of stuff from her movies. I have a lot of stuff from my jobs. A lot of stolen stuff.
Fitzharris: Oh! Like what? What is something you stole from Ugly Betty?
Urie: What haven't I stolen from Ugly Betty? I don't even know if I'm supposed to say this, but I have Wilhelmina's desk.
Fitzharris: In your apartment?
Urie: It's the dining room table.
Fitzharris: You and Ryan Spahn have been together for five years. Do you hear any wedding bells?
Urie: No, not yet. It's a funny thing. We've talked about it, but does one of us have to propose? We don't know how it works.
Fitzharris: One individual who has really endeared himself to the LGBT community is James Franco. He saw the show and gave it a rave review.
Urie: Yeah! He said [in the review], "It was right up his alley." I was like, "I'm up James Franco's alley!" He came back here. He's so sweet. I saw his film, Interior. Leather Bar, at Sundance. He's obsessed with it.
Fitzharris: Remember the big headline where he was quoted as to saying, "I wish I was gay?"
Urie: You can't tell me he's never tried. I don't believe he's never tried. I can't imagine he doesn't swing a little bit. He's so interested. He's so fascinated. I mean, nothing happened here! I also think he's a bit of a trailblazer for straight allies for the community. Some people have said to me, "Don't you think he's gay and he's hiding it?" And I've said, "No, I don't think so. I think he's super cool."
Fitzharris: Betty White is super cool, too. You've worked with her on Ugly Betty and Hot in Cleveland. If you were a "Golden Girl," which one would you be?
Urie: I'd probably be Dorothy. Bea Arthur.
Fitzharris: Growing up in Dallas, who was your first celebrity crush?
Fitzharris: Wow! She was my first idol in life. She was glamorous and she could spell! And you know, she only has to say two words the whole show--
Urie: "Bye-Bye!" Have you read her book, Vanna Speaks? Remember, "And I told Mike Wallace on 60 Minutes, 'It's all in the wrist.'"
Fitzharrs: This has been a lot of fun, but I know you have a show to do. Before I let you go, after everything you've done thus far, what are you the most proud of?
Urie: The movie I did with my partner, He's Way More Famous Than You. Before I wanted to be an actor, I wanted to direct. This was my directing debut.
Urie: Who knew? Now I just have to get 50 gold records and we'll be the same!
For more information on "Buyer & Cellar," including show dates and tickets, visit www.buyerandcellar.com. Look for the tour in 2014 coming to Los Angeles, Chicago and D.C.
Photos by: Sandra Coudert

Calling all HuffPost superfans!
Sign up for membership to become a founding member and help shape HuffPost's next chapter