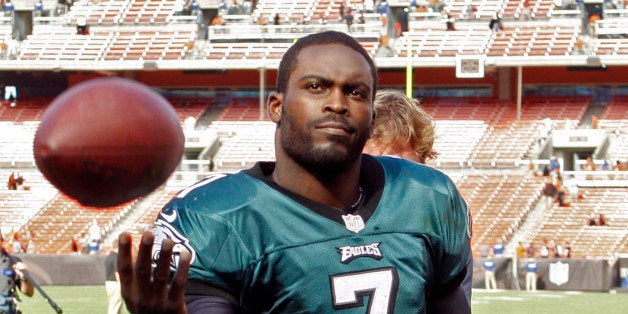 According to a rather testy-sounding message posted to Facebook, the Greater Raleigh Chamber of Commerce was aware that "some would disagree" when the group decided to host Michael Vick as a guest speaker at their 2014 "Evening of Champions."
"The recognition is not for Mr. Vick," Chamber president and CEO Harvey Schmitt told North Carolina NBC affiliate WNCN, while also declining to say how much Vick is being paid for his appearance. "Mr. Vick has an interesting story to tell. It is one of an attempt for his personal redemption."
Animal welfare advocates are more than disappointed…they're downright outraged that the Greater Raleigh Chamber of Commerce has chosen a convicted felon who tortured, abused and killed countless innocent dogs through his Bad Newz Kennels compound to speak at an event that celebrates and honors local star athletes. Having Michael Vick featured as a role model at a chamber event that was conceived years ago to showcase sportsmanship and integrity is completely unacceptable and reprehensible, and shows that the chamber is out of touch with Wake County's citizens, who are compassionate people and want the best for our animals.
Vick's spokesperson, however, said that all these forms of protesting his client is bad for the causes the protesters support.
"After his release from prison, Michael Vick has spoken to more than 10,000 school children about the importance of animal welfare and the positive power of a second chance. He is an important messenger and one of the most charitable players in the NFL," Vick's spokesperson, Chris Shigas, told The Huffington Post.
"It was the Sports Council (of which I am a former chair) that approached me about the possibility of having Mike speak at our upcoming event, not the other way around," he said. "So Mike is coming to Raleigh with a powerful message about making good choices; not letting peer influences lead anyone down the wrong path; and not allowing personal failure to be the final chapter in anyone's life. I'm not sure what any activist finds wrong with that message, other than then they don't like the messenger delivering it. That's fine, except Mike is committed to keep telling his story with the hope that he can get through to anyone who might be at-risk."
Shigas also touted Vick's involvement with the Humane Society of the United States and his advocacy for the Animal Fighting Spectator Prohibition Act, a bill that would impose jail and fines on those caught attending animal fights in addition to special penalties on those caught bringing minors to animal fights.

"If the protestors use their energy in a positive way instead of directing hatred and resentment toward a man who is now advocating for the same things they want," Shigas said, "the Animal Fighting Spectator Prohibition Act would be a law."
Sarah Williams, a Raleigh resident who's been asking the Chamber of Commerce to remove Vick from this year's program, is not convinced.
Vick "didn't just dogfight (the cause he discusses)," she told HuffPost by email. "He went beyond with a psychotic need to brutalize dogs in unfathomable ways AFTER the fights. That's a fact. And my main point, and those who are protesting, this evening is about Champions who have gone above and beyond and are being honored. Why muddy the spirit of the event as a avenue for his redemption from his PR firm."
This piece has been updated with comments from Rick French regarding his involvement with Vick's inclusion in the Raleigh event.
Before You Go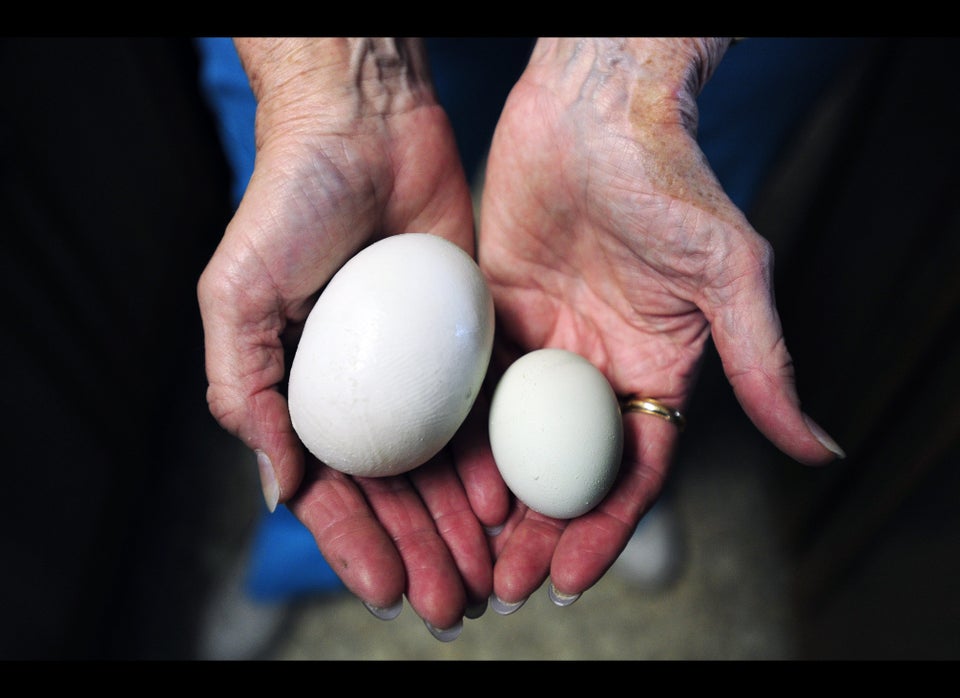 Animals In The News
Popular in the Community