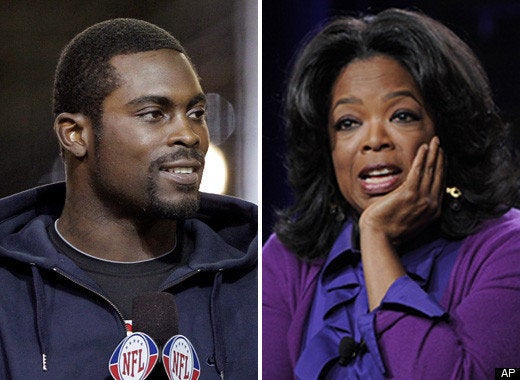 Often times in The Mo'Kelly Report, we discuss the media failings of celebrities, through either bad press releases by publicists, poor crisis management or a disastrous combination of both. There are those times (though infrequent) in which a celebrity (or his/her management) makes the right move and best protects the celebrity and/or the associated brand.
Take Michael Vick for example...
His recent cancellation of a scheduled interview with media mogul Oprah Winfrey was clearly the right move. The only better one would have been not agreeing to the on-air conversation in the first place. Nevertheless, it was by far the best decision Vick has made on or off the field in quite some time.
You will often hear the argument that there is "no such thing as bad publicity," and that would absolutely be untrue. Ask Tiger Woods. Ask "bathroom self-portrait photo takers," resigning GOP Congressman Christopher Lee and Bishop Eddie Long. Don't forget Mel Gibson. For different reasons obviously, any publicity that negatively impacts one's earning power presently and future prospects is bad all the way around. Tiger Woods is not more of an endorsement giant since his private transgressions came to light and seemingly has lost his golf mojo. That's not even mentioning the divorce and Elin cashing a reported $110 million check in the process. Mel Gibson is still persona non grata in Hollywood. And the "bathroom self-portrait photo takers"... we all know it's been downhill for them in the time since posing as fraternal twins in the mirror.
It's categorically untrue to allege there's "no such thing as bad publicity."
In any interview, one has to know the audience to whom he/she would be speaking. Through Oprah, Michael Vick would presumably be speaking to millions of working-class women and stay-at-home mothers. They would be mostly non-African-American and more emotionally attached to the family dog than anyone in the NFL. It is an audience unswayed and indifferent to the news that Vick is the NFL's Comeback Player of the Year or that the Philadelphia Eagles subsequently gave him the "franchise" tag.
Know your audience (both studio and television-viewing).
This interview would have centered mostly around the dogs, an hour-long minefield of questions and uncomfortable answers surrounding his previous treatment of canines, which would be met with audience incredulity and rebuke far and wide.
The rehabilitation of Vick's image has everything to do with keeping the media focus squarely on his football exploits, not the reasons why he went to prison. Nothing personal against Vick, but a one-on-one conversation with Oprah was a disaster of Old Testament biblical proportions waiting to happen.
The list of entertainers and politicians who had effectively ended their careers with one interview is too long to mention. This had "career-ender" written all over it. There is such a thing as becoming such a social pariah that no amount of athletic exploits can overcome.
Football Hall of Famer O.J. Simpson comes to mind.
It makes perfect sense for Oprah and would make for great news coverage. From the Harpo Productions point of view, it would be a home run, and by all means they should have pursued the conversation. Conversely, all the goodwill accumulated during the previous season by Vick would have spiraled down the drain, with no upcoming Monday Night Football game to help people forget with feats of superhuman athleticism.
Many times celebrities get it horribly wrong in how they interact with the media. This time Michael Vick absolutely got it right. It just might have saved the remaining portion of his career.
Morris W. O'Kelly (Mo'Kelly) is author of the syndicated entertainment and socio-political column The Mo'Kelly Report. For more Mo'Kelly, go to his site. Mo'Kelly can be reached at mrmokelly@gmail.com and he welcomes all commentary.
Calling all HuffPost superfans!
Sign up for membership to become a founding member and help shape HuffPost's next chapter