Michael Widomski and David Hagedorn were married on the rooftop of the D.C. restaurant Fiola on Sept. 22, by Associate Justice Ruth Bader Ginsburg.
"On the day that the session ended last June, she sent us a letter accepting our request," the pair told HuffPost in an email, "with the caveat that she had opera tickets on the evening of our wedding and therefore had to be finished with her duties as officiant by 5:30 p.m."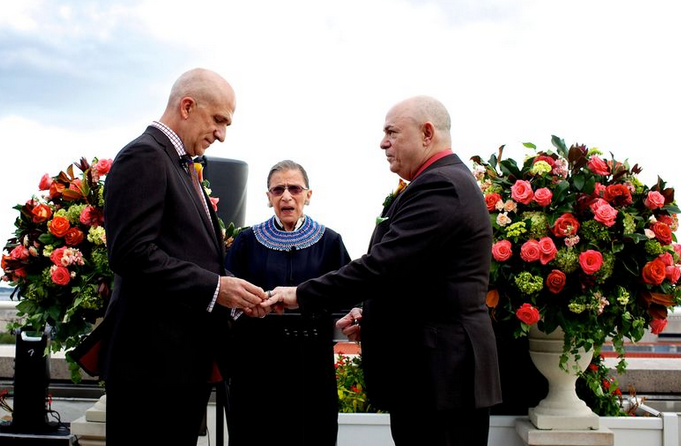 Justice Ginsburg Presides Over Michael Widomski And David Hagedorn's Wedding
The two-month-weds say that being married by Ginsburg, who married another gay couple at the end of August, in front of their blood families and their gay families was "a tremendous honor, of course, but very personal at the same time."
You should get out the tissues before you read this:
Michael: We cannot let this occasion go by without expressing our appreciation and gratitude to Justice Ginsburg, not only for her being here today but also for the long commitment she has demonstrated to justice for all people, which in no small measure is why we can be here today, in front of the United States Capitol.

David: Justice Ginsburg, during oral arguments in the DOMA case, you noted the existence of two kinds of marriage: the full marriage available to heterosexual couples and the skim milk marriage we were expected to accept. Today we toast you, our family and friends with whole milk, signifying the equality we have finally received.

David and Michael raise the glasses as a toast to Justice Ginsburg and the collected guests and then sip some milk.
Ready to tear up even a little more? The last two months have also been great.
"Married life is grand," they said by email. "As Edie Windsor, the plaintiff in the DOMA case, said in words to this effect, 'It's different. I don't know how to explain it, but it just is.' And she is right."

Popular in the Community