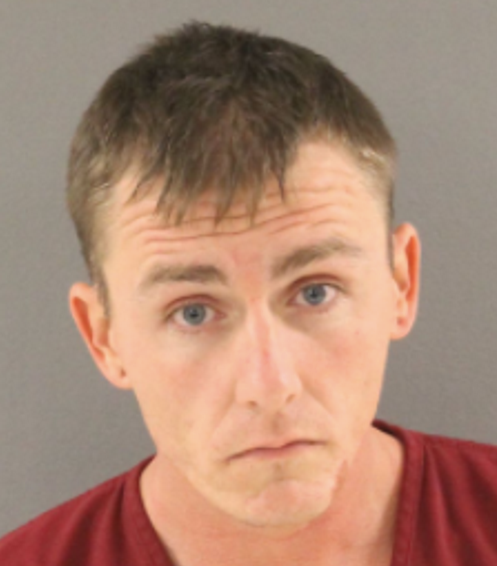 A Florida man is facing charges after he allegedly attempted to electrocute his estranged pregnant wife by rigging up a car battery charger to the front door of their Palm Coast home.
Flagler County deputies said 32-year-old Michael Scott Wilson tried to kill his wife, 29-year-old Ashley Lauren Wilson, by attaching an electrical device to the deadbolt lock and the handle of the front door, according to the Daytona Beach News-Journal.
Deputies said that if the accused's wife had inserted her house key and then grabbed the handle, an electrical circuit would have been created, sending a jolt of electricity through her arm, chest and heart.
The setup came to light on Tuesday after the woman ― who was visiting family in Knoxville, Tennessee, at the time ― told her stepfather, Jon Flositz, that her husband had warned her not to let children touch the front door.
Flositz became suspicious and went to examine the home with his wife. They called authorities after they found the word "Hi" and a drawing of two eyes in lipstick on the back sliding door, according to the Gainesville Sun.
When investigators went to the house on Tuesday, the front door was barricaded and locked, and there were burn marks near the handle. One sheriff's deputy kicked in the door, producing a large spark. Inside, the deputies found an elaborate rigging that included two chairs, a child's high chair, a shower rod, blue tape, electrical cords, wiring and a car battery charger with clamps, the Sun reported.
"This is one of the most bizarre domestic violence cases I have seen in my career," said Flagler County Sheriff Rick Staly, according to WFTV. "Not only did this man plan to electrocute his wife, but he could have injured a deputy or any person attempting to enter this residence." 
Wilson was found Thursday in Knoxville and taken into custody. He was later charged with two counts of attempted aggravated battery on a pregnant person and one count of grand theft of a firearm.
Court records indicate that Wilson's wife had filed for divorce on Dec. 6. She told investigators after her husband's arrest that his behavior had changed following some health issue a few months ago. At the end of November, he was placed in a mental health facility under Florida's Baker Act and hadn't been home since then, she said, according to the Times-Union.
The two attempted a reunion in Knoxville on Dec. 21, but he left early on Dec. 23 without explanation. Wilson later sent his wife text messages accusing her of cheating on him. She said she had calmed him down on Christmas Eve and let him know he was welcome back in Tennessee.
Wilson is currently being housed in the Knox County Detention Facility in Tennessee on $150,000 bail and will be extradited to Flagler County in Florida.
The investigation is ongoing and Wilson may be charged with other crimes. 
REAL LIFE. REAL NEWS. REAL VOICES.
Help us tell more of the stories that matter from voices that too often remain unheard.