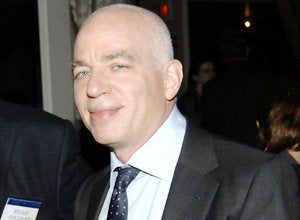 MICHAEL Wolff is finally free to flaunt his girlfriend. The bald, trout-pouted Vanity Fair writer, 55, has been carrying on a steamy public affair with intern Victoria Floethe, 28, for months and was finally booted from the home of his wife, Alison Anthoine. He's since been shacking up in hotels around town and hanging out in public with Floethe, whom he took to a pre-opening tasting at Monkey Bar last week.
Now, sources said Wolff and Anthoine will soon begin divorce proceedings. "That is correct," Wolff told Page Six.
A family insider said, "Alison is trying very hard to end the marriage amicably. Michael will be renting an apartment starting [this] week."
Popular in the Community