The author of the controversial tell-all book on Donald Trump's presidency claims he did not pursue the book to take down the president. Instead, journalist Michael Wolff insisted on Friday, he was willing to be proved wrong about Trump's nefarious reputation ― though that didn't happen.
"I'm becoming the poster boy for taking down Donald Trump. That was never my intention," the journalist told NPR's Kelly McEvers.
"I am not a hit man," Wolff said.
"My intention was to go into the White House and report what I saw and what I heard," he said. "I thought this was going to be an extraordinary story in whatever way it went. I had no way of knowing what way it would go."
Asked by McEvers whether he still stands by his book, despite Trump and the White House disputing it, Wolff said: "When you write a book like this, people regret what they said to me. What they say to any reporter who they relax with and they forget who they're talking to, I have sympathy for that, and I think the natural response is to say, 'Oh, my God, I didn't say it.' But I will tell you, they said it."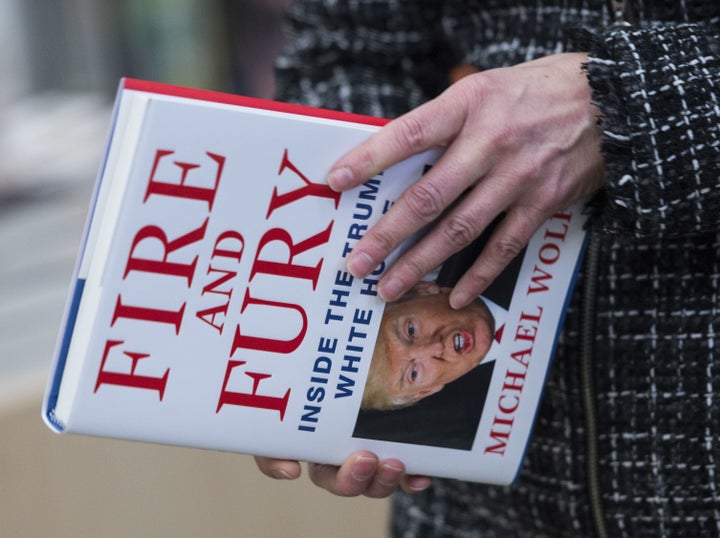 Wolff's explosive book, which was released early Friday morning, provides a behind-the-scenes look into Trump's presidential campaign and administration and his reputation within the White House.
Wolff told NPR he spent at least three hours with Trump over the course of his campaign and in the White House. The book includes unsavory anecdotes about Trump, including references to the president's aversion to reading, administration officials' incessant leaking to the press and an episode of former chief strategist Steve Bannon calling Donald Trump Jr.'s 2016 meeting with Russian operatives "treasonous."
But the two main issues tackled in the book, Wolff said, were that Trump won't read anything and Trump won't listen to anyone.
"The two fundamental issues [in the book] were that Donald Trump doesn't read anything," said Wolff. "Let me accent that ― anything, nothing."
"Not only does he not read, he doesn't listen," he added. "It becomes, from day one, the crisis of the presidency: You can't tell him anything."
Trump tried to stop Fire and Fury from being released by having his attorney send a cease-and-desist letter to Wolff's publisher on Thursday. That move spurred Wolff to publish the book four days earlier on Friday instead of its intended release date of Jan. 9.
In an attempt to discredit Wolff as a journalist, Trump tweeted Friday that the book was filled with "lies, misrepresentations and sources that don't exist."
"I authorized Zero access to the White House (actually turned him down many times) for author of phony book," Trump wrote. "I never spoke to him for book."
Wolff defended himself on NBC's "Today" on Friday: "I absolutely spoke to the president. Whether he realized it was an interview or not, I don't know, but it certainly was not off the record."
Speaking to NPR, Wolff said he approached this book with an open mind about Trump.
"In many ways, from the beginning, this has felt like a train wreck, and, as it happened, the train just kept going on but the wall was still out there," he said. "Eventually it will hit that wall."
"I was certainly willing to be convinced to think differently, willing to think that this unusual figure had a new way to approach things and, what the heck, maybe it would work," he added.
His finished project, however, proved his initial instincts right.
"I feel that that is not the case now," Wolff said. "I saw and learned that everyone around him feels that's not the case. The train will hit the wall."
Calling all HuffPost superfans!
Sign up for membership to become a founding member and help shape HuffPost's next chapter
BEFORE YOU GO
PHOTO GALLERY
Donald Trump's 2017