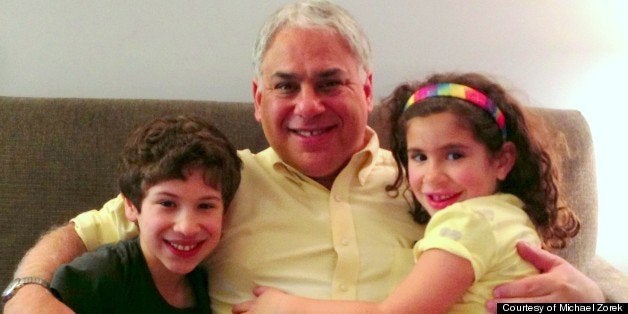 Michael Zorek stood outside the fence of his children's public school on Manhattan's Upper West Side one day this spring, waiting for afternoon pick-up to begin. The assembled grown-ups were mostly mothers or nannies, with the occasional father here and there.
"More men than there used to be," Zorek said, scanning the crowd as adults filled the playground while their kids were marched toward them, one class at a time. "I stood out so much early on that people would stop me in the neighborhood and say, 'I know you. You're the dad who stays home.'"
He has been that dad for nearly 11 years -- since Jeremy was a newborn and before Diana, now 7, was born.
"It's lonely blazing trails," he says, and the Bureau of Labor Statistics backs him up. When he began this gig in 2002, fathers were 1.9 percent of full-time child care givers in the United States, and the most recent numbers show that by 2011 that percentage had nearly doubled, to 3.4 percent. So while he'd been one of 81,000 at-home dads when he started, he has become one of 176,000.
Now that his children are older, though, he is trying to take the logical next step and find a paying -- albeit part-time -- job. But he's finding that this path back is even lonelier and less predictable than the one that led him home in the first place.
What does the job market do with a man who stayed home for more than a decade? What does he do with himself? Is it harder for a man than for a woman to return to paid work? Is there an added stigma? And will that fade as more men do what he has done?
Zorek is part of the first wave to ask these questions, and the answers are not yet clear. "Canaries in the coal mine when it comes to understanding the experiences and challenges that virtually all men will encounter as they seek to be more active and involved parents," is how one of the few major academic studies of stay-at-home dads describes this cohort.
Zorek's summary is more succinct. "Damned if I know," he says of what comes next.
I first met Michael Zorek on his last day of work as an account executive at a PR agency, just before Father's Day weekend in 2002. He was packing up his office and preparing to take full care of then 3-month old Jeremy once his wife, Shelly, finished her maternity leave and returned to her high-pressured job as a corporate litigator.
I was writing a weekly column about life and worked for The New York Times back then, and Zorek, who is now 52, was one of the men I interviewed for a story about how men, too, feel the pull of home and children.
In the years since then, studies have found that men, like women, choose to stay home for three primary reasons: They have a strong belief that a child is best off cared for by a parent rather than a hired caregiver; their personality is better suited to being at home than their spouse; and it makes most sense financially. Although that research had not yet been done when we first spoke, Zorek described his choice as a mix of all three -- but mostly the third.
''After paying the nanny and the taxes, the difference between that amount and my salary was not that great,'' he said at the time. ''For almost the same money, we could have a parent there full time and I could also do the things that a nanny usually wouldn't do, like putting the photos in the albums.''
So home he came, with no male role models or examples. His own father had been a "company man," rising through the ranks at Bloomingdale's while his mother was a more traditional homemaker. They'd sent their son to private school (Riverdale Country Day) and college (Kenyon), where he'd always assumed he would follow a linear career path of his own. Even as he left that path, he saw it as a pause, not a departure. Though "now that I look back on it," he says, "I gave no thought to what I would do long term."
Short term though, he noticed that Jeremy was a particularly cute and easy-going baby, and, mostly to fill time, Zorek started taking him to modeling auditions. "I knew he could do what it took -- he could sit on an X and smile," Zorek says. Infant ads led to toddler speaking parts, and eventually small TV roles. After Diana was born, she tagged along on her brother's auditions, sometimes nabbing a part of her own. Years passed. The family found a rhythm. Shelly worked from early morning to late at night while her husband took the kids to activities and auditions, then had them bathed, and dinner ready, by the time she came home.
When the children started school, their father began to look for a way to earn money between drop-off and pick-up. He got hired as a greeter at the Disney Store in Times Square and as an au pair coordinator. Neither part-time gig paid him much money.
In the summer of 2011, he left both of those jobs because Jeremy landed a part in the national tour of "Billy Elliot." For the next 12 months, through 236 shows in 14 cities, father and son lived in hotel rooms, while mother and daughter lived in their Manhattan apartment. Jeremy's salary paid for a babysitter to pick Diana up at school and stay with her until Shelly got back from the office.
The bifurcated life was not a reprieve from Zorek's dilemma, but rather a confirmation of it. As Shelly struggled with walking the dog and doing the laundry and myriad other tasks that her husband had always covered, they realized how much they depended on a spouse at home. At the same time, as their bank account sagged under the demands of keeping in touch long distance and a looming renovation that would finally give the kids separate bedrooms when the tour was done, they also realized that they needed another income. So Zorek has resumed his search for work he can do while still being a primary parent.
"I need to find a job for two reasons," he says, as both his children find him on the playground and try to hand off their oversized backpacks. "First, I need to take pressure off of my wife. She is working incredibly long hours and the entire financial burden is on her shoulders.
"And second, well, let's just say -- both of my kids earned more money last year than I did."
The Lady Who Sells Ices was at her usual spot around the corner from the school, and Zorek gave each of his children a dollar, then watched from afar as they waited in line.
"I couldn't do that because most of her business is probably in the afternoons," he said, pointing in the direction of the cart with his chin as he considered, and then dismissed, ice cream sales as a solution to his employment problem. A man walked by with five dogs on separate leashes. "I've thought of that, too," he said, "But..." he didn't finish the thought.
He's thought of pretty much everything since Jeremy's road tour ended last summer -- being a virtual assistant, writing freelance press releases. He's explored working (part time) for a company that casts parts in shows, and one that does the logistical work for shows that go on the road. So far, nothing.
Part of the reason he still is not working, he says, is the economy. "You could hear the crickets chirping," he says of the response to resumes he sent out to PR companies in the hope of returning to his old line of work.
But he also says that the problem is more than just the recent recession. "I would advise anyone making the choice to stay home now, to not stay home completely, to keep their hand in," he says in hindsight. Otherwise, he says, the working world moves on without you. "Every PR job I've looked at -- they want to know how proficient you are at Twitter, at Facebook, at all these social media things I know nothing about."
Parents often complain, he says, about how schools today homogenize students, forcing "round pegs into square holes," and not getting the best work from kids who are different. Workplaces do that too, he says. "Why is the parenting-compatible job so elusive? There are thousands of mothers and thousands of fathers who want to be proud, useful people, and you can do both. I honestly believe I can do both."
Jeremy and Diana get their frozen treats and the family begins their walk to the subway. The children have vocal lessons in the afternoon, and after that comes homework and the baked pasta Zorek has waiting for dinner.
As he reaches for his metrocard, the incoming text chime tones on his phone. It's an "errand agency" putting out a call for someone who can come move furniture on the Lower East Side the following afternoon.
He deletes the text and slips the phone away.
"It's for 3:30," he says. "I'll be busy."