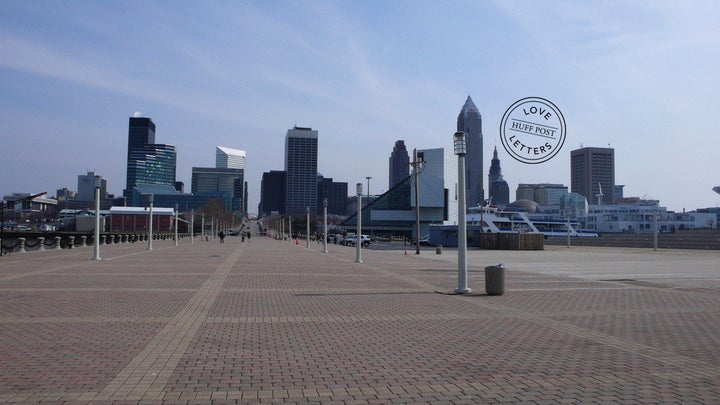 Cleveland native and Chef Michael Symon grew up in a Greek and Sicilian family. The 2008 winner of The Next Iron Chef, Symon operates four restaurants in the midwest, Lola, Lolita, Roast and B Spot. Symon's first cookbook, Live to Cook: Recipes and Techniques to Rock Your Kitchen, was published in 2009.
---
You have been my best friend for over 40 years. You were there when I laughed and when I cried, when I won and when I lost. In my fondest memories you are standing by my side, knowing that even when I left you, you would still be there for me.
I remember when I was young and I would spend my entire weekends with you and my grandfather: heading to the Eastside and staying with my grandparents; taking the rapid Downtown; shopping at the Westside Market with all its fabulous aromas of smoked meats and baked breads. It is here I found my true love for food, for going to the historic Terminal Tower to pick up my Grandma at Higbees and heading back east to cook split pea soup with smoked ham hocks and ribs.
I remember those walks up Noble Road with my Pap, wrapped in layers of clothes to protect me from your chill to see the amazing light display at General Electric for Christmas before heading back home for homemade nut roll and long games of cards with family and friends.
I hid from you like every other teenager with a skateboard and BMX, choosing to play in the suburbs, a wide world of vanilla filled with malls, chain stores and entirely too much mediocrity. I was young and stupid than, aggravated by your downright excellence when it came to disappointment. Your sports team lost in every way known too man: red right 88, the fumble, the drive, the shot. Are you fucking kidding me? You could be so cruel. Let's not even go into the winters, when the "lake effect" winds would have pissed off a penguin.
So, just like that, I left you.
It wasn't until I left you that I realized how amazing you are and all the great treasures you possessed. Whether it was the old world headcheese at The Sausage Shoppe, amazing pierogies at Sokolowskis or the perfect steak and steam at the Shvitz, you were --history and culture aside -- loaded with old-world culinary traditions that most cities could only imagine. It was not long after this that I knew our relationship would be one that would last forever.
I met my wife under your watchful eye, opened restaurants in neighborhoods that you tried to forget about and stayed around to watch you grow again. I observed with joy as that you opened your arms too new beginnings like the unbelievable Rock Hall, the dozens of green markets and the chef-driven restaurants that can now stand up to any city's eateries.
I don't care that you are misunderstood by many and love many more. Hell, I don't even care that you have multiple personalities, calling yourself both "The Mistake on The Lake" and "The Best Location in the Nation." To me you will always have more integrity, soul and guts than cities twice your size. That is why I will always love you.
Related