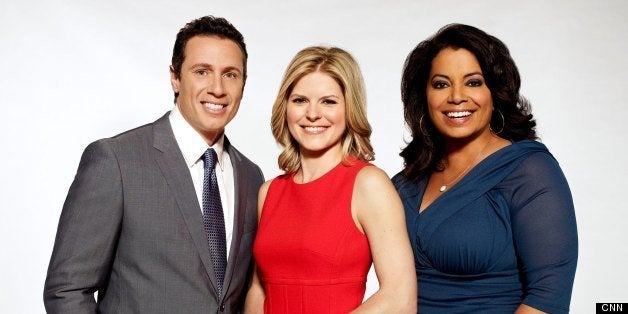 When she first came to Los Angeles, Canada-native Michaela Pereira had a difficult time pronouncing "Wilshire," "Sepulveda" and "Cahuenga."
Her role as co-anchor on the KTLA Morning Show quickly changed all that. Nine years later, the broadcast journalist ruled Southland media with Frank Buckley as anchors on LA's top-rated morning news show -- until she announced she was leaving for CNN.
Pereira will join co-anchors Chris Cuomo and Kate Bolduan on "New Day," CNN's third recent attempt at morning news programming. The show, set to debut June 17 from 6-9 a.m. EST, means that the California Girl has to move from her beloved neighborhood in the San Gabriel Valley to New York.
While she's excited about the national platform, Pereira is going to miss Los Angeles. In a phone interview with The Huffington Post, she rattled off the things she would miss about SoCal life:
"There's the Rose Bowl flea market. The Newport Beach Jazz festival. Going to Clippers games. Hanging out at The Grove with my girlfriends. Going shopping at all the boutiques and things we have around town. The after school programs I support," said Pereira. "I can't tell you, the list is so gigantic."
But most of all, said Pereira, she's going to miss the residents who welcomed an "outsider" with open arms.
"I've had a welcome mat to every single one of those events," said Pereira. "It feels a little like I've been given the keys to the city."
She chatted with HuffPost LA about the major change, and the interview turned into an impromptu counseling session for a certain Huffington Post editor who is still struggling with a Pereira-less KTLA show. Read the Q&A below to see the craziest things she's ever reported on and what she really thinks about her KTLA "work husbands."
HuffPost: I just want to start off by saying I'm a major fan of the show, and when I heard that you were leaving, I was seriously bummed out for a long time.
Aww, do we need to do a quick little therapy session? Because I've been counseling some of my friends and I've got some good words for you.
HuffPost: You've covered the Southland for nine years. What's the craziest thing you've seen on the job?
Given the fact that we are a three-hour, Monday-to-Friday broadcast, we have seen some crazy things. Just recently, we had this bear that we caught live from our helicopter. We followed the bear for 45 minutes and we were all kind of cheering on the bear and hoping that it's not going to get killed. Thankfully Fish and Game was able to tranquilize it and take it back to the Angeles Forest and release it back into its own natural habitat.
And then sadly, on the other end of it, one of the craziest things that we all watched and were shocked by in recent times was the whole Christopher Dorner case. That was like a movie script sadly playing out. It was horrifying and compelling.
HuffPost: If you had a work husband at KTLA, I'd say it was co-anchor Frank Buckley. But do you have another person in mind?
They kind of all are. It's kind of an oddly weird "Big Love" situation -- that's probably completely inappropriate to say. But I have three work husbands. So with Frank, he's my TV husband for sure because we're like the parents. We've got a couple of teenagers in Mark [Kriski] and Sam [Rubin]. We've got to make sure they make it in for curfew and what have you.
My relationship with Mark is that we have such a very strong bond, but I'm Mark's secretary! Mark never checks his emails, he never knows how to use his computer -- well, he's pretty good on his cellphone actually. I have to remind him of things, I have to put things in his schedule. I have to tell him when meetings are happening, if he has to find an autograph for somebody. I'm the one who has to handle Mark. He's going to be a mess when I go.
And for Sam, there's his personal grooming. You know, sometimes a haircut reminder, tuck in your shirt. It's really like being his mom.
HuffPost: You're going to be an East Coaster for the first time. What will you miss about LA?
There's so many things. I have some palm trees along our street and just the sound of those rustling in the wind.
I take a picture almost every morning when I'm walking from our studio in KTLA, or from our office's parking lot to the studio, with the Griffith Observatory in the background, palm trees in the foreground. The visuals of Southern California are stunning.
HuffPost: "New Day" is up against a lot of well-established morning news shows. On network there's ABC's "Good Morning America" and NBC's "Today Show," while on cable you're up against "Fox and Friends" and "Morning Joe" on MSNBC.
I think we're joining some fantastic company nationally. We're going to be up against some fierce competitors doing a really great job, but we're hoping to do something a little different. We've said it time and time again: we're not trying to re-invent the wheel. Hello! It's TV, first of all. It's news, second of all.
It's morning TV. We know what people need. They need the right mix of information and to be updated. They want a little bit of buzz to share with friends around the water cooler and they want to feel good. It's their entry point to the day. I'm hoping to bring a refreshing new voice to that.
HuffPost: What advice do you have for others who want to get into broadcast journalism?
One of the things that always worries me when I see people get the stars in their eyes is not realizing that they have to put their back into it as well. There's research, study, late nights, early mornings. You have to sacrifice fun things with your friends, you might have to pick up and move across the country away from your family.
I would remind them that it's really important to know who you are and to have a really good sense of yourself. Keep your feet planted firmly on the ground, and build a really good support system around you. Because otherwise all of those other things will be impossible. You can't do it alone.
HuffPost: Anything you want to close with?
I want to say, "thank you" to you and to all the people who have chosen to spend their mornings with us at KTLA. It's been so great and I really do understand that I'm messing up the routine of the morning, but change is good and change is constant. And you're going to be fine, baby girl!
Interview was edited for length.
Calling all HuffPost superfans!
Sign up for membership to become a founding member and help shape HuffPost's next chapter
BEFORE YOU GO