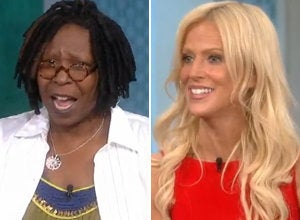 Update: Whoopi Goldberg responded forcefully to allegations levied by "Real Housewives of DC" star (and former alleged White House crasher) Michaele Salahi.
Whoopi showed another camera angle that showed that she did not hit Salahi, as she reportedly claimed, but rather nudged her on the side to remind her to get back on topic.
"Afterwards, Michaele was very upset about what was said about her on the air," Whoopi explained, "and then I was told that she thought I hit her. So I went up to her and I told her that she knew I didn't hit her."
Whoopi went on to defend her language, which is reported to include several F-bombs.
"And yeah, you know how I said it -- choice words," she said. "And I make no apology for my choice words. But then her husband got in my face, had his BlackBerry out and started taking pictures of me. And needless to say I really went off then. And there is even more choice words. They were so choice you could've cut 'em with a knife and eaten 'em."
<0--2889--hh>0--2889--hh>
Original Post: It's the Salahis vs. "The View" — specifically, Whoopi Goldberg.
During Michaele Salahi's appearance on "The View" Wednesday to promote "The Real Housewives of DC," Whoopi was backstage as Joy Behar and Sherri Shepherd interviewed the Housewives.
When Salahi was distracting from questions about the White House State Dinner she and husband Tareq allegedly crashed, Whoopi came on set to nudge Salahi to get back on topic.
"Can you get back to the White House, please?" Whoopi said, before retreating backstage.
"I felt someone touch me," Salahi said.
"That was Whoopi Goldberg, she don't come out unless she's passionate about something," Sherri chimed in.
The Daily Beast reports that after the show, Whoopi "burst into a room Michaele was sitting in with Tareq and screamed: 'I didn't fucking hit you! Did you say I fucking hit you?'"
The Salahis' attorney, Lisa Bloom, told The Daily Beast that Whoopi was "screaming and dropping the F-bomb many, many times" — and that Tareq caught the tail-end of the exchange on video.
"Salahis will address on Thursday Morning LIVE on National TV the outrageous abuse and exchange that took place on the ABC Show the View and a audio & video file from Whoopi Goldberg verbal attack to Michaele. Standby for details..."
"At one point during Michaele Salahi's appearance on The View on Wednesday, Whoopi lightly touched Ms. Salahi to get her attention and said to her 'Excuse me, can you get back to the White House, please?', meaning could Ms. Salahi return to the original subject of the conversation. After the show, Ms. Salahi and her husband accused Whoopi of hitting Ms. Salahi. As the broadcast clearly shows, the accusation was completely unfounded and erroneous. After the show and after being told she was being accused of hitting Ms. Salahi, Whoopi proceeded to defend herself verbally from this baseless claim in a heated exchange with the Salahis."
During the segment, Sherri and Joy pressed Salahi on the night she and her husband showed up at the State Dinner, telling her she should be in jail and not on a reality show.
WATCH:
Close-up of Whoopi nudging Salahi: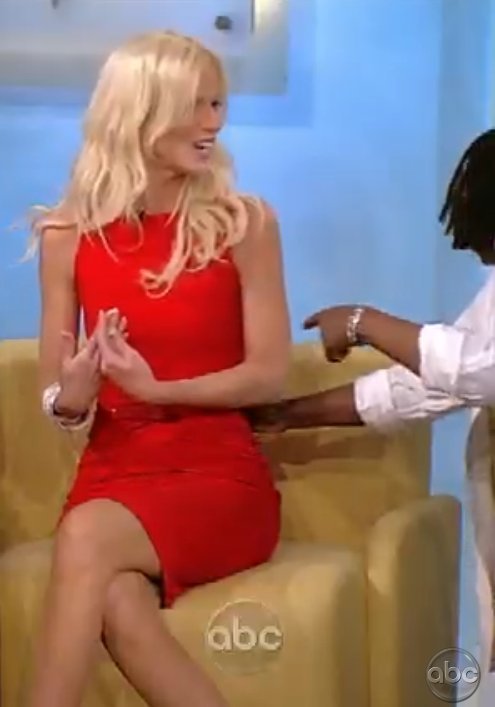 REAL LIFE. REAL NEWS. REAL VOICES.
Help us tell more of the stories that matter from voices that too often remain unheard.