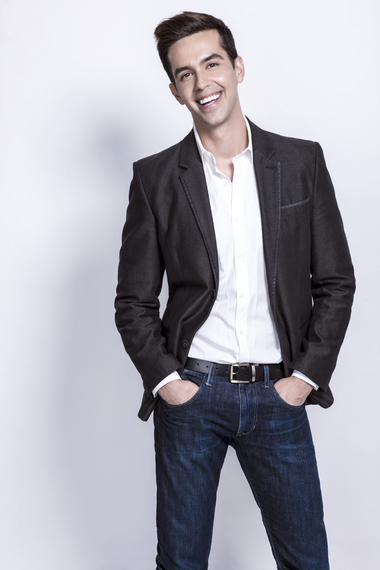 True story: A woman named Jennifer enters a science classroom, where she's supposed to assist an expert named Michael with a presentation. He shows her a baseball-sized object, claiming it was discovered at a meteor crash site. After the object falls off the table into a bucket of water, it balloons in size and breaks open. A crab-like creature crawls out, which somehow morphs into two crab-like creatures. Jennifer's eyes open wide as she experiences a roller coaster of intense feelings: astonishment, delight and ultimately fear, until Michael covers the two "creatures from outer space" with a metal bowl. She exclaims, "Michael, we just made history here!" At that point, Michael removes the bowl; in place of the alien crabs are two adorable, cuddly kittens.
It really happened, but it was just one of hundreds of hilarious, perfectly-executed, memorable pranks featured on The Carbonaro Effect, a hidden camera magic show starring Michael Carbonaro. Now in its third season on TruTV, the hit series highlights Carbonaro's prodigious talents of prestidigitation. The 40-year-old Long Island, NY native has been variously described as an actor, comedian, performance artist, and comic magician... all of which are accurate.
After graduating from NYU with a degree in drama, this son of an electrician and a nurse began scoring roles in movies and television, while honing his live magic show. The big break came with regular appearances on Jay Leno's Tonight Show in a segment called "Magic Clerk", which led to the TruTV program.
Carbonaro has now taken his family-friendly show on the road. He's in the midst of a year-long, multi-city national tour of live appearances, including one this Friday, February 17th at the prestigious Broward Center for the Performing Arts in Fort Lauderdale, Florida. The engaging entertainer, who lives in Los Angeles with his husband, actor Peter Stickles, took some time off for a conversation about his life and career.
SN: What was your first magic trick?
MC: I watched David Copperfield on TV with my parents when he walked through the Great Wall of China. I thought it was actually happening. After the show, I took a piece of paper, scribbled all over it with crayon, then in front of my mom, dad and older brother I tore it up into pieces, squeezed it in my hand, and put it back together again. And they all flipped out. I must have been eight years old.
SN: What do you think attracted you to magic?
MC: I think things like that find you. First, I liked special effects. I had a book entitled Bizarro, later called Grande Illusions, by makeup artist Tom Savini. I loved horror and monsters and I first wanted to be a makeup man. Growing up on Long Island, I would go to a magic shop in Hicksville in order to buy special effects supplies. Then I started performing magic tricks more for people, and I loved that connection: making people laugh, making up stories with the tricks. So I kind of found my way into magic through special effects, and my way into performing through magic.
SN: So you started performing very early.
MC: In school, I did show choir and plays and all that stuff. I loved all connections to theater and performing. I used to rock out Halloween each year. And at age 13, I started performing magic shows for money, at birthday parties.
SN: Do you remember your first paying gig?
MC: I performed at my neighbor's birthday party, and I think I charged $35. I dressed as a clown, made balloon animals, did a puppet routine, did magic tricks and played games with the kids. I think I was at the party for, like, 20 hours!
SN: Was being a gay kid a factor in all of this, as you tried to figure out that part of your life?
MC: The message you get, growing up, is that there's a set way to do things: you grow up, have a wife and kids, etc. But being gay and knowing in your heart that's not for you, is kind of freeing. Of course, at times it was nerve-wracking and lonesome and terrifying, which is also good for the artist's soul. It helped me to feel a little bit like an outsider, and there was a kind of security in knowing that my life was going to be different.
SN: You really paid your dues over the years, working your way through college, playing countless small venues. What was it like to finally get a recurring guest spot on the Tonight Show?
MC: The year I started doing the Tonight Show, I had been thinking: I went to NYU, I had gotten a bunch of guest-starring roles on TV, I performed off-Broadway and at the Magic Castle, and I thought, I might not really achieve any huge degree of fame, but I'm happy to be able to perform for a living. I was at peace with the idea of not being famous. That wasn't my goal anyway. I have a great husband, and I was OK with it all. And then I got that break. The fact that I was already kind of calling the shots, and didn't need the affirmation or fame, helped make it really special.
SN: Then getting The Carbonaro Effect must have been like a dream come true.
MC: I'm still catching up to that. I still have to pinch myself. It's been moving so fast and so furious, the velocity and the quantity of the stuff I'm doing. I try to take time and take a step back and appreciate everything and make sure that I stay on path. I now see why these fame rides are kinda tough to maneuver.
SN: After 66 episodes and more than 500 different scenarios, can you choose a favorite prank from The Carbonaro Effect?
MC: My all-time favorite is a very small thing that we did in a hardware store, a trick called "Builder Beetles". I showed a dude how real beetles, in a jar on the counter, could unscrew bolts from nuts, and also assemble things like toothpicks into little structures. I put a couple of beetles with a pile of toothpicks under an empty coffee can, and told him they'll work on structures the way a spider makes a web. And I lift the can and there's this Eiffel Tower-like structure that the beetles created. And this intelligent man is believing it. His eyes opened wide. He stopped down his day to wonder and be curious. Man, there's just nothing like that.
SN: I've been watching shows in which people get pranked since my dad worked on Candid Camera in the 1960s. There always seems to be a bit of mean-spiritedness about them. But I never, ever see that on The Carbonaro Effect. Was that a conscious decision?
MC: It wasn't at first. I just was doing things that I hoped would be great, and, I guess I'm a nice person. (laughs) But I've been performing my whole life for family audiences. I want kids and adults to laugh, I want things to be hip and fun and playful. I never want to make anyone uncomfortable. It's not hard to get a reaction from someone by making them angry or horrified... but I want to do things that are magical and enchanting.
SN: You've said that your first rule on this TV show is never to reveal that you're a magician.
MC: Yes. I've taken the magician out of the equation. My game is to be in the same moment as them. Something disappears, and she turns to me, and I say, "Where did it go?", and we're both looking around. So now it's two people who get to talk about a magical moment together. Like, what's going on in the universe right now? Not, "How did you do that?", but, "How is that happening in our world?", and I think that's what makes it so gripping.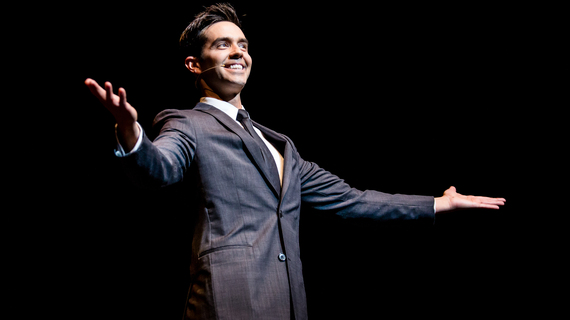 SN: So given that, your live stage shows on this current national tour must be the opposite, no?
MC: You would think so, but it's funny how the philosophy stays the same. Yes, I do start the live show pointing that out, and then I say, "You guys know I'm a magician, so where does that leave us? It leaves us in a really good place, because now we have total trust in each other. You know me, I know you, and you know I won't be lying for the rest of the evening, like I do on the TV show". And then I proceed to lie to them for the rest of the evening! I bring people onstage, I go out to the crowd, things are disappearing from their hands, from their pockets, objects are materializing out of nowhere. I really have them losing their footing throughout the show, and that becomes a kind of fun, playful dance. And it's been going smashingly well; people really dig it and they're having tons of fun.
SN: The TV show is in its third season, you're doing a live stage show, your popularity on social media is also skyrocketing... and it occurs to me that, ironically, the more well-known you become, the less possible it will be for you to prank people, even in disguise. I mean, George Clooney can't stand behind a counter in a hardware store and try to fool people.
MC: No he cannot. But that just opens up amazing opportunities for development and adaptation. I have really cool friends joining me on the show this season, and yes, there may come a time when I'll have to be heavily disguised. Or, perhaps I'll come out at the end of orchestrating someone through something that I play a minor part in. There are lots of ways to do it. But sure, you're right; becoming better-known will change things.
SN: Well, given what seems to be your limitless imagination, I think you'll figure out a way to deal with superstar level fame.
MC: Yes. I'll run away to Maine and start a cat sanctuary!
To purchase tickets for "Michael Carbonaro Live!" stage shows, and for more on Michael and "The Carbonaro Effect", go here
Popular in the Community