After just one week in office, Brazil's unelected, interim President Michel Temer has begun hacking away at three decades of social progress, fielding a leadership team composed entirely of 21 white men -- including a congressman under investigation for attempted homicide -- to take the reins of a government bogged down by a far-reaching corruption scandal.
Temer's apparent disregard for diversity contrasts sharply with a regional trend that has seen women, indigenous people and Afro-descended people rise to increasingly high elected offices in Latin America in recent years.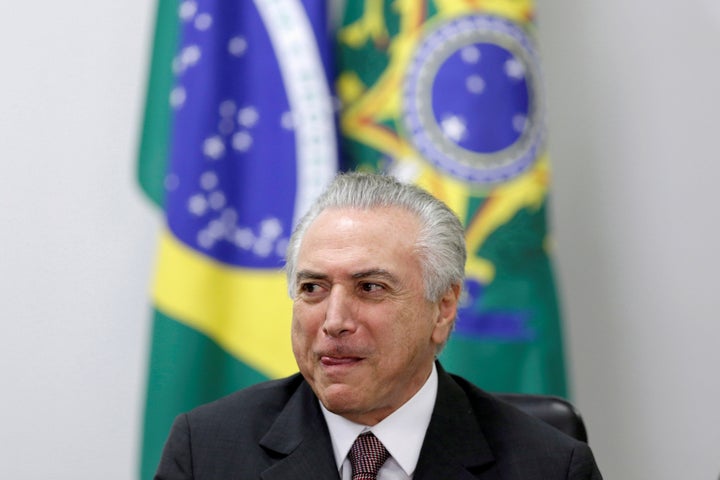 Temer's cabinet, announced last week, includes a total of zero women or Afro-Brazilians, in country where the majority of residents self-identify as black or as of African heritage. (At least one member of Temer's cabinet has previously served in a high position in Brazil's government.) The decision to call an all-white, all-male cabinet was widely condemned nationally and drew a rebuke Wednesday from the Inter-American Commission on Human Rights.
"The designation of a cabinet of ministers that does not include any women or persons of African descent leaves more than half the population excluded from the highest government offices," IACHR said in a press statement. "The last time Brazil had a cabinet with no female ministers was during the military dictatorship."
Eliseu Padilha, Temer's chief of staff, told Brazilian media that "we tried to find women, but for reasons we don't need to bring up right now, we discussed it and it wasn't possible," according to IACHR.
Underrepresentation in the Brazilian government did not start with Temer -- the previous president's cabinet had 39 members, of whom only six were women and just one was black -- but so far he has walked back even that bit of progress.
Temer's issues with race and gender go beyond representation at the highest levels of government. Within days of taking power after President Dilma Rousseff was suspended to face impeachment proceedings, Temer, 75, stripped three government agencies -- those charged with guarding human rights, gender equality and racial equality -- of their ministerial status. They've now been lumped into the Ministry of Justice in what Temer describes as a cost-saving measure.
The new Brazilian president did, however, find one woman to nominate to a government position -- his 32-year-old wife, Marcela. In the event that Rousseff is formally removed from her position after an impeachment trial, Temer has said he would appoint his wife to work in his government heading social policy.
Asked on Monday in a televised interview whether his wife was qualified for a government post, Temer said, "Yes, she is a lawyer and has a lot of concern for social issues."
Apparently in response to the criticism, Temer tweeted a picture of himself meeting with female members of Congress Thursday morning.
Other prominent figures in Temer's new government have drawn scrutiny for reasons unrelated to their race or gender. Deputy André Moura, tapped to lead Temer's efforts in Congress, currently faces an investigation for attempted homicide before Brazil's Supreme Federal Tribunal, the country's highest court. Moura denies having played any role in the 2007 shooting of Joseano Zeferino dos Santos, a man who worked as a bodyguard for rival politician Juarez Batista dos Santos in Moura's home state of Sergipe.
Batista told police that he'd faced several threats from Moura and accused him of masterminding the shooting, allegedly carried out by four hooded men who drove up to Batista's home. Moura told Brazil's O Globo that the accusations are "baseless" and rooted in "the clear intention of defaming me."
Moura has been accused of involvement in the massive corruption scandal at the state-led oil company Petrobras. He has also been convicted on smaller-scale charges of pilfering public funds in Sergipe.
In response to criticism over his cabinet selections, Temer has said he is still searching for roles in his government that might be filled by women. "For [the Ministry of] Culture, I would like to bring a representative of the feminine world," he said in a recent interview.
"If the people / Were to see / What they see / The eyes / That see / Looking inward..." reads one of his poems, titled "Fear."
"If I could / I would not continue," reads another.
UPDATE: May 20 -- In a press statement emailed to The WorldPost, the Brazilian presidency said that Temer is committed to raising the number of women in top leadership posts.
"The profile of the ministry leaders owes to circumstantial reasons, including the urgent need to reduce the number of ministries and rationalize the public bureaucracy, and doesn't reflect, in any way, any 'position' of the government on the issue," the statement reads.
The statement also highlighted the presence of several women who hold high positions in the government, including Maria Silva Bastos, the head of the national social development bank, and Flávia Piovesan, the secretary of human rights.
Related
Popular in the Community