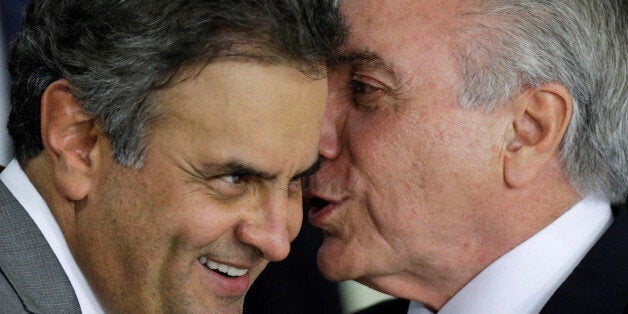 Brazilians are easily recognizable abroad, particularly in countries such as the United States, where people tend to be more straightforward. Brazilians, on the other hand, tend to beat around the bush and avoid conflict. Michel Temer, the acting president of Brazil, is no different.
Members of the Workers' Party (PT), the Social Democratic Party (PSDB) and his own party (PMDB) unanimously agree with this statement: Temer is a man who's always eager to please. He loves to reach out and talk to people, and often uses analogies -- informed by his legal career -- in conversation.
While he doesn't have a strong public image, he was appointed vice president in Dilma Rousseff's administration due to his political skills. Temer was little known outside of political circles until his appointment, but the 75-year-old politician -- who served as speaker of the lower house of Congress three times -- knows the ins and outs of his party and of Congress.
He knows that a congressman likes to be heard. That was how he became, in 1999, speaker of the lower house of Congress. He visited each and every office and talked to every one of the more than 500 congressmen.
In 2010, then-President Lula asked the current President of the Senate Renan Calheiros and the current Senator Jader Barbalho if he could name the vice president in Dilma's ticket. He tried everything he could to get Henrique Meirelles, then-president of the Central Bank, on Dilma's ticket. The PMDB congressmen refused -- and so Lula sought three other nominations.
A few days later, both congressmen came back with the same answer: "Our nominations are: Michel Temer, Michel Temer and Michel Temer." Although the members of the Workers' Party considered Temer to be overly voracious when he defended a greater participation for PMDB in the government, they had little choice but to accept his nomination. The groom was not ideal, but the arranged marriage had to take place.
After the ticket was arranged, the main obstacle was Dilma's lack of diplomatic communication skills. The vice-president soon felt like a "decorative" figure. As someone who likes to have his voice heard, this dynamic enraged Temer. The politician made his dissatisfaction clear in December 2015 when his penned letter directed at president Rousseff was leaked to the public. The letter aired his many grievances with Rousseff and was seen as another blow to the embattled president.
Writing is like exposing oneself. Revealing one's ability Or inability. And one's intimacy. In the lines and between the lines.
Known for his restraint, Temer's letter shocked many in Brazil, including those closest to the wily politician.
Right before being nominated chief of staff, the former President Lula tried, through an intermediary, to schedule a meeting with the vice president. Temer expressed his concerns to the interlocutor: "I am always worried when meeting with Lula. Last time we met, we drank a little too much wine and the result was that letter."
We've heard stories concerning Temer's temper. One of these stories earned him a nickname that endures to this day: "Butler in the house of terror."
In 1999, during a heated debate with one of his few political enemies, former president of the Senate Antonio Carlos Magalhães, Temer said: "The senator has the unpleasant habit of trying to mock and ridicule people. My moral standards put the senator's to shame." To which Magalhães replied: "He is already a subject of ridicule. I am not impressed by his image as a butler in a house of terror."
It is commonly known that if you try to please everyone, you end up pleasing no one at all. If you try to give space to everyone, you end up being the target of endless criticism.
This explains the challenges he is facing in forming his new cabinet, according to a senior member of the interim-president's party.
Temer tried to fit everyone in -- he has reached out to many people and has already had to withdraw some of his invitations. "This hurts. He tries to please everyone, tries to solve everything by talking, but he is very susceptible to pressure, mainly from a small group," warns another member of PMDB.
This small circle, which includes future ministers Geddel Vieira Lima, Moreira Franco and Eliseu Padilha, reveals another of Temer's defining traits: loyalty.
No surprise, then, that Temer, who will celebrate his 76th birthday in September, has won every dispute for the leadership of the PMDB since 2001.
His political deals are often conceived on Sundays or Mondays during conversations with those close to him. They meet in the official residence of the Jaburu Palace, with soup served as the main course.
This post first appeared on HuffPost Brazil. It has been translated into English and edited for clarity.
Calling all HuffPost superfans!
Sign up for membership to become a founding member and help shape HuffPost's next chapter