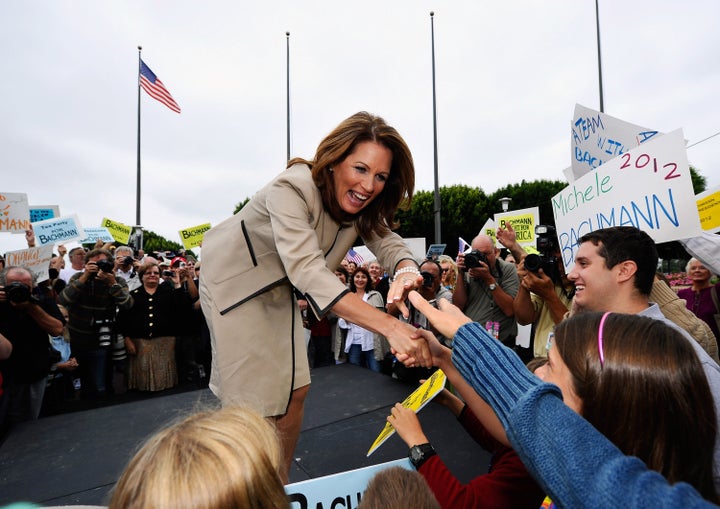 Republican presidential candidate Michele Bachmann is in Southern California today and we've got a round-up of the Congresswoman's daily agenda.
Following Yesterday's trip to San Rafael, CA, the Minnesotan made a pit stop at the Orange County Fairgrounds in Costa Mesa this morning, reports CBS. Often thought of as a Republican hub, it's no surprise that the Congresswoman began her weekend in the OC.
Time spend shaking hands seems to be what the Presidential hopeful needs. "She's struggling for survival right now," Republican National Committeeman Shawn Steel told the Associated Press. "Gov. Perry and Gov. Romney are sucking all the oxygen out of the room," Mike Osborn of the Ventura County GOP told AP.
Friday evening, Michele Bachmann will attend the California Republican Party (CRP) Fall Convention at LA Live in Downtown Los Angeles. Bachmann "counts evangelical Republicans, home-school advocates and members of the tea party movement," as her supporters and will undoubtedly be speaking to them, reports Associated Press. Liberal California may seem like an unlikely stop for a Republican hopeful, but CPR Chariman Ron Del Beccaro states today is "a new day in California politics." The convention is open to the public.
To conclude Friday evening, Michele is stopping by "The Tonight Show with Jay Leno." Having been the butt of late-night jokes before, it looks like she's trying to get in on the fun, reports USA Today. Sarah Palin's 2008 appearance on SNL during the last presidential race made big headlines and got lots of laughs; perhaps Bachmann is hoping for more of the same.
For more information about Michele Bachmann's Campaign, check out her official website.
Browse images from her OC visit below:
All photos by Getty Images.
Calling all HuffPost superfans!
Sign up for membership to become a founding member and help shape HuffPost's next chapter