Rep. Michele Bachmann (R-Minn.) swung by a Chicago-area synagogue for a worship service on the eve of Yom Kippur last week, upsetting congregants and provoking one man to mount a campaign for her Democratic challenger before the end of the night, the Chicago Tribune reports.
According to the Tribune, Rabbi Michael Siegel of Anshe Emet Synagogue observed protocol by offering a customary greeting to Bachmann during the services. While elected officials are traditionally acknowledged during such events at the temple, the presence of the conservative Minnesota firebrand prompted particular displeasure.
Some reportedly walked out of the ceremony, while Gary Sircus, a 25-year member of Anshe Emet Synagogue, voiced more active opposition to Bachmann's attendance.
"Our congregation values and embodies tolerance, compassion, respect for individual rights, intelligence, science -- all of the things that I think Michele Bachmann stands against," said Sircus, according to the Tribune
Bachmann has been a vocal supporter of Israel and an unabashed opponent of gay rights, an awkward policy duo on that particular night; Siegel told the Tribune that the night's service had included a piece honoring Israel for its openness to the LGBT community.
Among Bachmann's many controversial statements about the LGBT community, she has likened homosexuality to "bondage," "child abuse" and "sexual dysfunction."
Ben Strauss of Chicago, a member of Anshe Emet, was present that night and explained the uncomfortable incident in an interview with HuffPost Live on Monday (video above).
"It was bizarre," Strauss said. "You have to understand, this is a congregation on the north side of Chicago located in a part of the city that is very LGBT friendly, and given her political leanings it was a strange fit."
Hours after storming out of the service, Sircus donated to Jim Graves, Bachmann's Democratic opponent in Minnesota's 6th Congressional District. Even though he doesn't vote in the state, he forwarded his message to his friends and encouraged them to also contribute.
The Graves campaign told the Tribune that it experienced a 400 percent growth in donations from the Chicago area last week, though it's unclear if Sircus is to credit for this trend.
A strong fundraiser and prominent Tea Party figurehead, Bachmann's congressional seat has long been thought of as secure. According to a recent poll, however, Bachmann's once large lead over Graves is now within the margin of error.
Read the original story from the Chicago Tribune here.
I did decide to leave the Kol Nidre service, and I did channel my frustration and disappointment by making a contribution to Jim Graves (jimgraves.com), Bachmann's opponent in MN-6). But, I want to be clear, I did not leave the service because a conservative was there and I did not leave just because an ignorant and intolerant person was in the sanctuary on the holiest night of the year. I left because she was treated like an honored guest. In my opinion, our rabbi missed an opportunity to put our congregational welcome in context. He had an obligation to say that she was sitting with a congregation that values and celebrates tolerance, compassion, knowledge, and respect for individual rights, that we were gathered as a diverse community that welcomes everyone, regardless of socioeconomic status, race, ethnicity, political affiliation or sexual orientation, and that the only things we do not tolerate are hate, willful ignorance and persecution of the "other". That's how we should have "welcomed" this particular visitor.

Bachmann actively campaigns against virtually every principle on which my faith is grounded. She is not simply someone with whom I disagree, but symbolizes and promotes a brand of politics that is intolerable and unworthy of being honored in any house of worship.

Having her recognized on Kol Nidre was an affront to almost everything I believe.
This story has been updated to include additional information and to correct an earlier misidentification of the Chicago Tribune.
Before You Go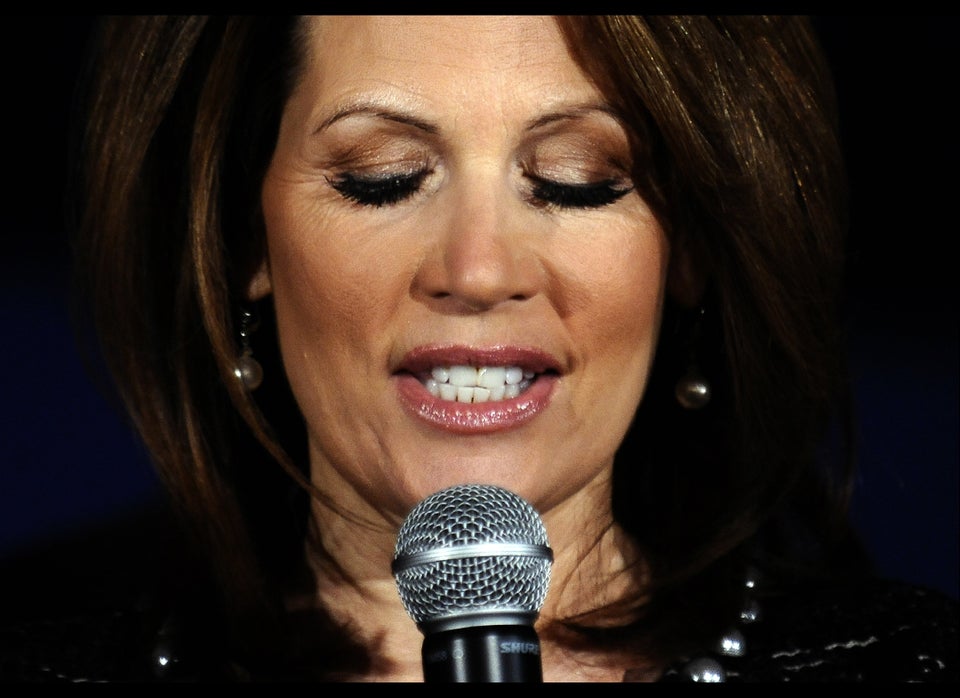 Unforgettable Bachmann Moments
Popular in the Community