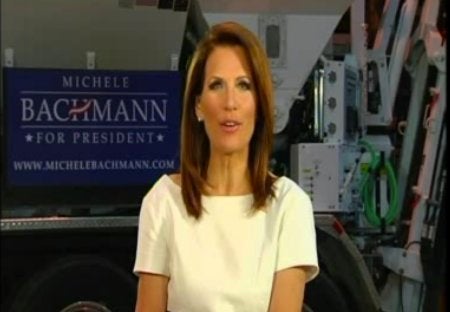 Republican presidential candidate Michele Bachmann remained tight-lipped when asked about controversial therapy methods reportedly practiced at her husband's Minnesota clinic on Monday.
Local Iowa station WQAD asked Bachmann about the matter ahead of the release of an ABC News investigation offering an inside look at treatment offered at the center. Brian Ross reports:
A former patient who sought help from the Christian counseling clinic owned by GOP presidential hopeful Michele Bachmann and her husband, Marcus, told ABC News he was advised that prayer could rid him of his homosexual urges and he could eventually be "re-oriented."
Last week, The Nation reported that the clinic practiced reparative therapy, which the publication explains treats being gay as a curable disorder. When asked to share her opinion of such practices and whether they are used at her husband's clinic by a reporter for WQAD, an ABC affiliate, Bachmann declined to address the matter.
The presidential contender recently signed her name to a pledge put forth by the The Family Leader, an Iowa-based conservative group, which entails standing behind a "federal Marriage Amendment to the U.S. Constitution which protects the definition of marriage as between one man and one woman."
The Washington Post recently looked at Bachmann's political views in the public domain and how they intersect with her marriage and private life.
"Their career in politics has always been about pursuing a social conservative agenda," Larry Jacobs, a political scientist and longtime Bachmann watcher at the University of Minnesota, said of the couple. He said that Michele Bachmann's initial race for the state Senate, in which she ousted a more moderate Republican, was "broadly over gay rights."
HuffPost's Jason Cherkis recently reported:
...Bachmann may have a more personal reason to hate government funding than fellow conservatives. The GOP presidential candidate's husband had secured a deal for public financing that ended up worthless.

In 2005, Dr. Marcus Bachmann's mental-health counseling service, Bachmann & Associates Inc., was awarded a contract [PDF] to provide outpatient counseling to drug addicts. In 2008, the service was awarded a second contract [PDF]. The two could have netted Bachmann's husband as much as $4,000 per client. The sum total of the contracts could have raked in roughly $80,000 in public money.

Instead, the government contract turned out to be a bust.
Two new polls out on the state of the Republican primary race in Iowa show Bachmann to be running ahead of rival GOP contenders in the Hawkeye State.
Popular in the Community