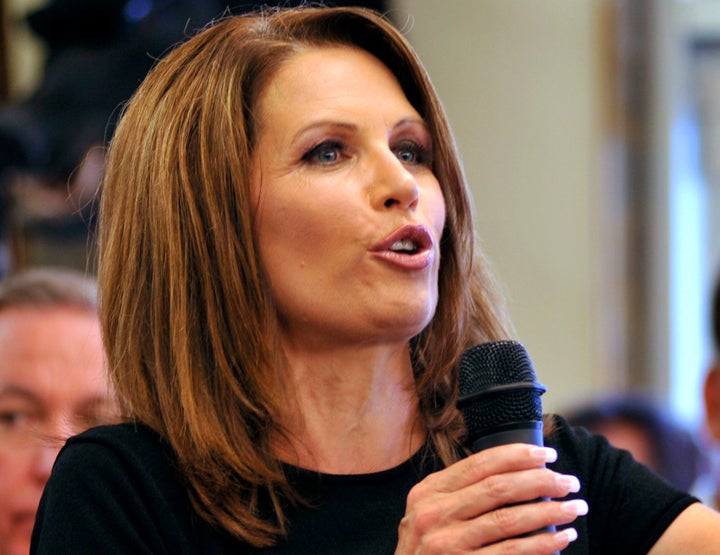 (AP/The Huffington Post) POINCIANA, Fla. — Republican presidential candidate Michele Bachmann claims the U.S. has more energy resources than any other country but isn't exploiting them because of "radical environmentalists."
Bachmann said with shale oil, natural gas and coal, the United States shouldn't be "begging" others for oil and energy supplies.
She said "we are the king daddy dogs when it comes to energy," but that environmentalists are preventing resources from being tapped.
With untapped oil reserves in the Arctic National Wildlife Refuge and off the nation's coasts, shale oil in Western states, and rich natural gas and coal deposits, she said the U.S. "is sitting on a mother lode of treasure." As president, Bachmann said she would unlock those resources and eliminate the Environmental Protection Agency.
"The radical environmentalists have demanded that we lock up all our energy resources," she added. "President Bachmann will take that key out of the door. I will unlock it."
The crowd at the upscale retirement community cheered wildly.
And Bachmann got a similar reception when she promised to eliminate the "job killing" Environmental Protection Agency, saying that she would close the agency down in a single trip. "We will turn out the lights and we'll lock the doors," she said.
Bachmann spoke at a town hall meeting in a central Florida retirement community Saturday.
Speaking in Jacksonville one day earlier, the Minnesota congresswoman told supporters at a packed sandwich shop that the corporate income tax needs to be reduced because companies are moving to other countries to save money. She was later asked by a reporter whether changes to the minimum wage should also be considered to balance the cost of labor here and overseas.
"I'm not married to anything. I'm not saying that's where I'm going to go," she said.
She did say she wants to look at all aspects of doing business, from regulations to tax codes, and will consider anything that will help create jobs. The federal minimum wage is $7.25 an hour.
"I want to bring advisers in from labor and from manufacturers and from the service industry and financial services. I want to know what they know, because that's what we've been missing from President Obama. He has virtually no one in his Cabinet with private sector experience," Bachmann said. "I want to bring people who know how to create jobs into my administration."
Bachmann told the crowd she knows Florida will play an important role in the election.
"We will be back here many, many, many, many, many times in Jacksonville, and we're going to be old friends and neighbors by the time this is all done," she said.
Though at one point, she forgot she was in a local sub shop while talking about helping businesses."Can you imagine if good businesses like Subway," she began before the crowd drowned her out shouting, "Angie's!"
Bachmann is in the middle of a three-day swing through Florida. Below, a video report from NBC News on the presidential contender's stop in the Sunshine State.
Popular in the Community